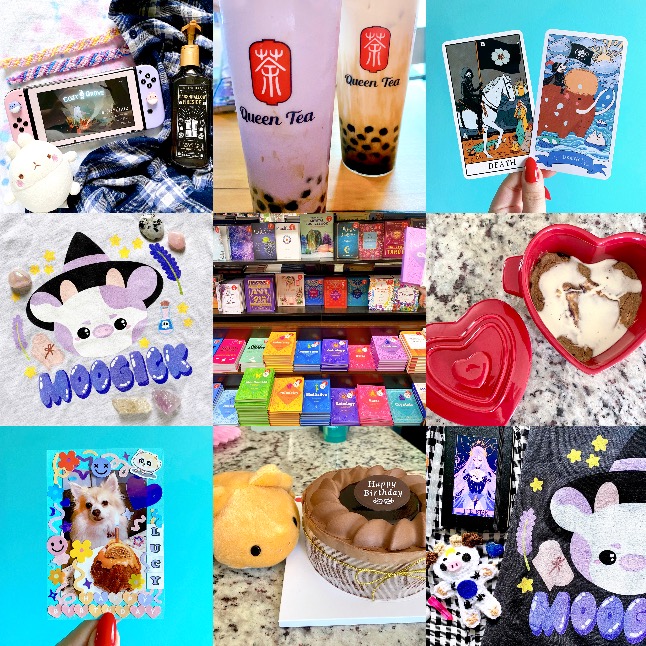 DISCLAIMER: Links included in this post might be affiliate links. If you make a purchase with the links I provide, I may receive a small commission at no additional charge to you.

What I Watched
The Marvelous Mrs. Maisel Season 4
I didn't know this was season 4! I thought it was season 3! I used to love this series but I feel like it's run its course, at least for me. It doesn't help that I found Midge (aka Mrs. Maisel) much more obnoxious and unlikeable this season. On the upside, the outfits and scenery were on point as always. The last two episodes were my favorite and left me wanting more.

Doctor Strange and the Multiverse of Madness
Not going to lie, I was slightly disappointed with this film. The third part was especially…strange and laughable. I also hate how they handled Wanda's storyline, after WandaVision you would think they would've made her much more badass but the entire time I just felt sorry for her and the fact they didn't even mention or include Vision was weird. With that being said, I hope that she gets her own film after this to redeem herself.

Mucho Mucho Amor The Legend of Walter Mercado
This documentary tells the story of Walter Mercado, a Puerto Rican astrologer and television personality who is well known in the Latin American community. I knew very little about Walter Mercado before watching this doc, I knew him as the guy who read Horoscopes on tv. The documentary uses Tarot cards to explain his story, which was cool! My favorite part of the film was where he explains to an agnostic interviewer that you are your own god which was really eye-opening to me. I've never considered myself as my own 'god' but the way Walter explained it, it just made sense.

Stranger Things Part 4
I know this season was just released a week ago but I have already binge through all the episodes but this was to avoid spoilers, haha. This season is more scarier and includes a lot of gore, unlike the previous seasons which was a pleasant surprise (even though I'm not a fan of gore). I love the new characters they included, Stranger Things has this thing about making you love all their characters. I can't wait for the rest of the episodes to be released on July 1st!

What I Listened
PSY – That That (prod. & feat. SUGA of BTS)
MONSTA X – LOVE
IKON – BUT YOU
My Chemial Romance – The Foundations of Decay
LE SSERAFIM – FEARLESS
HAN SEUNG YUN – Whatever You Want
LIZZO – About Damn Time
B.I – BTBT (feat. DeVita)
ATEEZ – ROCKY
ONEWE – Roommate
TOMORROW X TOGETHER – Good Boy Gone Bad
GIRIBOY – Issu du Feu
KANG DANIEL – Upside Down
*KANG DANIEL – The Story Ep
ASTRO – Candy Sugar Pop
GOT7 – NANANA

*This album is one of my favorites of 2022 (so far)! I highly recommend it! I don't much about Kang Daniel besides he was in Wanna One but this album is amazing and I love most of the songs!

Things I Did
Received my first t-shirt samples
Which you can see in this post and this post. I need to make some changes before I make this shirt design available to purchase. I'm also working on another less witchy design for those who aren't interested in magical moogical stuff so stay tuned!

Spring cleaned
I gave my closet and dresser drawers a deep clean and updated my Depop shop. I only ship within the US. Sorry but international shipping is very expensive nowadays!

What I Bought
ARM & HAMMER Advance White Extreme Whitening Toothpaste
I drink a lot of coffee and tea which are both acidic and can stain your teeth easily which is why I bought this toothpaste. I still don't know if it works or not, I like to think it is but it could just be me. But I'm including this because I love the taste! This is a baking soda-based toothpaste and has a gritty feel but I really like it! I find the flavor of minty toothpaste to be too much for my sensitive teeth.

Witchy Books
During the month, I collected a handful of books on subjects like Tarot, palmistry, astrology, etc. My spiritual book collection has grown significantly! I'm currently reading this book on Tarot. Check out my witchy book haul here.

What I Read
Howl's Moving Castel by Diana Wynne Jones
The book is definitely different from the film and I'm much more satisfied with the film than the novel. Maybe if I would've read the book before the film then my opinion would've been different. I personally felt that Sophie came across as angry and bitter in the book and I think that's a horrible way to represent elder people. I do like that they slowly showed the progression of her finding out that she was a witch. If you read the book, let me know your thoughts.

Things I Love
Cozy Grove
Cozy Grove is a life-simulation game where you play as a spirit scout camping on a haunted island. Each day you explore the changing island and help local ghosts with their problems and bring back color to the island. It's such a cute and wholesome game! I'm really bummed that the Spring update ended because I wanted to dye all my furniture pink! Something that I don't like is all the clutter. I know it's supposed to add to the whimsy but as someone who doesn't like random things on the floor it kind of drives me crazy because I never know when something is pickable or not! haha

Overcooked! 2 – Gourmet Edition
Cook alone or with others (highly recommend) in this chaotic cooking game, cook meals and serve to guests within a given time limit. I bought this game because I was watching a Twitch streamer play with a friend and it looked like so much fun, plus it was on sale so I purchased Overcooked 2. I've completed the main game but working my way through the extra games. It can be stressful at times which is why I recommend playing with someone else.

Kawaii Tarot Deck
This tarot deck is the cutest Tarot deck I own! I'm still connecting to the deck but I'm enjoying the messages I'm receiving with these cards so far. The only thing I don't love is that I bought it at a store and it didn't come in a box so I'll need to find a special pouch for these cards. And yes, I'll make a Tarot deck review eventually.

Favorite Blog Posts
Running a Fashion Brand
Best Lemon Loaf Bake Off
My Favourite YA Fantasy Standalone Author's
Bernat Bear Crochet Cups
Why I Offer Free Patterns
8 Things To Avoid When You're Feeling Low or Depressed
The Things I'd Do if I Wasn't Afraid
Our Kitchen Makeover

Posts From The Month
This April
Animal Crossing Island Tour ♥ Spring 2022
Week 18/52
Believe in Your Own Magic Oracle Deck Review
5-Ingredient Protein Balls Recipe
Week 19/52
The Scorpio Lunar Eclipse Full Moon 2022
Witchy Barnes & Noble Book Haul
Week 20/52
Magical Moments #6
The Gemini New Moon 2022
Week 21/52
Not Your Mother's Curl Talk ♥ Beauty Review

How was your month?