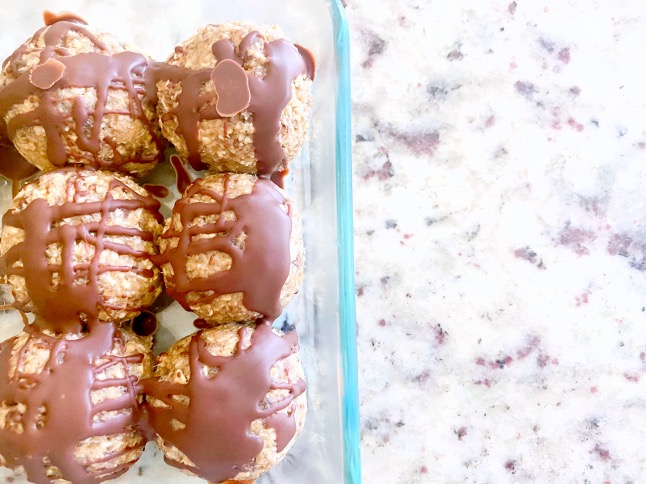 Whether you eat a plant-based diet and looking for ways to incorporate more protein into your diet or you're looking for a healthy post-workout snack to help you gain strength these protein balls will make the perfect energizing treat that you can indulge in whenever you need a midday pick-me-up!

It was actually my goal back in March to perfect my protein ball/bar recipe because I was tired of spending so much money on a bos of 4-6 protein bars that probably weren't as healthy as the box said and I was never satisfied after eating a bar so I decided to make my own! I tried multiple recipes I found on blogs and Youtube (check out my IG highlight to see some of the recipes I tried). I tried many peanut butter protein ball/bar recipes but couldn't come up with one that I enjoyed so I decided to leave out the peanut butter and create my own recipe.

Then, my older sister surprised me with a massive bag of pitted dates! I love dates so I played around with some of the ingredients that I used in previous recipes and came up with this amazing yet simple protein ball recipe. Dates are naturally sweet and have a rich vanilla flavor so they make the perfect addition to this protein powder ball recipe.
DISCLAIMER: Links included in this post might be affiliate links. If you make a purchase with the links I provide, I may receive a small commission at no additional charge to you.

WHAT DOES PROTEIN POWDER DO?
– Helps you strengthen and build muscles
– Helps your immune system
– Helps with bone health
– Repairs and grow tissues
– Makes you full longer
– Boost your metabolisim

PROTEIN POWDER RECIPE
– 1 1/2 cup of oat flour (make oat flour by blending oats in a blender)
– 1 1/2 cup of pitted dates
– 1 scoop of protein powder (this is the protein powder I'm currently using)
– 2 tablespoons of coconut oil
– water (as much you need until the mixture sticks together)
– Dark chocolate for drizzle *optional

DIRECTIONS
Amount: Makes 13 protein balls
Best By Date: Eat within a week

1. Make oat flour by pulsing old-fashioned oats in a food processor (you can use a blender if you don't have a food processor).
2. Add the protein powder and pulse.
3. Add the pitted dates and coconut oil and pulse until the dates are all incorporated.
4. Slowly add as much water as you need until the mixture sticks together.
5. Roll the mixture into round ball shapes and store in a container.
6. Melt some dark chocolate and drizzle over the protein balls.
7. Store in the refrigerator for an hour so the balls can set
8. Enjoy!

Do you enjoy eating protein balls?