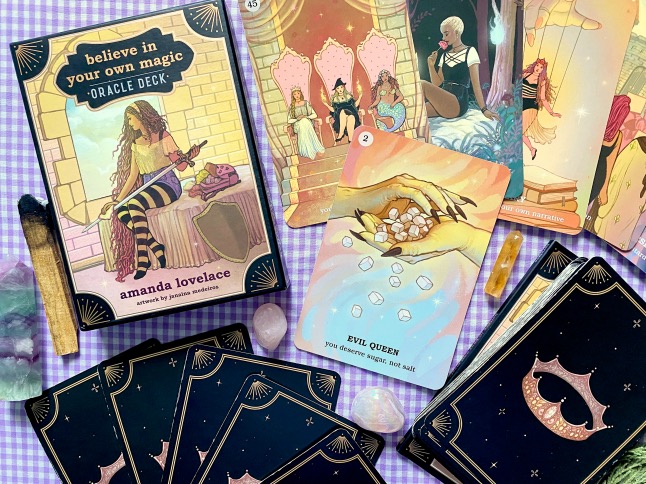 My older sister gave me the idea to review my oracle decks so I thought I would give it a try! Not too long ago, I published this post where I share my Tarot and Oracle Deck collection. However, in these posts, I'll share my thoughts on the quality of the cards and showcase all the cards in the deck. With that being said, if you're someone who doesn't like card spoilers then you might want to skip this post or not stare at the pictures below for too long as I will be showing all of the cards from this deck. To kick off this series I'll be reviewing my first oracle deck which is the Believe in Your Own Magic Oracle Deck!

This oracle deck is made by Amanda Lovelace (you may be familiar with her poetry books such as the princess saves herself in this one, the witch doesn't burn in this one, and break your glass slippers) and illustrated by Janaina Medeiros. The deck contains 45-cards and a guidebook. The deck is divided into three sections, Princess, Mermaid, and Witch. The cards are beautifully illustrated in a fairytale art style and contain empowering words and messages. The deck is very inclusive and contains women of all different shapes, sizes, shades, ages, styles, and mermaids, the representation on these cards is amazing!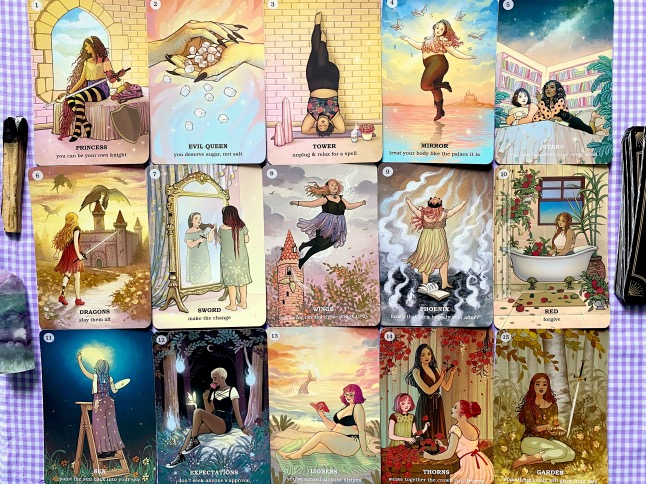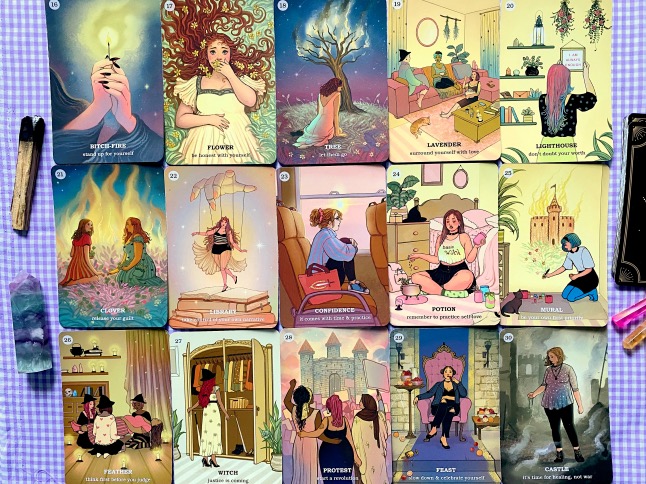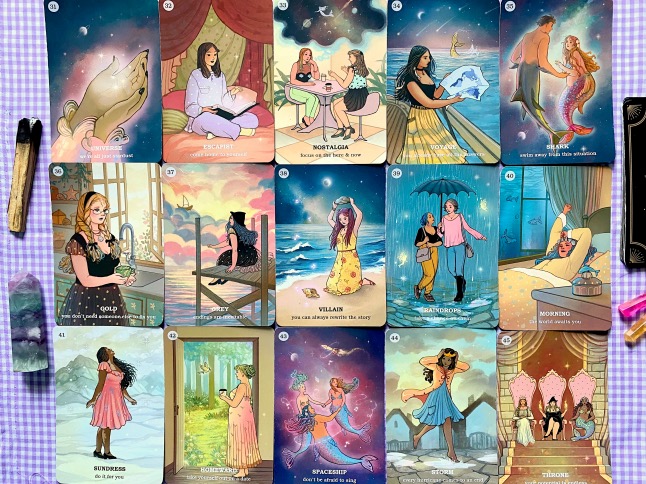 DISCLAIMER: Links included in this post might be affiliate links. If you make a purchase with the links I provide, I may receive a small commission at no additional charge to you.

PROS
– Affordable deck
– Stunning artwork
– Diverse characters
– Good quality box
– Love the matte cards
– No reverse meanings
– Comes with a guidebook

What drew me to these cards was the enchanting artwork (and the fact it was published on my birthday). I love the compact box this oracle deck came in, the box has these thumb cutouts on the sides which makes opening and closing the box much easier. The box I very compact which is great for storing or traveling. The cards themselves come in a matte finish which makes shuffling easy and feels nice in the hands.

The guidebook comes with meanings for each card and a lot of other useful information like how to use the deck, questions to ask, FAQs and an explanation as to why there are no reverse meanings. This would make a fantastic first oracle deck for beginners.

As I mentioned, the representation in these cards is fantastic. We need to see more inclusive decks like this, especially with Tarot and Oracle decks becoming more popular. Representation matters!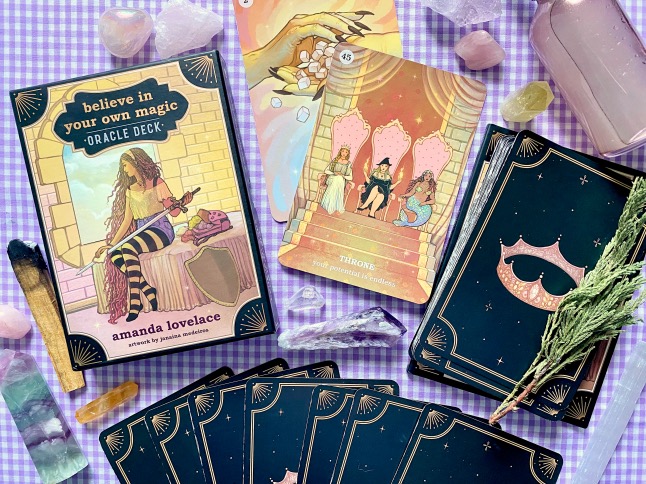 CONS
– Large cards
– Cards slightly curve
– Not the best cardstock
– Peeling on the sides of cards

The cards are kind of large for my liking and the cards slightly curve. I feel like if the cards were slightly smaller this wouldn't be a problem. The cardstock quality isn't the best. After shuffling for a couple of months I noticed some of the cards started to peel on the sides. This doesn't bother me too much but it's unfortunate.

You can purchase the Believe in Your Own Magic Oracle deck here

Would you like to see more oracle card deck reviews?