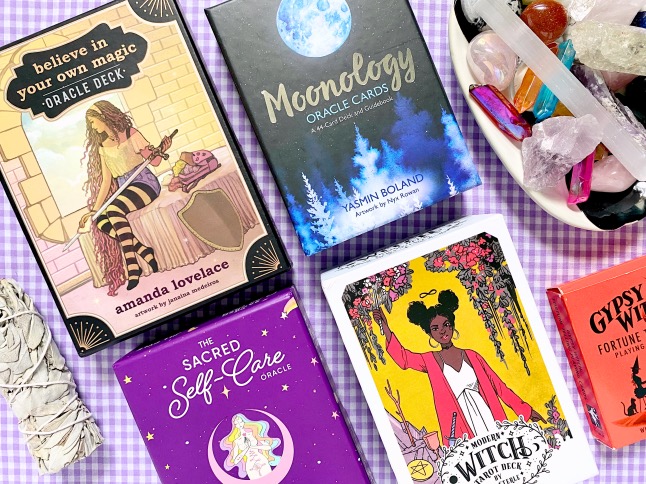 I started teaching myself how to read Tarot cards about a year ago. I used to watch a bunch of Tarot card readers via Youtube and eventually decided to treat myself by purchasing a Tarot card deck of my own. I've always had an interest in Tarot and Oracle cards because of the mysterious illustrations. Also, when I was a teen my older sister had a few decks of her own so she would often read me my cards. At the time, I didn't believe in the mystical power behind the cards because I wasn't as open-minded back then and I was a teen. However, as I got older I became more drawn to Tarot and Oracle card and now use them as a tool to help check in with myself, like a form of self-care. Over the past year, I've accumulated quite a few decks so I wanted to share my small card collection that consists of Tarot and Oracle decks with you all in case you're searching for a beginner deck or looking to add to your collection.

*DISCLAIMER: Links included in this post might be affiliate links. If you make a purchase with the links I provide, I may receive a small commission at no additional charge to you.
The Difference between Tarot VS Oracle cards
If you're new, you may be wondering what's the difference between Tarot and Oracle cards? Glad you ask! I can probably write a full post on this explaining in detail but I'll just give a quick summary of the difference between Tarot and Oracle.

Tarot Cards
Tarot cards follow a specific format. One of the most popular Tarot decks, The Rider Waite Tarot, the OG Tarot deck. Each Tarot deck contains 78-cards which are split into the Major and Minor Arcana. The Major Arcana are 22-cards, these cards tend to have a 'deeper meaning and consist of cards like The Fool, The High Priestess, The Moon, Tower, Death, etc. The Minor Arcana are 56-cards broken down into suits of Pentacles, Cups, Wands, and Swords. Most Tarot decks, but not all, come with a booklet created by the maker of the deck. However, once you learn how to read Tarot cards you'll no longer need to follow the booklet because even if you have a different Tarot deck all Tarot decks contain 78-cards and follow the same meaning.

Oracle Cards
Oracle cards are different from Tarot cards because no two Oracle decks are the same because Oracle decks don't follow any format. Oracle decks are like helpful suggestions or words of wisdom that you can use whenever you need to be motivated or a message from the universe. There are all types of Oracle decks out there, animal-themed, moon-themed, mermaid-themed, fairy-themed decks to name a few. All oracle decks come with a booklet because every deck is different and all the cards have different meanings.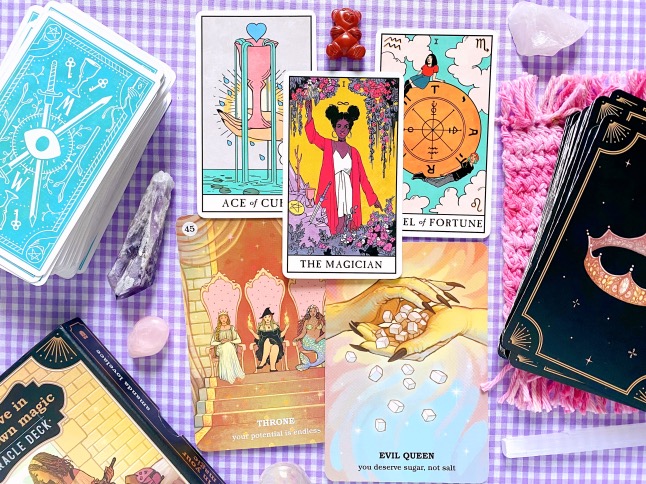 The Modern Witch Tarot Deck
This Tarot deck was created by Lisa Sterie. I was drawn to this deck because of the fun colors of this deck and the modern and diverse artwork in this deck. The quality of this is amazing! The cards are a perfect size, they're sturdy, semi-glossy, easy to shuffle, and it comes with a hardcover booklet which I really like! Plus, this is a really affordable deck, if you're a beginner I would highly recommend this Tarot deck.

Believe In Your Own Magic Oracle Deck
This was created by Amanda Lovelace. The artwork is very similar to The Modern Witch Tarot as it features a lot of diversity. The cards are split into three categories, mermaids, princesses, and witches. These cards are big so they're prone to curve if you're not careful with storing them. The cards are matte and easy to shuffle but I've noticed that the sides have started to wear down, one of the cards even has a slight cut on the side, it's very subtle but you can notice it if you are shuffling. This deck also comes with a booklet that contains a lot of information on how to read the oracle cards.
Moonology Oracle Cards
You all know that I'm a moonchild, so this deck was one I always intended on getting. Created by Astrologist, Yasmin Boland. The cards are a standard Oracle card size and thicker than the BIYOM Oracles cards, the cards are matte, and there is a card for each lunar phase as well a New Moon and Full Moon card for each astrological sign which I appreciate. I use them in my moon posts all the time! The cards are kind of difficult to shuffle at first because some of the cards stick together for some reason but after shuffling for a few months they started to separate naturally.

The Sacred Self-Care Oracle
My first gifted deck! It was a birthday gift from my older sister, by the way, that whole you 'need to be gifted a deck' is a myth. This deck is so gorgeous, the color palette is so on point, and the cards are beautifully illustrated. The cards are matte, they're the same card as the Moonology oracle cards so they also have that shuffle problem. The booklet that comes in this deck contains a mantra and journal prompt which you can use in your journal. As I said, I adore this deck! It's a wonderful way to incorporate an act of self-care each day.

Over on Instagram, I've been hosting a pick-a-card reading each weekend where I draw three cards. I've done this for two weekends in a row and received a lot of positive feedback. It's been really enjoyable and I think it's a fun way to remind you to squeeze in an act of self-care during the weekend.
Crystal Unicorn Tarot
The latest Tarot deck to my collection is this adorable Crystal Unicorn Tarot created by Pamela Chen. How could I not love this deck? I mean it has freakin' unicorns and the bright pastel colors, it's such a beautiful deck. I've been using this deck as my practice deck because I think it follows the original The Rider Waite Tarot style but obviously much cuter! haha

Gypsy Witch Fortune Telling Cards
This isn't either a Tarot or Oracle deck this is actually a Lenormand deck, which is a whole other topic! I just wanted to include it in this post because it falls into that witchy mystical realm card gang. I'm still new to Lenormand and not confident to discuss it yet but maybe one day. haha

Do you collect Tarot or Oracle decks?