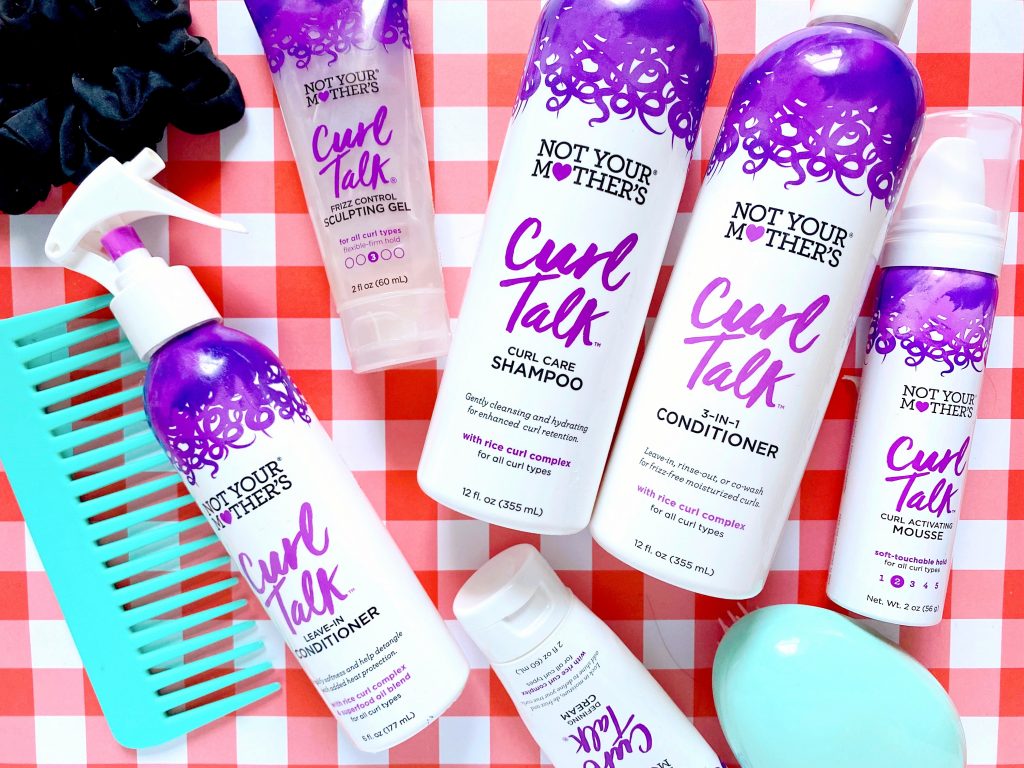 If you have read any of my past Curly Hair posts then you're probably aware that I'm a huge fan of the Not Your Mothers Curl Talk line. About a month ago, I came across a travel-size set of products from the Curl Talk line by Not Your Mothers, the set included two products I haven't tried so I bought the set to try these styling products to see how they behaved on my curls. I thought now would be a great time to review all the Curl Talk products I've tried. These aren't all of the products from the NYM Curl Talk line, there are a few other products from the line that I would like to try in the future but for now, I will only be sharing my opinions on the products that I have tried.

The Not Your Mother's Curl Talk is very popular in the curly-haired community because of the reasonable price and the fact that most, if not all, of the products, pass the CGM code. Meaning. they're good for our curls! In fact, the Curl Talk line was so popular NYM has expanded the line many times, offering a new selection of curl products to curly-haired folks. All of the Curl Talk Products are free from sulfates, surfactants, silicones, dyes, drying alcohols, parabens, and phthalates. As well as cruelty-free and gluten-free.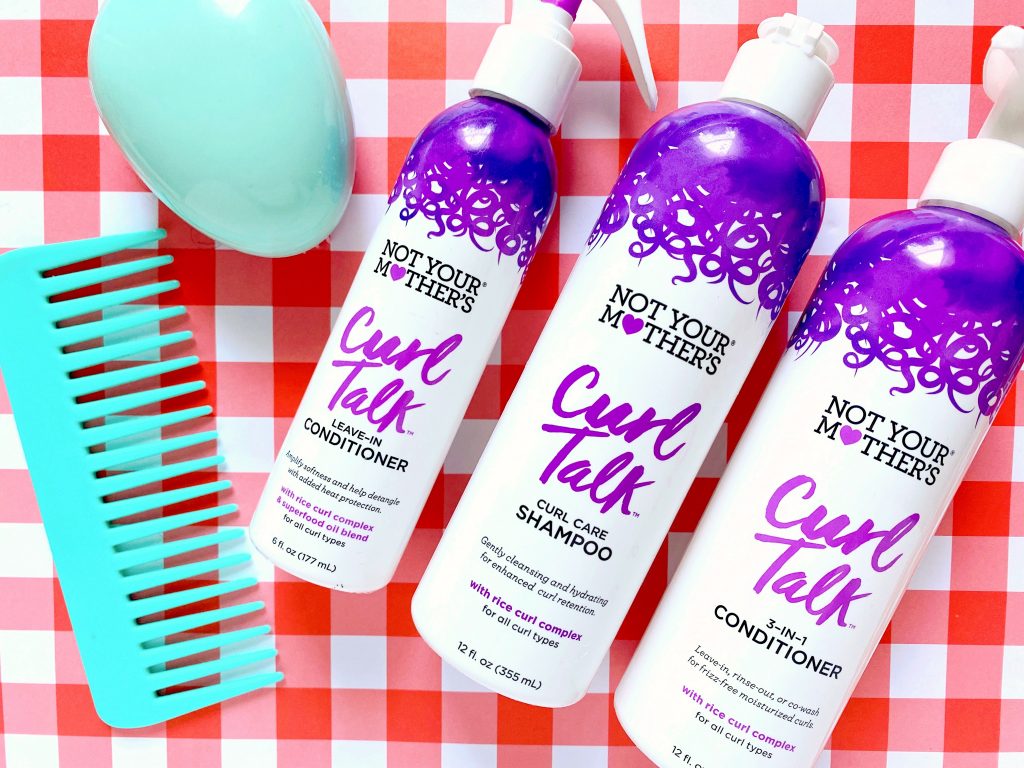 DISCLAIMER: Links included in this post might be affiliate links. If you make a purchase with the links I provide, I may receive a small commission at no additional charge to you.

Not Your Mothers Curl Talk Curl Care Shampoo
Give your curls a fresh start with Not Your Mother's Curl Care Shampoo. This gently cleansing keratin shampoo works to delicately wash your scalp and hair, while also delivering a boost of moisture and hydration.

I use three different shampoos, a clarify, standard, and cowash. The standard shampoo I use is the Not Your Mother's Curl Shampoo. It lathers nicely, removes silicone, and hard water build-up, and contains a small amount of protein. Not only that but my hair feels so clean after! I've repurchased this shampoo at least 3 times and will continue to buy it because my hair loves this shampoo!

Not Your Mothers Curl Talk 3-in-1 Conditioner
Caring for your curly hair can look different depending on the day of the week. That's why Not Your Mother's Curl Talk 3-in-1 Conditioner is designed to hydrate your curls while also being flexible enough to be used as a leave-in conditioner, rinse-out conditioner, and a co-washing conditioner.

After I use the NYM shampoo, I follow up with this 3-in-1 conditioner. To be honest, I don't feel like this conditioner is too moisturizing which is why I apply a lot of conditioners and scrunch in the shower so that the product absorbs into my hair then apply a second coat so that the conditioner sinks in. I've used this conditioner as a leave-in and rinse-out. If you detangle in the shower, this would be perfect to use because it's very slippery. Since my hair is prone to frizz and drying I need a heavier leave-in and this conditioner just doesn't do it for me alone which is why I wouldn't recommend this conditioner as a leave-in. But I still like this conditioner and it pairs well with the NYM shampoo which is why I've repurchased this conditioner at least 5 times! haha

Not Your Mothers Curl Talk Leave-in Conditioner
Do you have high expectations for your conditioner? Good, because Not Your Mother's Curl Talk Leave-In Conditioner is every curl girl's dream. This wash day staple conditions, boosts your curl's softness, makes combing through curls easy as ever, and protects from heat—all you have to do is spray.

Do you need this product? No. The 3-in-1 conditioner can be used as a leave-in conditioner so you don't really need this product. However, if you're someone who goes through conditioner pretty quickly or your hair is prone to frizz (like me) then having a separate leave-in conditioner like this comes in handy.
Not Your Mother's Curl Talk Defining Cream
Want definition for your curls at their every twist and turn? Not Your Mother's Curl Talk Defining Cream is your answer to achieving clearly defined curls and added bounce within your day-to-day styling routine. Along with maximum definition, it seals in moisture, manages frizz and adds shine.

This curling cream is my favorite styling product to use on days when I refresh my curls because it hydrates, moisturizes, tames frizz, and defines my curls. The cream is lightweight and can be used multiple days after without making your hair feel gross. This is one of my favorite styling products and if I had to recommend one product from this post it would be this one!

Not Your Mother's Curl Talk Control Sculpting Gel
Can you guess what's firm, flexible and flake-free? It's your curly hair, after styling with Not Your Mother's Curl Talk Frizz Control Sculpting Gel. Now you can enjoy the best of both worlds: highly defined curls that still have their natural movement. It's a beautiful thing.

I've been sleeping with a gel cast lately because I've been showering at night but when I wake up it doesn't give me those tousled mermaid curls (like how this gel does). However, when I use this gel on the days when I wash my hair in the morning I get better results but still not the most defined curls. Overall, this gel doesn't have a stronghold or hold a curl that well.

Not Your Mother's Curl Talk Activation Mousse
Is that you curls? Not Your Mother's Curl Talk Activating Mousse is every curl girl's go-to for achieving that perfect balance of having defined curls with a light and touchable hold. Plus, this hair mousse provides long lasting protection against humidity will have your curly hair thriving in any environment you put them in.

My least favorite from the bunch. It's not that I don't like this mousse it's just that whenever I did use it it would make my hair feel gross. I normally use mousse on the day after I wash my hair. My only advice when using this product is to not apply too much of this product because it will make your hair too sticky.

Have you tried any of the Not Your Mothers Curl Talk products?