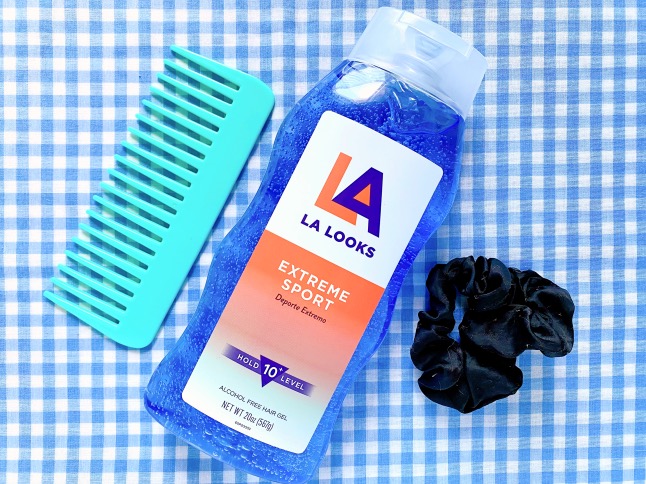 The LA LOOKS EXTREME SPORTS HAIR GEL is a very popular hair styling gel amongst the curly hair community. Every curly-hair influencer that I follow has always recommended this gel to those new to the curly-girl method journey because it's affordable and the results are apparently amazing. I started my CGM journey late last year but have yet to try this gel because, honestly, it's only available at Walmart and I rarely shop there. However, I recently found myself at a Walmart and checked to see if it was available in stock and it was! I've been using this gel for a few weeks now and have formed an opinion about it so I decided to share my thoughts on this product.

*DISCLAIMER: Links included in this post might be affiliate links. If you make a purchase with the links I provide, I may receive a small commission at no additional charge to you.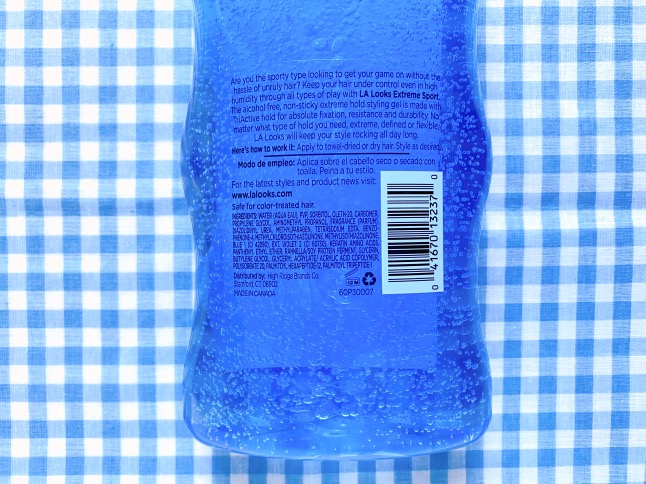 DESCRIPTION
Are you the sporty type looking to get your game on without the hassle of unruly hair? The extreme level hold formula provides non-stop hold for any high-performance activity even in humidity. Play on!

PROS
– Affordable (it's less than $2!)
– Contains a lot of product
– Alcohol-free
– Leaves a nice gel cast
– Not sticky
– No lingering or weird scent
– Defined curls

CONS
– Limited locations
– Not the best at taming frizz
– Not moisturizing
THOUGHTS
The product itself is a blue-colored gel, it has a slight artificial scent but it doesn't linger or leave much of an impact. I was surprised to learn the gel wasn't sticky! Because of the product packaging and cheap price, I thought it would be really sticky and difficult to apply but I had no issues apply this to my curls.

It left a pretty decent gel cast on my hair. When completely dry my curls felt like straw (don't worry this isn't a bad thing) with this specific gel cast. After I scrunched the crunch out my curls formed beautifully. I tested this gel a few different ways, after a shower, after a shower slept on, and after a refresh. Now I don't normally refresh my hair with a gel because applying a gel repeatedly can weigh down my curls but I wanted to try all different methods to see what this gel could do to my hair. I loved my curls when I used this gel on a hair wash day because of the defined look but it didn't always reduce the frizz in my hair, I noticed I would still get frizz on the backside of my head. When I applied on a curl refresh day my curls were more defined but I had to scrunch a lot before I could get rid of the gel cast and even then my hair just felt too gunky, like my hair needed a wash. To be fair, I did use this on day 3 of product refresh day so maybe that wasn't the best time to test this gel out. Another thing I noticed was that my curls wouldn't feel as moisturized, on wash day when combined with a leave-in conditioner it was fine but again on a curl refresh day, my curls were hungry for some moisture! Unless you have really frizzy curls I wouldn't recommend this on a curl refresh day but I would recommend you to use this gel on a normal wash day. I would also highly recommend washing your hair at night, applying this, and sleeping on the gel cast because that's when I saw the best results!

This gel was, for the price and amount of product you get, amazing! However, the hold isn't the best and I wasn't impressed with the frizz I still got after I used this product. I would still prefer the Dove Amplified Finishing Gel to this one because it holds a curl better and reduces frizz better than this one. With that being said, I could definitely see myself using this gel again when there aren't any better gel options on the market. It's not a bad gel, it's decent and if you're starting off your curly girl method journey then it is a fantastic gel to start with.

WHERE TO BUY
You can purchase the LA LOOKS EXTREME SPORTS HAIR GEL here. They also have this gel available on Amazon (for those who live internationally) but if you live in the US I recommend getting it at a Walmart because it's cheaper in-store.

Have you tried this hair gel before?