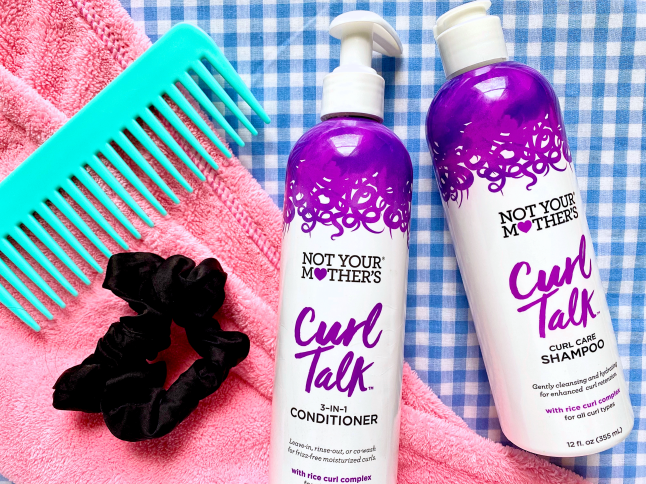 It's been a few months since I last gave you all an update on my process of using the Curly Girl Method. I now have been on the Curl Girl Method for around five months. The last time I updated you all was in this post, back then I had only been following the CGM for a month, let me tell you, so much has changed since then! From techniques to washing and styling products, a lot has changed and as a result, my curls have changed as well. However, in this post, I'll be giving you an update on my washing and styling hair routine. I'm waiting to hit my 6-month on the CGM before giving you a proper update.

First off, I don't strictly follow the CGM anymore. When I first started, I tried to follow it as much as possible but now, I would say that I follow the 80% of the time. I brush my hair to detangle my hair (more on that later), use shampoo, use heat when I'm in a rush and need a quick curl, and use a few products that aren't CGM approved, like dry shampoo. But I do all these things sparely.

I'm pretty sure I have mentioned this Youtube channel before but just in case, Gena Marie has a lot of informative curl videos. I've learned so much from watching her videos such as wet frizz, the importance of deep cleaning your scalp, protein vs moisture, and much more! Even if you don't follow the CGM but have curly hair I would definitely recommend her videos.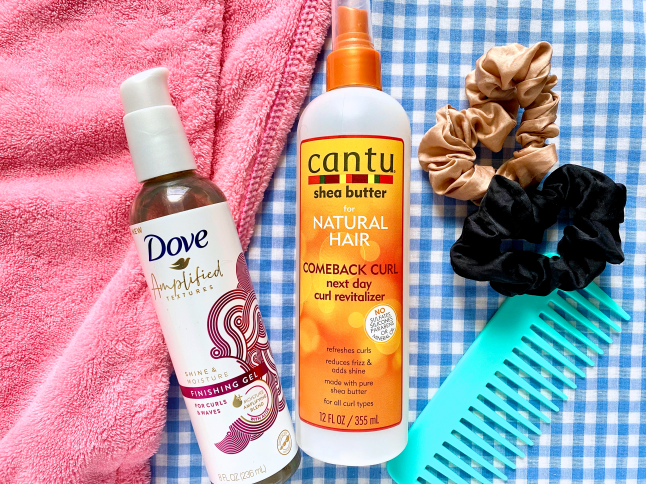 *DISCLAIMER: Links included in this post might be affiliate links. If you make a purchase with the links I provide, I may receive a small commission at no additional charge to you.

Washing Routine
I only wash my curly hair twice a week. As you will see below, I wash my hair with three different washing products, I follow this washing schedule. It may sound complicated but it's really not. Whenever I use any shampoo, I will saturate the hair from the nape of my neck to my hair ends with a conditioner so that the shampoo doesn't dry out my hair, especially the ends.

Untangle with a brush
I dry detangle my hair with a brush like this. because I go 3-4 days without washing my hair all that product can lead to tangles and whatnot. I tried detangling in the shower once and so much of my hair fell out that I vowed never to do that ever again! It may work for some people but my hair already falls out easily (thank you anxiety) so I avoid wet detangling and only do dry detangling because less hair falls out.

Co-wash – As I Am Coconut Cowash
This is my most used cleansing product. A co-wash is essentially a condtioner so when you wash your hair with a co-wash that means you're giving your hair a very light clean while moisturizing. This is my first co-wash so I can't compare it to other types of co-washes. When I used this co-wash I felt like my hair wasn't clean and that feels weird. However, it made my hair moistured and hydrated afterward so it did its job. haha

Deep Clean – Carol's Daughter Wash Day Delight Shampoo
When it's time for a deeper clean, that's when I whip out this shampoo. I only use this twice a month to get rid of product build-up that may have accumulated from products, I struggle with this a lot. I love the design of this product because the shampoo is a micellar-formulated liquid that, when activated by water, turns to foam. The nozzle applicator makes applying this shampoo onto your scalp so easy! It feels so refreshing on your scalp as well. Whenever I use this product, I'll use a hair mask because deep cleaning can be stripping so I'll use either a protein or moisturizing hair mask after my deep clean shower.

Shampoo – Not Your Mother's Curl Talk Shampoo
When I'm not using the previous two cleansing products, I'll use this shampoo. I use this shampoo on my second hair wash of the week. It's the only shampoo that actually feels like a normal shampoo which is nice because I missed that shampoo consistency. his shampoo gets rid of product build-up and hard water, lathers nicely and the scent is lovely as well. I must say that the Curl Talk line from Not Yours Mother's is amazing! Not only are their products CGM-approved but they're affordable as well, which is a win-win!

Conditioner – Not Your Mother's Curl Talk 3-in-1 Conditioner
No matter what cleansing method I choose, I always make sure to use conditioner (even when I use a co-wash). Not much to say about this product. It's a conditioner and it moisturizes so it does its job. It says you can use this conditioner three different ways but I've only used it as a regular conditioner as of right now.

Microfiber Turban towel
When I come to the shower I will clip my hair with a hair clip and wrap my microfiber turban towel around my hair. The microfiber won't frizz my curls as easily as a regular towel would. I use a clip because my hair dries fast so using a clip helps some water stay in my hair. Since my hair dries easily, I don't leave the turban on too long, maybe 5 minutes tops? Then I'll move to the next step.

Leave-In Conditioner – Kinky-Curly Knot Today Leave-In Detangler
With this leave-in conditioner, I'll finger comb to detangle my hair. This leave-in is alright, it's really hydrating and detangles well but I'm excited to use another one soon.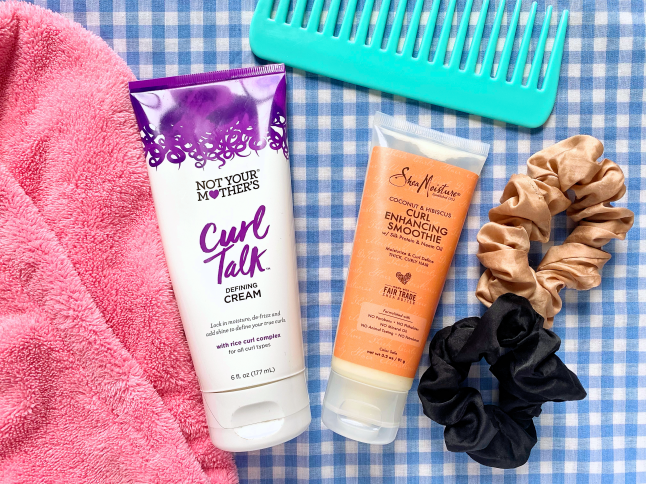 Styling Products
At the beginning of my CGM journey, I preferred using mousse as my go-to styling product, however, now that I use a plethora of styling products this is no longer the case. As I've tried many new curling styling products I've discovered that it really depends on the product itself rather than a type of product such as gel, mousse, curling cream, etc. Depending on what my curls look like I'll use certain products over others. I use 1-2 styling products when I refresher my curls, if I want a looser curl look I'll use one product and if I want a more volume and defined curl look I'll use two products.

Spray Water Bottle
Before I apply any styling product I'll spray my hair damp with water from a spray bottle. In the bottle, I create a cocktail by mixing some water, a leave-in conditioner, and SheaMositure Coconut + Hibiscus Curl Enhancing Smoothie. I shake vigorously before spraying all my hair to make sure all the products have dissolved. I love this creation I created because it's a really moisturizing mix.

*Gel – Herbal Essences Totally Twisted Curl Scrunching Gel
I'm currently using two gels, this one by Herbal Essences and the one below (more on that in a bit). This was the first CGM-approved styling product I used. I've always hated gels but that was because I never knew that you had to scrunch out the crunch! This was a total game-changer for me! When I scrunch out the gel cast I get from this gel my curls are more defined and smell amazing! haha

*Gel – Dove Amplified Textures Shine + Moisture Finishing Gel
This lightweight gel isn't sticky or tacky, even on my fingers, it doesn't feel heavy like other gels do. The texture of this gel is running and light, again, not like most gels I've used. The curls I get after scrunching out this gel cast are so soft! They don't lose their shape either, my curls are just as defined as when I use the previous gel. Before I started the CGM I absolutely hated gels because they were heavy and sticky and would feel heavy on my hair but after trying this gel, I have changed my mind! And it's so inexpensive too! I believe it's around $4-5!

Refresher – Cantu Comeback Curl Next Day Curl Revitalizer
When I want to revive my curls, I use this refresher to reactivate my curls. When I use this product on its own, it creates loose wavy curls. Depending on how I'll feeling I'll use another product with this product or just use this on its own. Even though it's a hydrating water-based product, I wouldn't recommend you using this on its own though so make sure your hair is damp before.

Mousse – Herbal Essences Total Twisted Curl Boosting Mousse
As much as I love this mousse, I find that mousse products are kind of heavy on my hair. I love the defined curl locks and volume this mousse gives my hair but I only use it once a week because this product weighs down my hair.
Curling Cream – Not Your Mother's Curl Talk Defining Cream
This curling cream helps reduces frizz and defines my curls. It leaves a cream cast (sibling of the gel cast) so you need to scrunch out the crunch when the product dries, afterwards, you get some beautiful loose curls. I would recommend this product to those with a looser curl pattern.

Dry Shampoo – Dove Volume + Fullness Dry Shampoo
Not a CGM-approved product because it contains drying alcohol but because I don't wash my hair that often I need a dry shampoo so I guess I just have to suffer. I'll be on the lookout for a CGM-approved dry shampoo! haha

* I only use gels on days when I wash my hair. I'll use water in a spray bottle on the other days.

Are you familiar with the Curly Girl Method?