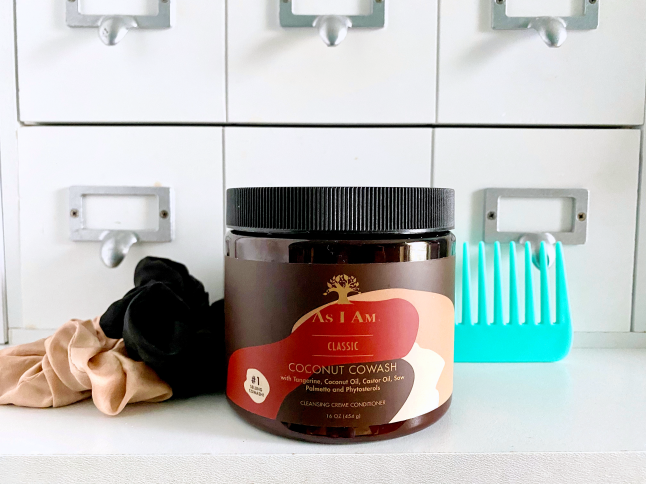 I was born with a natural wave/curly (I'm a type 2b-2c). I was the only daughter in my family born with curly hair, my older sister has straight/wavy hair and my younger sister has straight hair (yes, we all have the same parents) I don't know why we all have different hair types. My mother didn't have curly hair so when she had me she just did whatever she did with her hair and my older sister's hair which meant brushing. If you're a curly-haired girl you know you DON'T BRUSH YOUR HAIR! Because of this, I often had fluffy/frizzy hair. My mother would sometimes use gel or mouse to enhance my curls, however, when she did she would leave my hair in a gel cast. A gel cast is a saturated strand of hair in a gel coating. You are supposed to "break" these strands by scrunching your hair out. As a result, you get frizz-free moisturized curls.

I've always loved my curly hair, I feel like curly girls have a fun personality. The Olsen twins have always been my curly-haired idols. I grew up watching them and always admired their messy beachy waves and wanted hair like theirs. However, back then I didn't know what to do with my curls. When I was in high school, I followed the overnight braids technique every day. One year though, I got a short haircut (I don't like my hair when it's short) and I didn't like it so I straightened it with a flat iron because it made my hair longer, I did this FOR A WHOLE SCHOOL YEAR! Even though I loved my curly hair it was the compliments I got from people that made me continue straightening my hair. By the end of the year though, my hair was long enough again and made my morning hair routine almost an hour long, I liked to sleep so I stopped flat ironing my hair and resumed with the overnight braid routine.

A year of straightening my curls almost every day really damaged my hair! My side bangs were so damaged that they would stay straight even when I washed my hair! This was the year that I really learned people don't like curly hair and by that I mean, curls don't get as many compliments as straight hair. It was this experience that really made me appreciate my curly hair.

Fast forward, to this year, I went down a weird rabbit hole of the Curly Girl Method. I discovered the Curly Girl Method by trying to look for new curly hair products. I deiced to try and follow the Curly Girl Method back in October/November (what is time?) because I wanted to get rid of fluffy and frizz. This guide really helped me. Also, this Youtube channel really helped me along my CGM journey.

THE RULES
– No shampoo
– No heat (hairdryer, flat iron, curling iron, etc)
– No brushing or combing
– No products with alcohol
– No products with sulfates
– No fragrance
– No products with non-water-soluble silicons
– Reduce washing your hair

However, you don't have to strictly follow these rules. For example, if you like you can't find a product that doesn't have alcohol, sulfates, and silicons but contains fragrance, then use it! Just make sure you follow most of the rules and reduce using harmful products and heat as much as you can. You will see some of the products I use don't follow all the rule 
*DISCLAIMER: Links included in this post might be affiliate links. If you make a purchase with the links I provide, I may receive a small commission at no additional charge to you.

My Experience
I've only been following the curly girl method for about a month now. I have learned so much about curly hair in the past two months than I have learned ever in my life! I've learned all types of things you should avoid, new techniques, terms, that there is a CGM community, and so much more!

The most difficult rule for me to follow was using no heat. Even though I have curly hair I still like to use a curling wand to curl fluffy/frizzy sections and I also sometimes use a flatiron to straighten my bangs because I don't like how my bangs curl. But I only ever use heat tools when I go out.

I do plan on buying the official curly girl handbook to learn more about curly hair. If you have naturally curly hair, I encourage you to read up on the Curly Girl Method because you learn so much about your hair.

What I'm Using
Cowash – Am I Am Coconut Cowash – A co-wash is a cleansing conditioner that you use to replace shampoo.
Conditioner – Aussie Miracle Curls Conditioner – I'm currently trying to use this up.
Gel –  Herbal Essences Totally Twisted Curl Scrunching Gel
Mouse – Herbal Essences Totally Twisted Curl Boosting Mousse
Leave-In-Conditioner – Marc Anthony True Professional Bye, Bye Frizz Silicon-free Protecting Leave-In-Conditioner
Spray Bottle – I add some leave-in conditioner to my bottle
Microfiber Towel Wrap – I use this instead of a regular towel, which can lead to frizz. I tried using an old t-shirt like most recommended but using a towel wrap is much easier!
Silk Satin Scrunchies – I use these for my nighttime pineapple bun
Silk Satin Pillowcase – I went all out and bought silk satin scrunchies and pillowcases because frizz is my hair's #1 enemy and I would try anything to reduce frizz.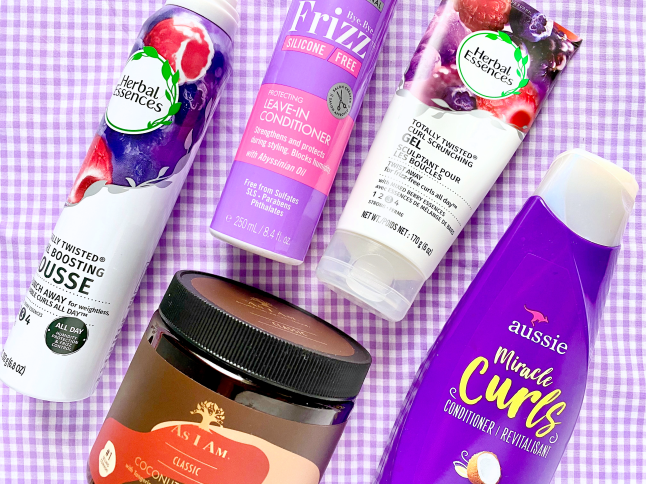 My Routine
Washing: I add the co-wash and massage the product onto my scalp for about a minute and then focus a minute n trying to wash off the product. Next, I apply the conditioner and let it soak in as I shower. After I finish, I stay in the shower, flip over my head, and then apply the gel all over my wet hair. I scrunch my hair upwards. Then, I take my microfiber towel wrap, wrap my hair, and let my hair dry inside the wrap for a few minutes. After about 10 minutes, I let my hair fall out and scrunch out the gel cast and massage my scalp for volume. Sometimes I'll apply some leave-in conditioner to enhance my curls.

Nightime: With my silk satin scrunchies, I flip my head over and make a high ponytail bun, this is called the pineapple. Then, I'll sleep on my silk satin pillowcases. I toss and turn all night so these pillowcases have been a lifesaver because they reduce frizz!

Refreshing: The next morning, I'll take down my pineapple and evaluate my curls. Depending on the curls (curls and different every day) I'll pick to either just use spray my water/leave-in conditioner combo or mouse or both! With my spray bottle, I'll wet my hair enough until it's 70% wet. I'll scrunch upwards and apply the mouse in "prayer hands" to evenly distribute the product and not ruining the curls. Then, I'll just let my hair air dry until it's dry. When my hair is dry, I'll flip my head over and again, scrunch out the gel cast and massage my scalp for volume.

Have you ever tried the Curly Girl Method?