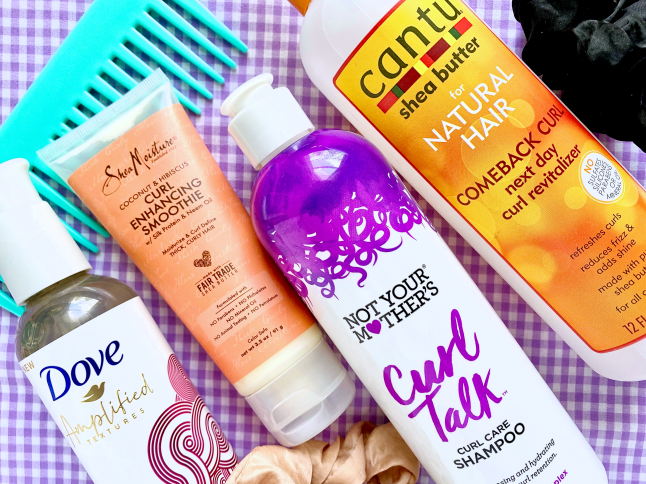 It's barely been a month and I'm already back with another curly hair product haul. What can I say I love trying out new products! I discovered a new curly-haired Youtuber that I'm obsessed with, she explains the products with such detail and she gets to the point in her videos which I love! Her videos definitely influenced me to cruise the curly hair aisle at the store. I actually purchased all of these products back in January so I have already tried some of these products a few times so I will share my first thoughts on said product.
*DISCLAIMER: Links included in this post might be affiliate links. If you make a purchase with the links I provide, I may receive a small commission at no additional charge to you.

Cantu Comeback Curl Next Day Curl Revitalizer
I was in the market for a curl refresher or reactivator, it's usually a watery liquid that is used to refresh your curls the next day. I found this one by Cantu and immediately bought it. Cantu is a very affordable curl hair brand and most of their products follow the Curly Girl Method rules. This is my first Cantu product and I love it so far! If any of you have tried any Cantu products and have any recommendations let me know.

How I use it: With damp hair, I spray the product into my hands and use the prayer hands technique to evenly distribute the product all over my hair. Next, I scrunch a few sections to reactivate my curls and leave them to dry, I always air-dry my hair but use a diffuser if you're tight on time. When my hair is dry, I used a microfiber towel to scrunch out any crunchiness that the product created. The result, lovely tousled waves. This product really helps enhance the waves in my hair. When used on the second refresh day hair, it brings out more curls. Depending on your curl type (I'm a 2b/2c) results will be different.

Dove Amplified Textures Shine + Moisture Finishing Gel
So, this was an impulse purchase, I only bought this gel because it was on sale at Target. Did need it? No. However, I'm incredibly happy that I bought it because this gel is amazing! I have heard other curly Youtubers mention this gel so it was on my radar. I intended to use it once I finished my current hair gel but I was tempted to use it and so I did. The gel has a strong masculine scent, it reminds me of that generic cologne scent. The gel itself is unlike any other gel I have ever used. It doesn't give you that sticky feeling that most gels do. This gel feels more jelly-like and doesn't leave you with sticky fingers afterward. It gives a nice gel cast and when scrunched out my curls are soft which amazes me because gels normally don't have that result. This was been my go-to hair gel for the past few weeks but I should probably use the other one up first before I continue using this one. haha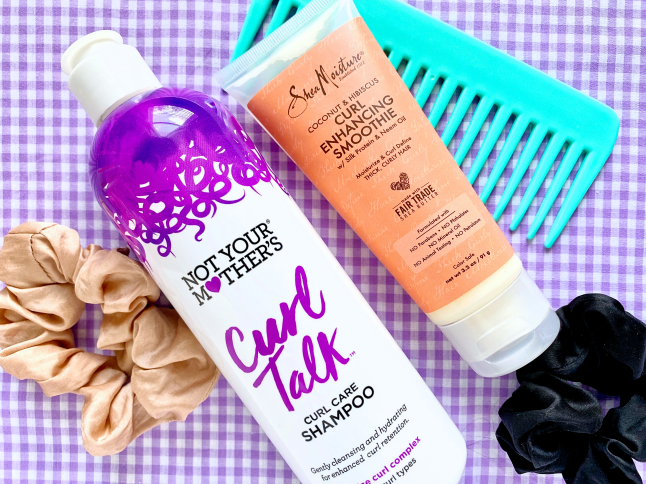 Not Your Mother's Curl Talk Curl Care Shampoo
In my last haul, I mentioned that I bought the Not Your Mother's Curl Talk 3-in-1 Conditioner so to complete the duo I went ahead and bought the shampoo as well. I use this shampoo once a week when I'm not clarifying or using a co-wash on my hair. I haven't used this enough to form an opinion so when or if I do I will share an update.

SheaMositure Coconut + Hibiscus Curl Enhancing Smoothie
Also in that haul post, I mentioned that I wanted to incorporate more proteins into my hair routine to see whether or not it does anything to my curls. This product is very popular in the CGM community because it contains protein so I decided to try it out. It says on the SheaMoisture website that it's designed for those with all types of curl types but I think it was made more for those with thicker hair because the product formula is a thick cream/paste consistency and I've found products like that don't mix well with my thin hair. But I'm open to testing it out. To be honest, I'm still not sure how I'm supposed to use this product. When I have used it, I apply a tiny amount to my palms and it creates this weird sticky white cast that's difficult to apply to my hair unless it's super wet. Recently, I've started adding a little bit of this into a spray bottle with some leave-in conditioner and water, creating my own next-day refresher concoction and I've been loving that combination. If you've tried this product please let me know how you use it.

What hair products are you currently loving?