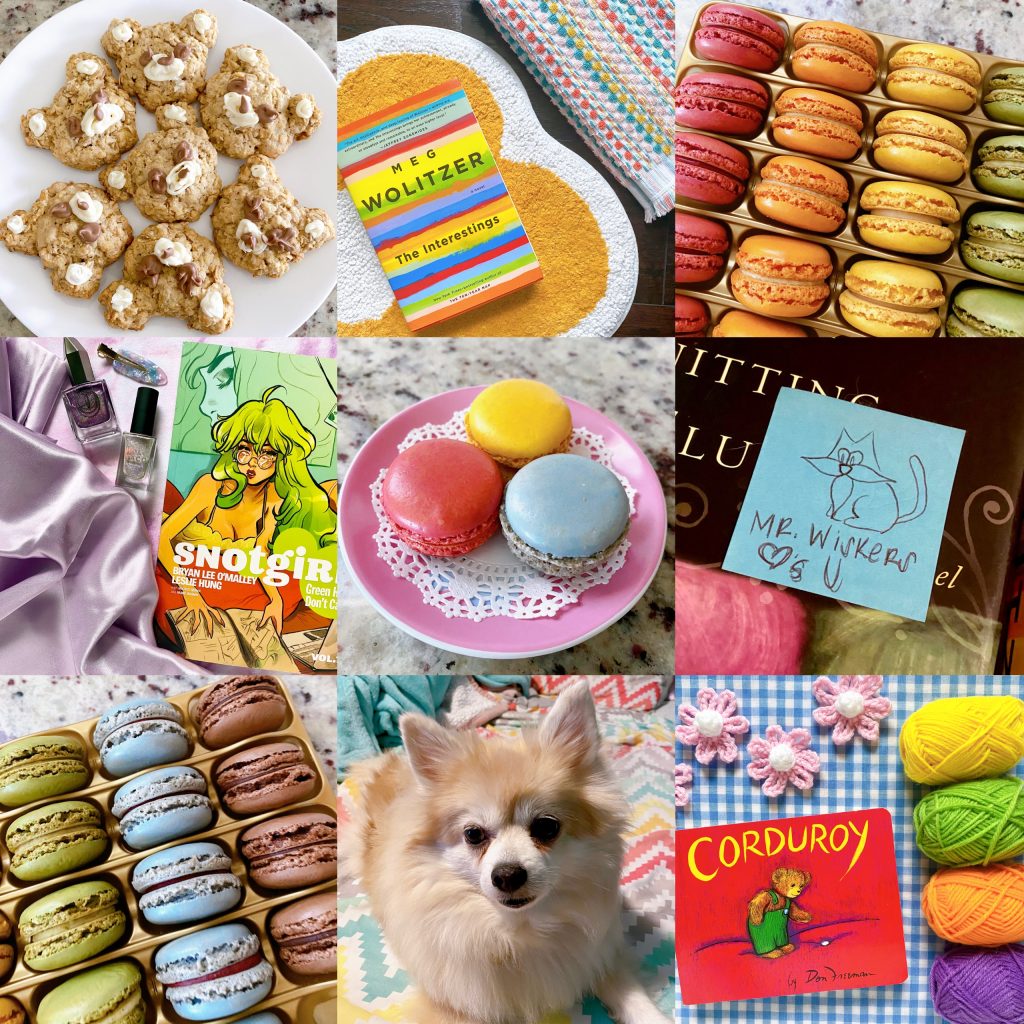 DISCLAIMER: Links included in this post might be affiliate links. If you make a purchase with the links I provide, I may receive a small commission at no additional charge to you.

What I Watched
Whitney Port The Hills Rewatch – Youtube
I didn't watch many films or series in April but I did binge Whitney's The Hills rewatch! I loved The Hills when I was younger and like most, I was heavenly invested in the drama. It was so fascinating to hear what happened behind the scenes and what was fabricated from the perspective of somebody who was there. Whitney and her husband are a hilarious duo, I literally laughed out loud!

The Mandalorian (season 3) – Disney+
The travels of a lone bounty hunter in the outer reaches of the galaxy, far from the authority of the New Republic.The travels of a lone bounty hunter in the outer reaches of the galaxy, far from the authority of the New Republic.

I know the season hasn't ended yet, and I hate to talk about a show that hasn't finished. However, because I didn't watch much in April I thought I would share my early thoughts on season 3 of The Mandalorian. So far, I'm loving it! There are a lot of cute Baby Yoda (the only reason I watch this series) scenes and seeing Grogu's character development is very interesting.

What I Listened
TWICE – SET ME FREE
FIFTY FIFTY – CUPID
j-hope – on the street (with J. Cole)
The Weeknd & Ariana Grade – Die For You (Remix)
Jimin – Set Me Free, Pt. 2
KAI – Rover
NMIXX – Love Me Like This
BOBBY – Cherry Blossom
BOBBY – Drowning (feat. SOLE)
LOREN – Folks
Lana Del Rey – Paris, Texas (feat. SYML)
Lana Del Rey – Peppers (feat. Tommy Genesis)
Lana Del Rey – Fishtail
Fall Out Boy – Heartbreak Feels So Good
Fall Out Boy – Love From The Other Side
Billlie – EUNOIA
IVE – Kitsch

Things I Did
Installed wallpaper
The bathroom is one of those spaces (next to our bedroom and kitchen) that we spend the most time in and I wasn't happy with how it was decorated so I decided to do something about it! If you know me, you know that I love bright colors and cute things (just look at my website!) so that was the theme of my bathroom, bright, colorful, and flowers. I choose this wallpaper, which I know isn't bright or colorful, in fact, it's the opposite but it's fun and bold! I loved the way it came out and it has definitely made the bathroom a more fun place to be in!

Start playing Animal Crossing New Horizons again
In the middle of the month, I decided to check in on my Animal Crossing Island. It was actually still decorated for Halloween! I haven't played New Horizons in months so it was fun to go back and scrap my island to the roots. I've been decorating my island for Spring and so far I'm pretty happy with how it's going I still have a few bare spots that I need to decorate before I update my dream address I'll keep you all updated when I do!

Got a root canal
It's not bad as everyone says it is! In fact, I barely felt any pain at all! The worst part was that the whole procedure took a total of 2 hours! I didn't even have to take any pain medicine the next day because I didn't feel any pain, I did have a tender spot on the outside of my cheek but it didn't really bother me.

What I Bought
Spring Bathroom Decor
In April, I decided to redecorate my bathroom for Spring. I bought a lot of cute decor from Target, they have a lot of cute Spring items available right now.

What I Read
Before the Coffee Gets Cold by Toshikazu Kawaguchi
In a small back alley in Tokyo, there is a café which has been serving carefully brewed coffee for more than one hundred years. But this coffee shop offers its customers a unique experience: the chance to travel back in time.

I finally read Before the Coffee Gets Cold! This has been on my tbr list for such a long time and I finally got a chance to read it as it was available on the Kindle app. I really enjoy this book! It was short but sweet. I definitely want to get a physical copy of this book because the cover art is beautiful and I could see myself rereading this book multiple times.

Snotgirl Volume 1: Green Hair Don't Care by Bryan Lee O'Malley
Who is Lottie Person? Is she a gorgeous, fun-loving social media star with a perfect life or a gross, allergy-ridden mess? Enter a world of snot, blood, and tears in this first collection from New York Times Best Seller Bryan Lee O'Malley (Scott Pilgrim, Seconds) and dazzling newcomer Leslie Hung!

Snotgirl is a comic/graphic novel about a 20-something fashion blogger who lowkey hates her life and feels unfulfilled with her life until she meets a new friend but things go wrong very quickly.
The main character is a person you hate to love, she has amazing fashion taste and obviously, I love the blogger aspect. The art is also stunning! I can't wait to read the rest of the volumes.

How to Do the Work: Recognize Your Patterns, Heal from Your Past, and Create Your Self by Dr. Nicole LePera
As a clinical psychologist, Dr. Nicole LePera often found herself frustrated by the limitations of traditional psychotherapy. Wanting more for her patients—and for herself—she began a journey to develop a united philosophy of mental, physical and spiritual wellness that equips people with the interdisciplinary tools necessary to heal themselves. After experiencing the life-changing results herself, she began to share what she'd learned with others—and soon "The Holistic Psychologist" was born.

I love reading self-help books because I suffer from several mental illnesses and anything that can help me identify my patterns are beneficial for my health. In How to Do the Work by Dr. Nicole LePera, she explains the connection between trauma and your childhood with coping strategies to help improve comfort your patterns, and how to do the work to better your life. I learned a lot from this book! There is a lot of helpful advice in this book, I also want to get a physical copy of this book because I highlighted a lot in this ebook version and would like a real-life copy to flip through back on parts that I enjoyed.

Things I Love
Amazon Kindle App
The reason I didn't watch any new films or series is that I've been obsessed with reading! At the beginning of the month, I found out that I could access free ebooks via the Amazon Kindle app on my iPad because I have an Amazon Prime subscription. One of the reasons that I don't read as much is that books are pricey so even though I am a slow reader I would also force myself to savor a book as much as possible so that I don't keep buying books. However, now that I have access to free books I can see myself reading more.

Books Unbound
I found this podcast so randomly! I was looking up reviews of a book I wanted to read on Goodreads and saw a review of that book that lead to the podcast episode. But I'm so happy I did because I've been enjoying this podcast so much! I already watched all their video podcast episodes which I never do because I prefer to listen to podcasts over watching them. However, I love seeing all the book covers! This podcast is about books! So, if you enjoy reading books then give this podcast a listen.

Favorite Blog Posts
Full Moon Beauty Ritual
50 Ways to Romanticize Your Life This Spring
How to Lose Friends and Influence People
How (Not) to Quit Instagram, the gripping new drama
Before Bed Tarot Spread for Sweet Dreams
HOW TO SET UP A WEEKLY RESET
Easy Vegan Banana Flapjack Bars
15 Books That You Need on Your Spring Reading List
How to Cycle your Wash Days for Beginners
Organized Tea Station

Posts From The Month
This February ♡ 2023
MUNDANE MAGIC ☆ 09
Astrology Spotlight ♥ Pisces (February 19 – March 20)
MUNDANE MAGIC ☆ 10
MoonCat VS HoloTaco ♥ Beauty Review
MUNDANE MAGIC ☆ 11
Magical Moments #15
MUNDANE MAGIC ☆ 12
Work Your Light Oracle Cards Review
Curly Hair Haul ♥ First Impressions & Reviews
MUNDANE MAGIC ☆ 13

What were some of your favorites from the month?