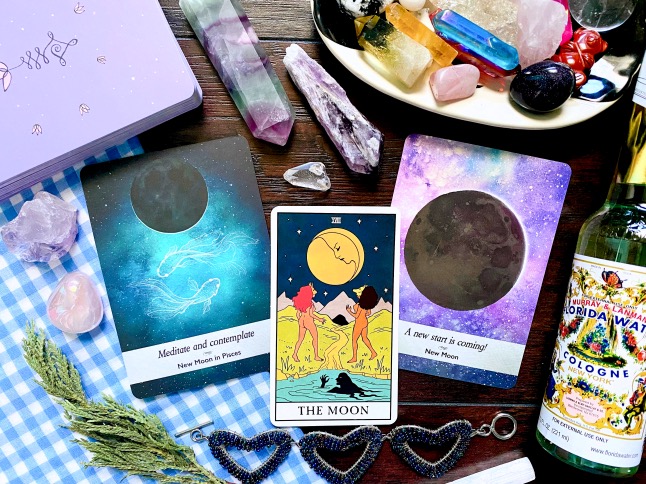 On Wednesday, March 2nd at 12:35 PM EST there will be a New Moon in the sign of Pisces. Pisces is a mutable water sign ruled by Neptune and the 12th house (in your natal/birth chart). The Tarot card that represents the sign of Pisces is The Moon and the polarity of Pisces (opposite sign) is the sign of Virgo.

If you're not a Pisces, make sure to check your birth/natal chart to see where Pisces lands in your chart and what Pisces characteristics you have within you. If you don't have Pisces in your chart check to see what you have under your Neptune or 12th house. This goes for any astrological sign, if you don't have that said astrology sign in your chart check the corresponding planet and house.

Pisces is the twelfth and final sign of the Zodiac wheel. Pisces is intuitive, imaginative, mystical, compassionate, and sensitive. Pisces are dreamers who are very intuitive and in touch with the spiritual realm. On the contrary, Pisces can be unrealistic, submissive, dependent, escapist, and self-pitying. Pisces can care too much to the point where they forget to take care of themselves.

Remember that the Moon's energy is strong enough to work with on the day before, the day of, and the day after. I like to plan out my moon rituals a few days in advance so that I have all my materials ready. Check out this post to see what's the difference between the New Moon and Full Moon and learn more about both. You can also read all my past moon posts here.

What to expect during this New Moon?
– Self-healing energy
– Set new goals and plant new seeds
– Release fear and anything that no longer serves you
– Trust your intuition!

Activities to do during this New Moon
– Journal and write down your dreams and how you can turn those dreams into a reality
– Connect with your intuition by pulling some Tarot cards
– Work with Selenite, Clear Quartz, amethyst, and/or moonstone
– Make this mist to clear out old negative energy
– Start a dream journal
– Evaluate your dreams and nightmares
– Meditate
– Look into divination techniques
– Make moon water
– Work with the scents jasmine and sandalwood
– Work on your crown chakra

Are you a Pisces?