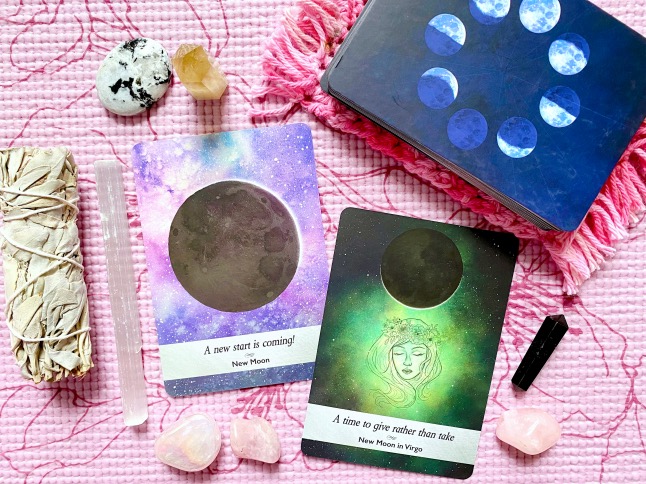 Today, Monday, September 6th at 9:01 PM EST there will be a New Moon in the sign of Virgo. This is also the last New Moon of the summer. Virgo is a mutable earth sign that is known to be analytical, practical, and organized. Virgo rules the digestive system so health/body are really important at this time, make sure to check in with your mental and physical health. How are you treating your body? Are you eating fresh whole food? Are you exercising? If not, you might acknowledge this and make the necessary changes to improve your mind-body health. Virgos also love to improve management so this could also be the time to change or improve your daily routine. As always, check out your natal/birth chart to see where Virgo lands in your chart, every chart is different so this New Moon might not affect much as last as the last New Moon did. Remember that the New Moon is the beginning of a new lunar cycle, it's a new start which means this is the perfect time to start new projects, new routines, and set new intentions.

The Moon's energy is strong enough to work with on the day before, the day of, and the day after. I like to plan out my moon rituals a few days in advance so that I have all my materials ready. Check out this post to see what's the difference between the New Moon and Full Moon and learn more about both.

What to expect during this New Moon?
– Connect and give back to the earth
– Finish up lingering projects
– Stick to your routine (or make a new schedule that best suits your needs)
– Expand your dream. Set your ideas into motion!
– Trust your intutition
– Be mindful of the news and entertainment you take in. It could lead to unwanted negativity
– Your compassion/sensitivity will be tested

Activities to do during this New Moon
– Set new intentions/goals
– Manifest in a journal. Write down what it is you want to create in the next 6 months
– Clear out old energy. Give your space a deep cleanse and get rid of anything that no longer serves you or makes you happy
– Work with Jade, Amethyst, Agate, Selenite, and Clear Quartz
– Make moon water
– Exercise (practice yoga or go on a nature walk)
– Get organized
– Do this guided meditation
– Do a Tarot card spread for the New Moon. This account posts some great Tarot prompts
– Detox
– Change things up! Try something different that could change your routine.
– Drink some chamomile or peppermint tea

Have you worked with the New Moon before?