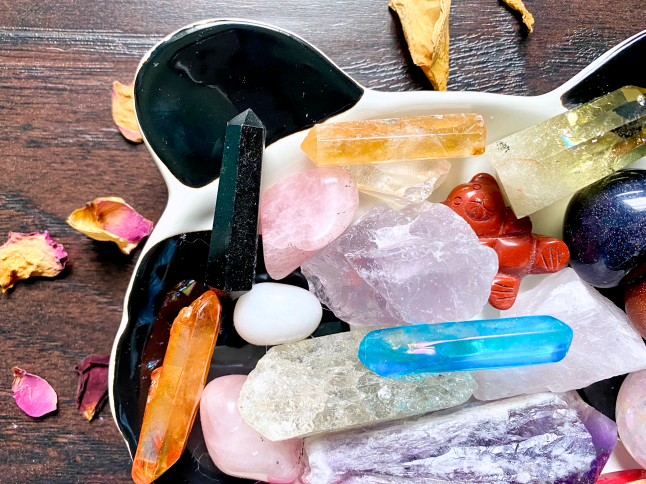 It's not odd to be attracted to crystals because some are just so beautiful to look at! However, I'll be honest I've never been a crystal person. My older sister is really into crystals, to the point that she keeps crystals all over her house and car. Over the years, she has gifted me quite a couple of crystals which I first used as decorations but as I started getting more into witchy stuff I became more fascinated with crystals so I gave them another shot. I'm still very skeptical about crystals but I DO use them every now and then. Honestly, I think crystals are one of those things where if you believe in them hard enough it becomes real. I'm open to their concept and hopefully, I can feel what other crystal fans one day.

The crystals I tend to gravitate towards are the ones that banish negative thoughts and energy, have relaxing properties, are protective, and promote creative energy. Even though I wouldn't classify myself as a negative person, I still have negative thoughts about myself and high levels of anxiety so I like to collect crystals that can help with these issues.

This Youtube channel has really helped me with understanding different types of crystals as they post very informative crystal videos and they even have some gemstone-guided meditations for specific crystals.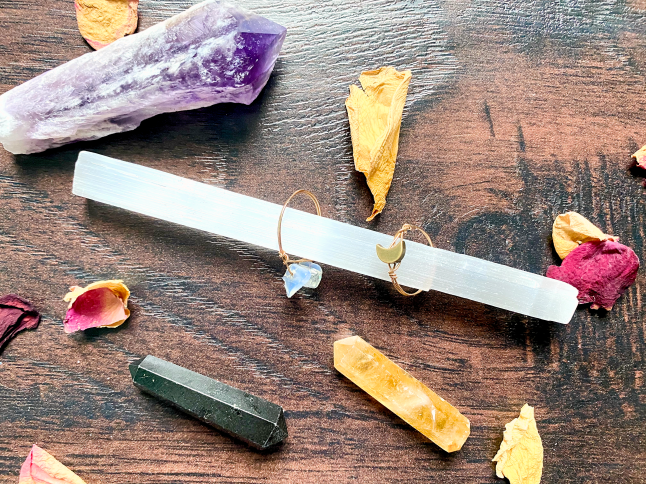 Selenite
Selenite is a translucent white crystal. It's an extremely cleansing crystal. It has a calming and peaceful presence that can be used to clear negative energy. It's also a high-vibration stone, meaning that it can help strengthen your intuition and improve concentration a well. Selenite is a wonderful gem to use if you're trying to strengthen your psychic abilities because it's connected to the crown charka, the charka that is associated with higher guidance and spiritual life, try meditating with a piece of Selenite to experience this.

How I use it: Because Selenite contains so many cleansing properties I keep a selenite wand in my crystal dish so that they're always clear from other energies and ready to use. On days of a new moon and full moon, I will place my Selenite wand over my tools (like Tarot and oracle cards) to clear up emotions and energy that may have formed from the previous lunar cycle. I also like to use selenite when I'm doing a chakra meditation to align my chakras and remove any blockages.

Citrine
Citrine is a light yellow-colored positive gem that helps you uplift your spirit and bring you more happiness, awaken your imagination, stimulate your creative juices, helps boost confidence, attract wealth and abundance. It's a wonderful crystal to use for manifestation and/or looking to attract success in wealth and prosperity.

How I use it: My favorite way to use Citrine is to mediate with it. I've manifested some amazing things by sitting with this lovely stone.

Moonstone
Moonstone is a white luminescent calming crystal that helps heal and balance your emotions. Like the moon, you can use Moonstone to raise your vibration and strengthen your ability to set intentions and manifest. Use Moonstone to reflect and set new intentions if you no longer feel like you're on the right path. You can also use Moonstone to connect with the divine feminine. If you're a woman, Moonstone can help support you with your feminine energy or maybe you feel as if you're not in tune with your femininity, try working with some Moonstone.

How I use it: I love to work with Moonstone during a lunar cycle. The best way I incorporate Moonstone into my life is to wear it on my body. I have some rings that contain Moonstone so I like to wear those out.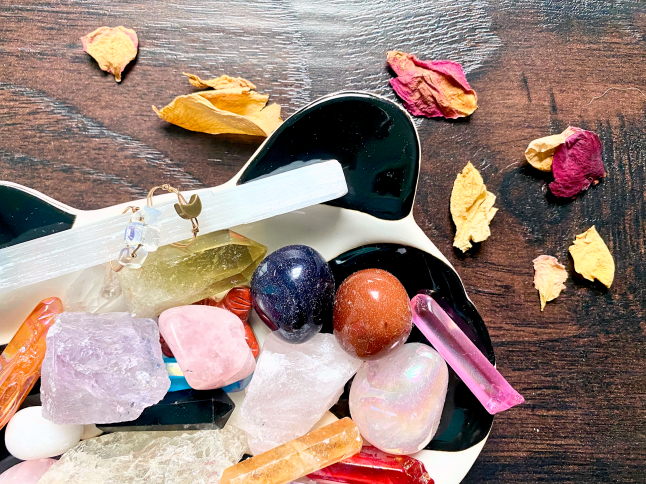 Black Tourmaline
Black Tourmaline is a protective black stone that is used to healing, shield negative thoughts, highlight awareness, staying present, and eliminate toxic energy. Black Tourmaline has the powerful ability to filtering out negativity, banish toxic thoughts and help prevent unwanted negative energy from latching onto you. so if you live with a negative person (or spirit) you might want to wear some Black Tourmaline. Not only that, it actually transmutes negative/toxic/bitter energy into positive. Black Tourmaline is also associated with the root chakra, if you're working on your root chakra energy carry some Black Tourmaline with you.

How I use it: When I'm stuck in a rut with negative thoughts, I will break out the Black Tourmaline and sit with it for a few minutes. I like to meditate with a piece of Black Tourmaline. When I meditate, if I'm not using the Selenite wand, I will hold two stones, one in each palm. By meditating with Black Tourmaline in one palm, I can keep myself grounded and prevent negativity to enter my spiritual body. In my other palm, I'll either use clear quartz or selenite or some other crystal.

Have you worked with crystals before?