*DISCLAIMER: Links included in this post might be affiliate links. If you make a purchase with the links I provide, I may receive a small commission at no additional charge to you.

Last year, I created a special mist brew to cleanse my yoga mats and was going to share that DIY last year but I somehow forgot! However, I recently ran out of a store-bought yoga mist so I thought now would be the perfect time to share with you all my very own concoction, it's an energy cleansing mist! I created this specifically to clean my yoga mats with but it has several uses which I'll share in a bit. It's also a simple DIY that only requires a few things.

The special ingredient in my energy cleansing mist blend is Florida Water! Florida Water (also known as Agua de Florida) has many uses but it's known as a traditional tool for spiritual cleansing, blessings, and protection. It's said to help combat negative energy and enhance your spiritual practice such as meditation or yoga, which is why I use it mostly on my yoga mat. However, it has many other uses, some people use it as a literal cologne (as described on the bottle) but you can use it as a home cleaner or as a body spray. If you're wondering what Florida Water smells like it contains a mixture of scents but it has a strong citrus, floral yet earthy scent.

Aromatherapy really affects my mood and helps ease my anxiety and well-being. There is just something about coming home to a nice-smelling room that just puts me in a positive mood. Especially when it comes to cleaning which is why I just love using this mist to cleanse my space and get rid of negative thoughts.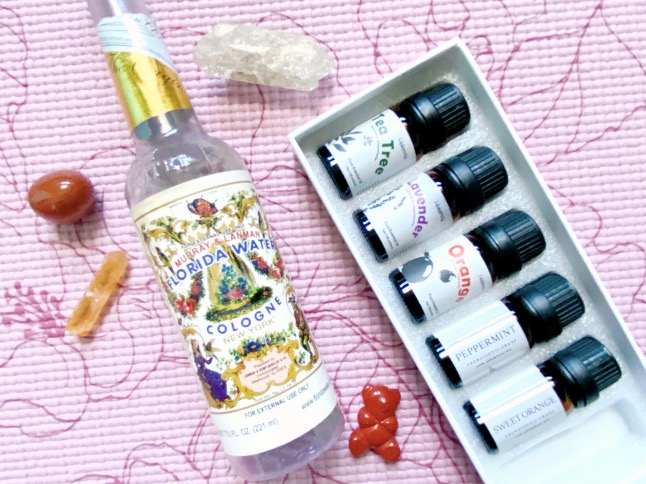 You Will Need
– Empty glass spray bottle (or reuse any)
– Florida Water
– Peppermint essential oil*
– Lavender essential oil*
– Water

*Feel free to skip the essential oils. Florida water already contains a mix of essential oil so you don't really need them but I personally like adding a few drops of lavender and peppermint essential oil but you can use whatever essential oils you want.
How To Make The Mist
Step 1: In your spray bottle, add one-part water and one-part Florida Water, fill up 2/3 of your bottle with this mixture.

Step 2: Add 1-3 drops of each essential oil. Keep in mind that the Florida Water is already scented so you don't need too many drops from the essential oils. Use more water if you want less of a scented mist.

Step 3: Cover and shake your bottle to mix all the waters and oils. Spritz to smell the fragrance and get rid of any negative energy that has been lingering on you. Done!

To Use
Before every use, shake vigorously to mix the ingredients. Use this cleansing spray to clean your home to get rid of negative energy. Use as often as you want but keep note that the scent lingers for a few days so once a week should be enough.

Besides using it to clean my yoga mats, I also use this spray to clean my dresser, makeup vanity, I've put some in my diffuser and even use it as a room spray. You can also use it to cleanse your crystals and other spiritual tools or even before you sit down to meditate. The options are endless because it's a multipurpose potion! If you create your own energy cleansing mist tag me @mooeyandfriends so I can see your creations!

How often do you cleanse your space?