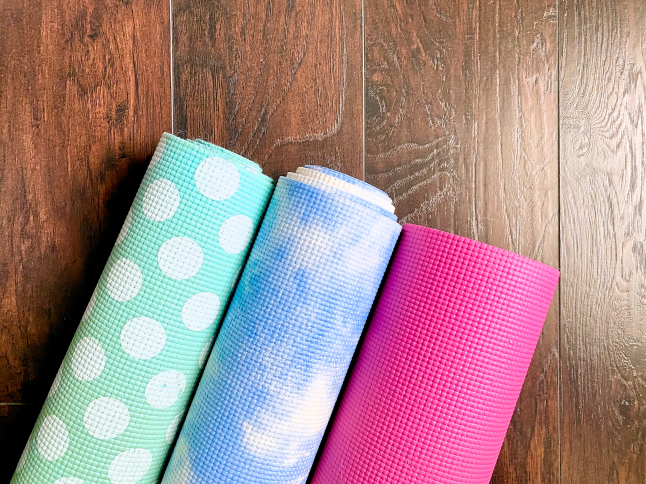 Last year, one of the activities I decided to take up was yoga and meditation. Around this time last year, it was the start of the pandemic and I had just returned to the US after living in South Korea for 3 months. When I was living in Korea, I wasn't able to work out because I lived in a Goshiwon and those rooms are super tiny (think the size of a closet or bathroom), the only time I would exercise was when I would take a walk in the park. When I came back home I made sure to exercise as much as I could before I went back to Korea but then the global pandemic happened and I had to remain in the US. Instead of dwelling on the state of the world, I decided to take up daily yoga and add meditation to my routine to help calm my anxious self. It's now been around a year since I pick up these two habits and I wanted to share my experience of doing these activities for a year and how they changed my life. I didn't do both of these activities every day but I did do them pretty regularly!

YOGA
I started out my yoga journey by following Adriene's yoga monthly calendar. She offers a calendar with a yoga video each day. The playlist is also available on her Youtube channel. These daily videos can range anywhere from 5-60 minute videos. I've been following Yoga With Adriene videos for years and have joined multiple of her monthly yoga journeys. Around late 2020, I wanted more of a challenge and that's when I encountered the Boho Beautiful Yoga channel. Those videos are slightly more challenging than Adriene's videos so I appreciate the difference in both channels. I try to do about 30 minutes to an hour of yoga almost every day I do occasionally allow myself a break day or two when I feel like my body needs it.

How was my body improved after a year of yoga?
My balance and flexibility have improved slightly. I've always been pretty good at both, but over the years, as I have gotten older, I have noticed that I'm not as balanced or flexible as before. But after a year of almost daily yoga, I have noticed an increase in my balance and flexibility! My body has also gotten more toned due to daily yoga, improvement is inevitable when you practice something every day. Pretty much my entire body has gotten toned but I notice certain spots look more lean now. Since I don't weigh myself, I can't say if I lost any weight or not. However, I did notice that my hips have slimmed down a lot! Thank you extended child pose! I'm Latina, so wide hips run in my genetics and it has always been a complex of mine since I was young. I didn't think yoga had the ability to shrink this area of my body but I'm very thankful that yoga did this! I still have wide hips but there is less fat around them now.

My love for meditation grew because of yoga, I now look forward to meditation! I'll talk about this more next, but the reason I started daily meditation was that I looked forward to that moment after 'corpse pose' where you lay on your mat and quietly meditate for a few breaths. I looked forward to meditation so much now!

MEDITATION
The first time I started meditating I remember it being so difficult because you get distracted so easily and let your mind wander aimlessly. However, the more you practice meditation, the more it becomes easy to tame these random thoughts and let them go. Even after practicing meditation (almost) daily for a year I still get distracted but when I do I just tell myself to focus on the breath. Eventually, you'll reach this zen atmosphere and realize that not thinking about anything for a few minutes can be so blissful! I leave every meditation session feeling happier and more peaceful. If you haven't tried meditating I highly recommend it!

How has meditation improved me in a year?
There are so many benefits to practicing meditation regularly. My sleep has improved and it's calmed my anxiety for sure! I'm a very very anxious person. However, when I meditated regularly it really calms down my anxiety. Currently, I can only meditate for about 10 minutes. Meditation is kind of like a muscle in which you need to practice often so that the muscle can grow and become stronger and my meditation muscle is still growing.

As I mentioned above, I look forward to meditation. It's part of my routine now and I feel off if I don't meditate. I know it sounds foreign to some to say that I look forward to meditating but if you meditate regularly then you probably understand what I mean.

I use the app, Insight Timer to track my meditation process, they offer a ton of free guided meditations, or you can use their timer. Personally, I enjoy practicing with some light music in the background. Before I discovered Insight Timer, I would search Youtube for 5-10 minute meditation music. However, after following the New Moon and Full Moon guided meditations I started to appreciate guided meditations. Now, I switch between guided meditations and using the timer on Insight Timer.

Do practice yoga and meditation regularly?