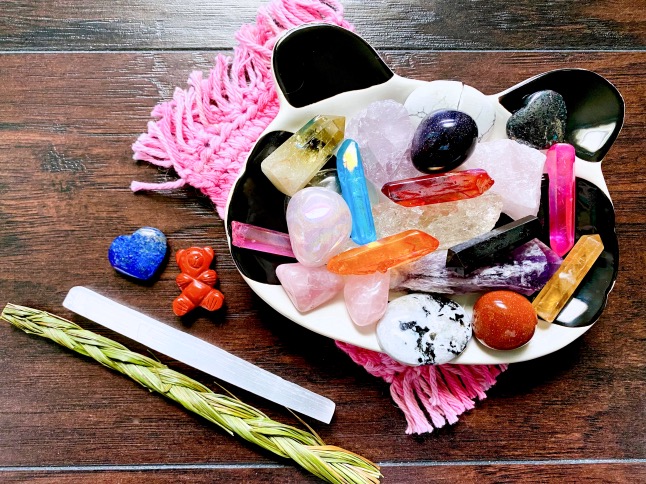 If you've seen any of my spiritual/moon posts then chances are you have probably seen my crystal panda dish at some point. A majority of my crystals were given to me by my older sister but I have bought a couple of crystals for specific reasons like to promote positivity, fuel creativity and banish negativity. In this post, I'll be giving you a closer look at my crystals, what they're called, and what they're known for.

To be honest, I have a love/hate relationship with crystals. I think they're gorgeous but do I believe in crystals 100%? Nah. I would say I believe in their magic 60% of the time and the other 40% I'm skeptical. However, I have actually have had some amazing results from using crystals. I've manifested things that I never thought I could obtain thanks to crystals, and a positive mindset. They've quickly become one of my favorite tools to use in my everyday life. I meditate with crystals, charge them In the moonlight (when it's their time of the month), and place them over my Tarot and oracle decks to enhance their (the cards) spiritual powers.
Selenite Wand
If you're a crystal collector, Selenite should be in your collection, it's an essential! It is one of the most powerful crystals for new vibration energy, an important stone for intuition and is said to assist in past life work. Selenite also brings clarity to meditations and eases the mind and spirit. It enhances mental clarity and strengthens the memory.

Crackle Quartz

Clear Quartz
Another essential to have in your crystal collection! Clear Quartz is a universal Crystal that have multiple uses. It can enhance energy by absorbing, storing, amplifying, balancing, focusing and transmitting it. When used with another crystal, it can amplify its energy so I always used a piece of Clear Quartz along with another crystal.

Clear Quartz Worry/Palm Stone

Rainbow Moonstone Worry/Palm Stone
Moonstone is a stone that calms and connects us with the natural rhythms of life. It clears the mind and aids in lucid dreaming and peaceful sleep. It can also help deflect negative energy and balance feminine energy. Moonstone is connected with the moon and is a great stone to use in a moon ritual.

Howlite Worry/Palm Stone
Howlite is a stone that helps calm anger and encourages peace and patience. It allows you to relax your mind. Howlite allows you to approach all challenges with an open-mindedness and release emotional attachments that do not serve our highest good.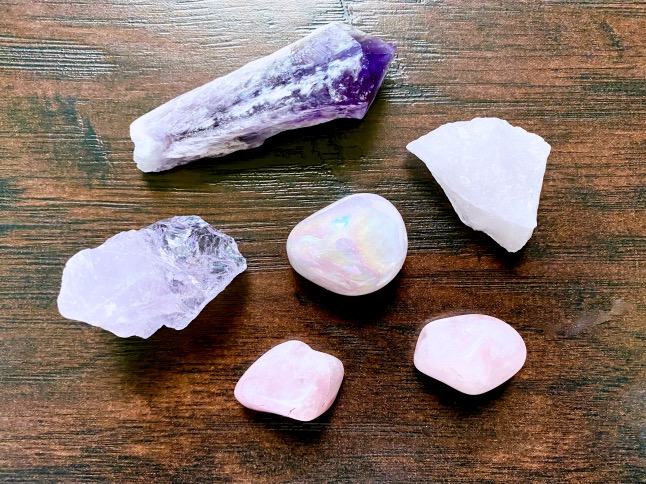 Amethyst
Amethyst is a peaceful stone, that contains loving energy, a natural stress reliever and helps with developing intuition and psychic abilities. Amethyst is associated with the Crown Chakra to enhance spiritual awareness and promote a higher state of consciousness.

Rose Quartz
Rose Quartz is the stone of unconditional love, self-love, family, platonic and romantic. It is a very positive stone that is calming, reduces stress, raise self-esteem and a strong sense of self-worth as well as balance emotions. It has a strong energy that can enhance love and open the heart chakra.

Rose Aura Quartz
Rose Aura Quartz is a powerful Aura Cleanse, it is used by energy healers to align and clean the chakras. The soothing energy of this beautiful stone brings serenity, inner peace, mental clarity and calmness.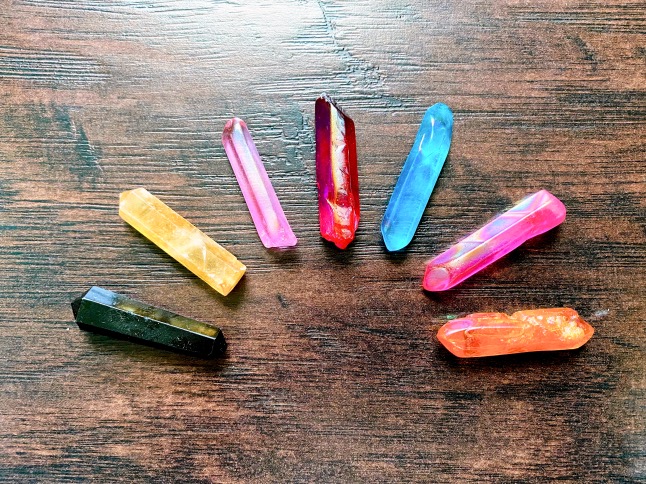 Black Tourmaline Double Point
Black Tourmaline is a very powerful protection stone that shields against negative energy and dispels negative thoughts and transmutes them into positive energy.

Citrine Point
Citrine carries the power of the sun in it and is energizing, warm and comforting. It is one of the best stones for abundance and manifestation, and my favorite crystals. Citrine clears the mind and body and manifests wishes and abundance. Citrine transforms negative thoughts into positive ones. I've used this stone to manifest multiple things and it has never steered me wrong!

Aura Quartz Crystal Points
I have these in Ruby, Aqua, Rose and Sunset. Aura Quartz crystals have a beautiful shimmering iridescence and metallic rainbow that can make anyone swoon! They are, however, artificially enhanced aka manmade. However, many believe that they still contain unique mystical properties.

Aura Quartz crystals provide a calm, soothing, relaxing effect on the body and a healing aura. They are exceptional for releasing negativity and stress, old wounds, and self-doubt. These crystals are uplifting to the spirit and promote optimism.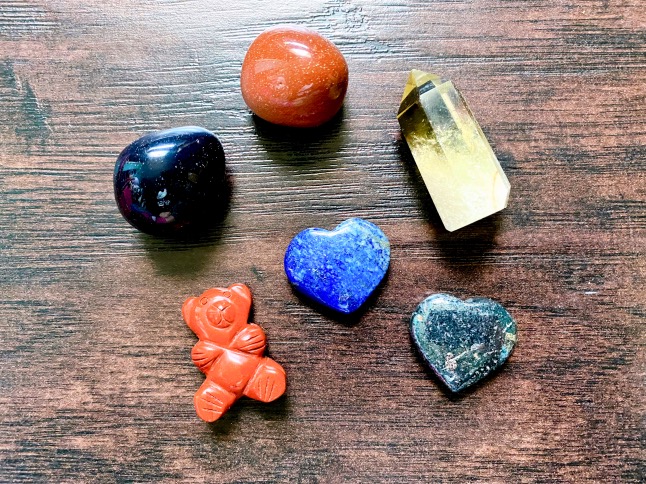 Blue Goldstone
Blue Goldstone is a protective stone, especially for psychics and empaths. It is a nervous system stimulant and has proven to hold metaphysical properties. They say that it can also help reduce inflammation as well as for increasing blood flow. Blue Gold Stone is associated with the throat and third eye chakras

Gold Stone
Gold Stone is a stone of confidence and ambition, and it encourages motivation and a positive attitude. It helps uplift and make anxious people to feel a happier and have a more optimistic mindset. Gold Stone is associated with the root chakra and solar plexus.

Citrine Tower

Red Jasper Bear
Red Jasper is a stone that brings strength and energy, stamina, focus and determination. It's a great stone for setting goals with!

Lapis Lazuli Heart
Lapis Lazuli relieves anger, quickly releases stress and promotes peace and tranquility. It also stimulates wisdom and good judgment and activates a higher mind and enhances intellectual ability, it is excellent for enhancing memory.

Hematite Heart
Hematite is a stone of stability, grounding and protection. It helps decrease negativity and boost self esteem and self confidence.

Do you collect crystals?