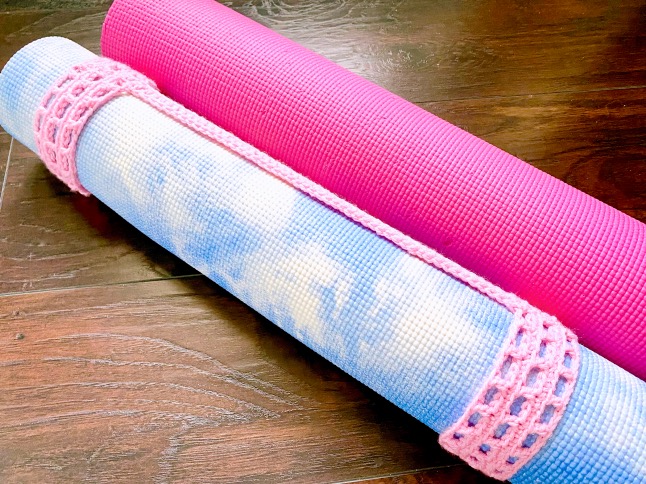 Today, June 21st is international yoga day. Since the start of the pandemic, I've been practicing yoga almost daily. This healthy activity doesn't even feel like exercise to me! I enjoy the physical and spiritual collection of yoga, I feel so light after every yoga session and my body and soul feels so in sync with each other. My yoga routine consists of a light meditation before, a 30-60 minute yoga practice followed by a 10-minute meditation afterward. My favorite online yoga instructors are Yoga with Adriene and Boho Beautiful Yoga, if you're looking for somewhere to start I recommend their yoga videos.

Anyways, in honor of International yoga day, I'm sharing this yoga strap crochet pattern with you all. I had the idea for a crocheted yoga strap for a while so I'm so excited to finally share this crochet pattern. If you plan on crocheting this yoga strap I recommend you use bulky or sturdy yarn for better hold. I used a worsted weight yarn because that's pretty much the only type of yarn I have in my collection.

If you would like to leave a tip for making this crochet pattern available for free, you can leave me a tip on my Ko-fi. All tips are appreciated! Check out all of my free crochet patterns here and my shop to buy my original crochet items.

If you want to learn how to crochet watch my how-to video here. If you decide to make this pattern post it on Ravelry or tag me @mooeyscrochet.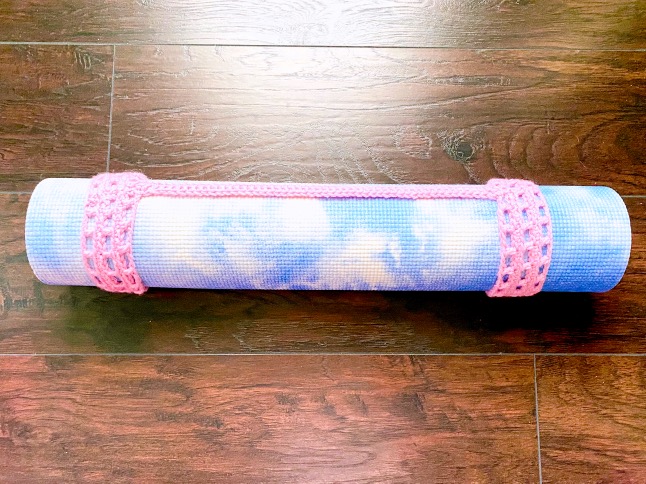 *DISCLAIMER: Links included in this post might be affiliate links. If you make a purchase with the links I provide, I may receive a small commission at no additional charge to you.

Supplies
– H/5.00 mm crochet hook (my favorite hook)
– Worsted weight yarn (you can use whatever color you want)
– Slanted tapestry needle (I use these)
– Scissors

Aberrations
ch(s) – chains
st(s) – stitch(es)
sk – skip
slst – slip stitch
sc – single crochet
dc – double crochet
flo – front loop only
blo – back loop only
(x_) – repeat (_) amount of times
[x_] – repeat everything inside the [_] times amount of times

Crochet Level
Beginner

Pattern Notes
The pattern is written in US terms.
This pattern uses a magic circle. Magic circle instructions here.
If you have any problems with this pattern feel free to contact me so that I can make corrections to the pattern.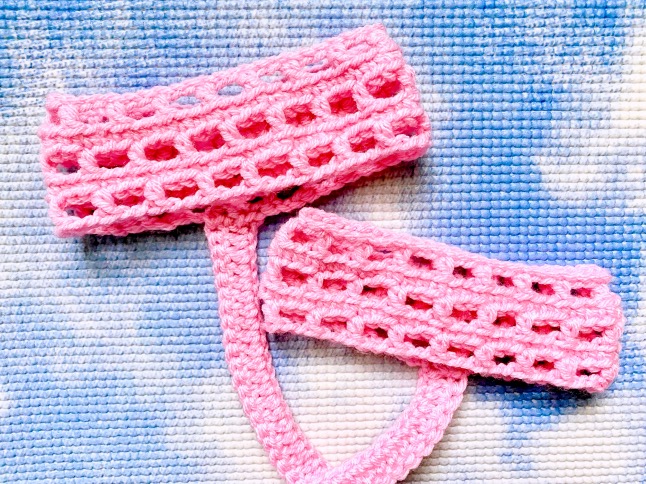 Yoga Loops (MAKE 2)
With H hook and yarn
Round 1: ch 52, [sk 2 sts, dc 1 st, ch 2](x17 times) slst to 1st st. Total = 17 sts (17 dc sts)
Round 2: ch 1, blo, sc 50 sts slst to 1st st. Total = 50 sts (sc sts)
Rounds 3-5: Repeat rounds 1-2 and end with round 1.
Cut off and weave yarn ends

Yoga Strap
With H hook and yarn
Row 1: ch 51 sts, dc 50 sts. Total = 50 sts
Cut off and weave yarn ends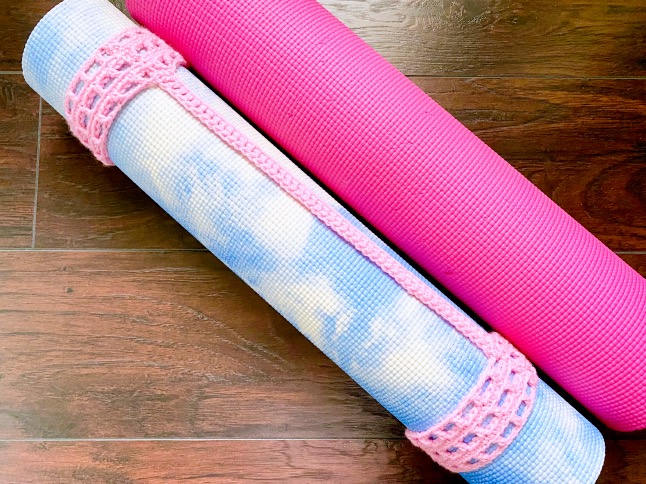 Assembly
With a yarn needle, sew the loops closed and sew the strap to the bottom center of the loops. Weave all loose yarn ends.

Do you practice yoga?