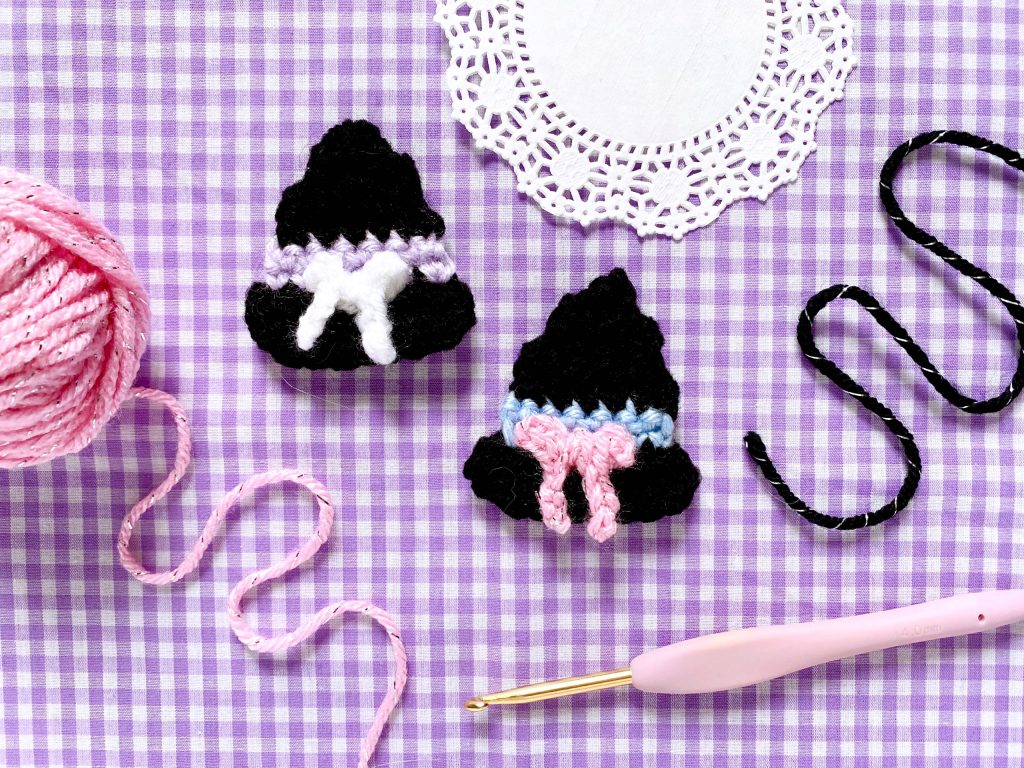 This is my second and final crochet pattern for Blogtober. Check out the other pattern here. A few years ago, I crocheted a ghost and pumpkin applique that you could use to make brooches or whatever. This time I'm showing you how to crochet a witch hat! With everything witchy seeming to be popular nowadays I thought this would make the perfect Halloweeny crochet pattern.

If you crochet this project, you can post it on Ravelry or tag me @mooeyscrochet so that I can see your creation. If you want to learn how to crochet, watch my crochet how-to video here. If you would like to support me for making this crochet pattern available for free, you can buy me a Ko-fi. Check out the rest of my free crochet patterns here.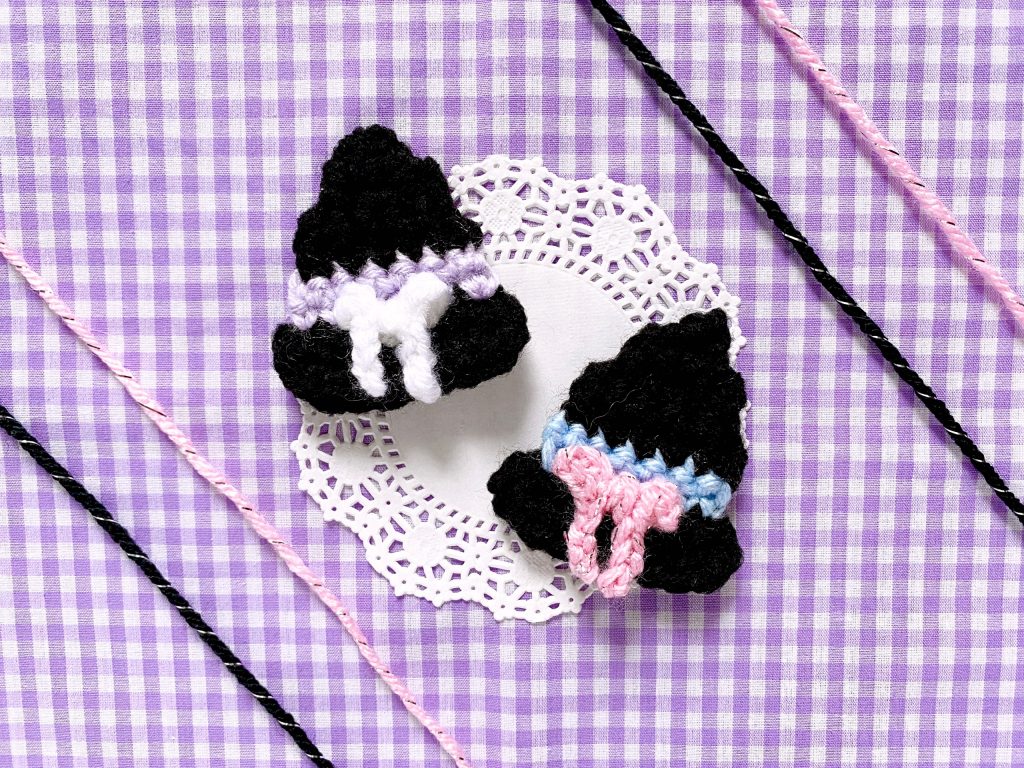 *DISCLAIMER: Links included in this post might be affiliate links. If you make a purchase with the links I provide, I may receive a small commission at no additional charge to you.

Supplies
– G/4.25 mm crochet hook (my favorite hook)
– 2.25 mm crochet hook
– Black yarn
– Colored yarn (2nd color)
– Scrap yarn
– Felt
– Slanted tapestry needle (I use these)
– Glue (this is my favorite no-sew glue)
– Scissors

Aberrations
ch(s) – chains
st(s) – stitch(es)
slst – slip stitch (same as join)
sc – single crochet
hdc – half double crochet
dc – double crochet
flo – front loop only
blo – back loop only
cc – color change
dec – decrease (same as sc2tog) (single two st together)
inc – increase (make 2sc in a single st)
(x_) – repeat (_) amount of times
[x_] – repeat everything inside the [_] times amount of times

Crochet Level
Beginner

Pattern Notes
The pattern is written in US terms
This pattern uses a magic circle. Magic circle instructions here.
If you have any problems with this pattern feel free to contact me so that I can make corrections to the pattern.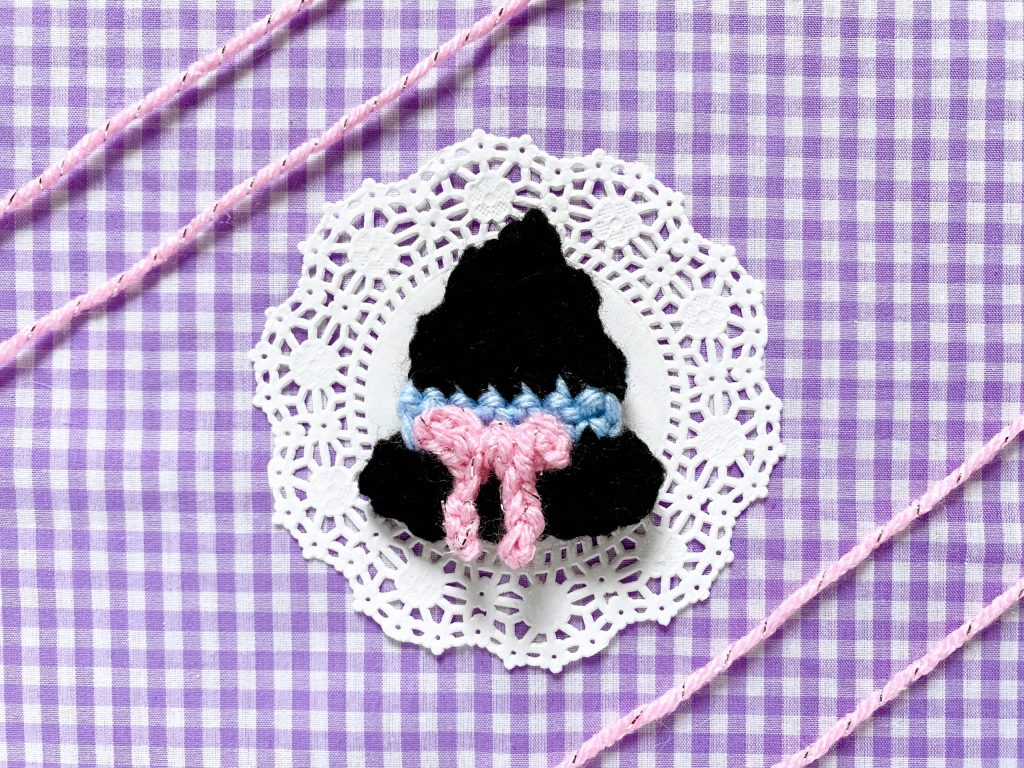 Witch Hat
With G hook and black yarn
Row 1: ch 9, sc 8 sts. Total = 8 sts
Row 2/Round 1: turn, ch 1, ch 8 sts (on the other side of ch), slst to 1st st
Cut off
cc to 2nd yarn
insert your hook in the middle of the bottom side (the part you were just working on)
Rows 1-2: ch 1, sc 7 sts. Total = 7 sts
cc to black yarn
Row 3: ch 1, dec, sc 3 sts, dec. Total = 5 sts
Row 4: ch 1, sc 5 sts. Total = 5 sts
Row 5: ch 1, dec, sc 1 st, dec. Total = 3 sts
Row 6: ch 1, dec, sc 1 st. Total = 2 sts
Row 7: ch 1, dec. Total = 1 st
Cut off and weave yarn ends

Bow
With 2.5 mm hook and scrap yarn
Rows 1: ch 20 sts. Total = 20 sts

Make two loops on each end of the chain and sew to the center of the crochet piece to make the bow.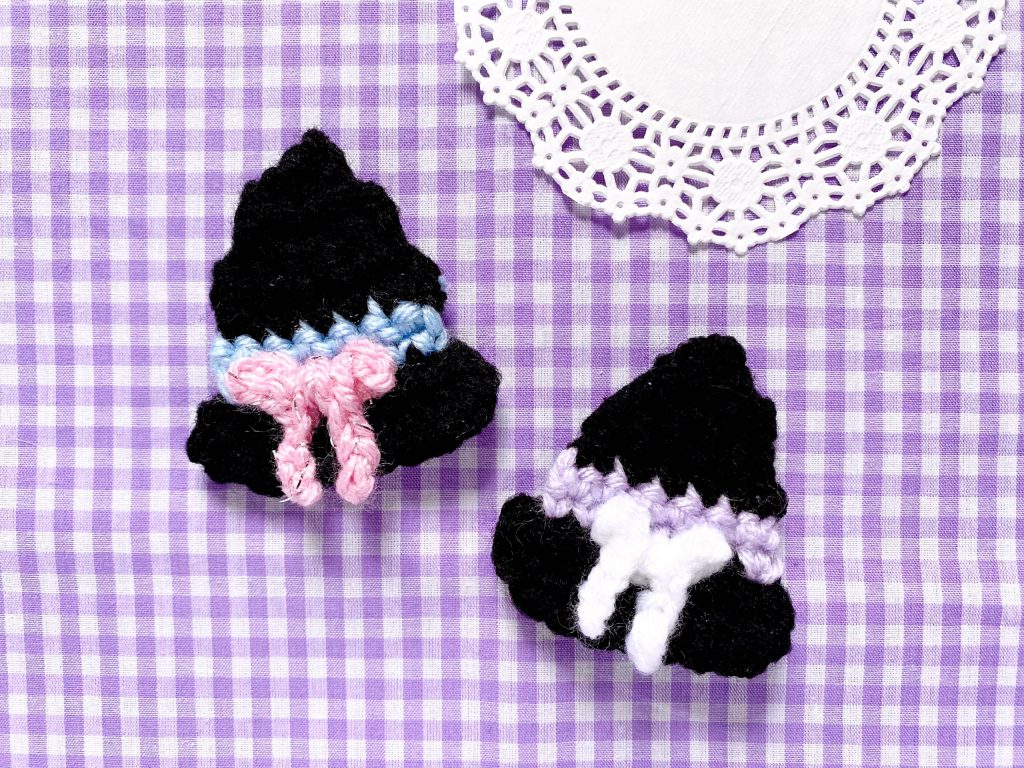 Assembly
Sew the bow to the center of the witch hat. Cut out a witch hat shape with black felt. Glue the felt piece behind the crochet piece and press down lightly. Add whatever brooch or pin (or whatever) to the back of the felt piece. Done!

Have you ever dressed up as a witch before?