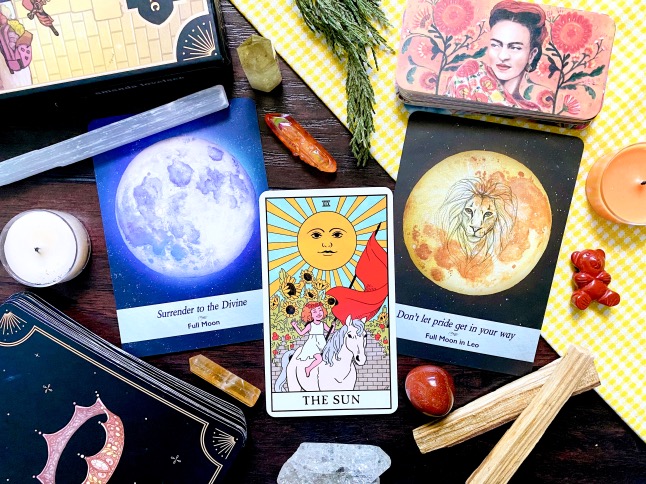 On Wednesday, February 16th at 11:56 AM EST there will be a Full Moon in the sign of Leo. Leo is a fixed fire sign ruled by the Sun and the 5th house (in your natal/birth chart). The Tarot card that represents the sign of Leo is Strength (I made a mistake and used The Sun in the photo) and the polarity of Leo (opposite sign) is the sign of Aquarius.

Leo is the fifth sign of the Zodiac. They're brave, energic, confident, protective, and loyal. Similar to lions, they lead well and value luxury and material things. Some of their weakness included vain, donating, stubborn, egotistical, and controlling. Leo signs love to be the center of attention but can come off as a show-off at times, their pride can get the better of them. If you are not a Leo, make sure to check your natal/birth chart to see where Leo falls on your chart.

Remember that the Moon's energy is strong enough to work with on the day before, the day of, and the day after. I like to plan out my moon rituals a few days in advance so that I have all my materials ready. Check out this post to see what's the difference between the New Moon and Full Moon and learn more about both. You can also read all my past moon posts here.

What to expect during this Full Moon?
– Powerful time for self-reflection
– Help and connect with others
– Create! Create something for yourself

Activities to do during this Full Moon
– Journal. Reflect on what happened 6 months ago, are you on the path you want to be on? If not, what can you change to get yourself back on track?
– Work with Selenite, Clear Quartz, Moonstone, Pyrite, Citrine, and Tiger's Eye
– Charge some moon water out in the moonlight
– Bathe your tools (crystals, tarot cards, home, etc) under the moonlight
– Work with the scent rose
– Work with fire (safely!) like light a candle
– Practice some yoga
– Don't be afraid to stand out. Celebrate your individuality!
– Practice self-love
– Recite self-love affirmations
– Wear something gold or rose gold
– Wear something that makes you feel confident
– Work on your Solar Plexus chakra

Are you a Leo?