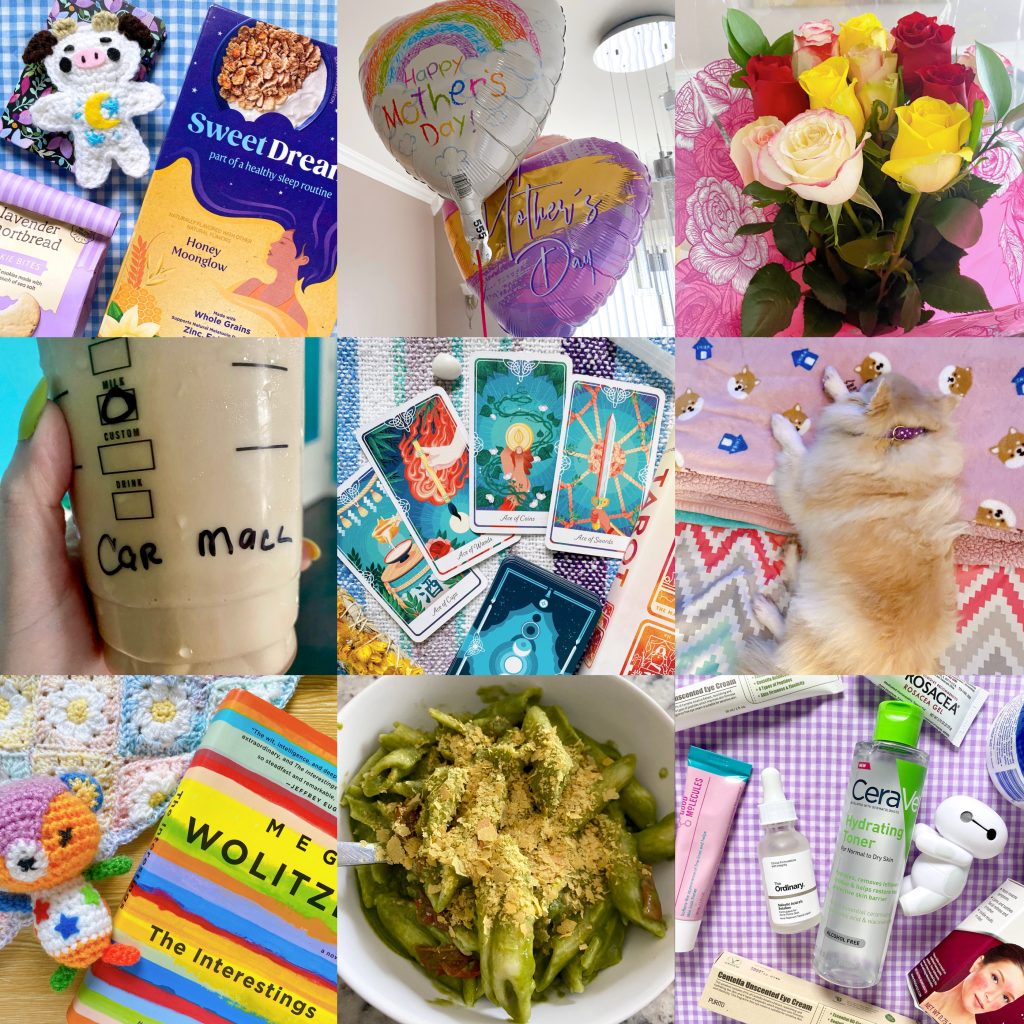 DISCLAIMER: Links included in this post might be affiliate links. If you make a purchase with the links I provide, I may receive a small commission at no additional charge to you.

What I Watched
Emma – Peacock
In 1800s England, a well meaning but selfish young woman meddles in the love lives of her friends.

This has been on my watchlist for a long time. This was Anna Taylor Joy's big debut film. The scenery in this film is gorgeous! From the pastel-colored interior to the bright nature scenes filmed outside. The story of the film felt lackluster to me as it was predictable but I didn't hate it.

Eurovision Song Contest – Peacock
Eurovision is an annual live international music competition. Countries participate by sending an act of either a singer or group who must send in an original song and perform it on stage to represent their country. The winning country that wins gets to host next year's Eurovision Song Contest.

After seeing many tweets about this event on Twitter I decided to tune in and watch this year's Eurovision Song Contest and it was AMAZING! I've known of Eurovision for years and even watched the Netflix film starring Will Ferrell and Rachel McAdams, which you all should definitely watch! I just love that the acts go all out during their performances without hesitation. I also loved that certain performers sang in their native language. So many of this year's songs were stuck in my head for weeks!

Ant-man & The Wasp Quantanamina – Disney+
Scott Lang and Hope Van Dyne are dragged into the Quantum Realm, along with Hope's parents and Scott's daughter Cassie. Together they must find a way to escape, but what secrets is Hope's mother hiding? And who is the mysterious Kang?

By far the worst MCU movie I've watched! Less than an hour in, I was like wtf am I watching? I never wished for a movie to end faster than this one. I loved the other two Ant-man films but this one is completely different and less funny than the first two films. I'm starting to feel the Marvel fatigue that many others have been feeling for a while. I used to look forward to every MCU film but now it's like they're trying too hard by having multiple storylines and setting up characters for other spinoffs that it's no longer fun to be an MCU fan.

Girls5Eva (season 2) – Peacock
A one-hit-wonder band from the '90s gets a second shot at fame when a young rapper samples their song.

I watched the first season of Girls5Eva a few months ago. I love this series it's lighthearted and really funny. The songs themselves are hilarious! I hope it gets a third season because it left off at a cliffhanger.

M3GAN – Peacock
A robotics engineer at a toy company builds a life-like doll that begins to take on a life of its own.

This was a fun watch. M3GAN became popular late last year/early this year due to some pretty iconic scenes. Because of the hype, I was expecting a lot more from this film but overall it was enjoyable. M3GAN is somewhat creepy to look at first but as someone who has dolls scattered all over her room, I don't find dolls scary.

The Marvelous Mrs. Maisel (Season 5) – Prime Video
After her husband leaves her, young mother of two Miriam "Midge" Maisel discovers that she has a talent for stand-up comedy. Could this be her calling?

I know I mentioned this series last month but I wanted to mention it again because iI finally watched all of The Marvelous Mrs. Maisel. I wasn't feeling the previous season of The Marvelous Mrs. Maisel because I just felt they had nowhere to go so I'm glad this is the last season and that they didn't try to juice out another season. I really enjoyed this series and I'm happy with how they ended the series. For season 5, they fast-forwarded certain scenes into the future and to the past, it was really interesting how they did it.

What I Listened
aespa – Spicy
LE SSERAFIM & Nile Rodgers – UNFORGIVEN
LE SSERAFIM – Eye, Psyche & The Bluebeard's Wife
iKON ~ TAKE OFF
Colde – Heartbreak Club (feat. LEE CHANHYUK)
ASH ISLAND – WONDER
(G)I-DLE – Allergy
(G)I-DLE – Queencard
Lana Del Rey – Say Yes To Heaven
CIX – Save me, Kill me
Jay Park – Candy (feat. Zion.T)
Dreamcatcher – BONVOYAGE
KARD – ICKY
JOOHONEY – FREEDOM
ENHYPEN – Bite Me
ENHYPEN – Chaconne
N.Flying – Blue Moon

What I Read
Turtle Bread by Kim-Joy
On her way home from another unsuccessful job interview, Yan stumbles upon Baking Club.

Her social anxiety tries to keep her away, but the bakers encourage her to come out of her shell, especially the caring and supportive Bea. As the club bakes together, Yan discovers that her new friends may need her too, more than she realises…

This was a fun yet heartbreaking read. Don't be fooled by the cute cover this graphic novel/comic gets sad and you may even cry. I could really relate to the main character and I loved all the talk about baking. It's free to read if you have Amazon Prime and a tablet.

The Interestings by Meg Wolitzer
The summer that Nixon resigns, six teenagers at a summer camp for the arts become inseparable. Decades later the bond remains powerful, but so much else has changed. In The Interestings, Wolitzer follows these characters from the height of youth through middle age, as their talents, fortunes, and degrees of satisfaction diverge.

I bought The Interestings back in 2014 when A Beautiful Mess (one of my favorite blogs) had a book club and this was one of their picks. Despite the title of this book, The Interestings wasn't too interesting at all because it took me 9 years to read! The story is broken into three parts but I didn't think the last part was necessary and I would've been happy if it ended at the second part. Anyways, I'm proud that I finally finished this book!

The Murder of Roger Ackroyd by Agatha Christie
Roger Ackroyd was a man who knew too much. He knew the woman he loved had poisoned her first husband. He knew someone was blackmailing her – and now he knew she had taken her own life with a drug overdose. Soon the evening post would let him know who the mystery blackmailer was. But Ackroyd was dead before he'd finished reading it – stabbed through the neck where he sat in the study.

This is my third Agatha Christie book and my second book that features Hercule Poirot, one of Agatha Christie's most well-known characters. I listen to this via audiobook which was entertaining because I finally found out how to pronounce Hercule Poirot. I was able to guess who did it halfway through but Agatha writes in such a way that makes you rethink your choices about who did it. I say this every time but I can't wait to read more by Agatha Christie!

Things I Love
The Bare Female – Youtube
I've been loving these yoga practices by The Bare Female videos. The videos are soothing and sensual and make you want to flow go-with the flow. I like to switch it up with my at-home yoga practices because after a while the videos from the same creators' videos become predictable but The Bare Female videos have been a breath of fresh air for me since I discovered her channel!

Doctorly – Youtube
The Doctorly Youtube channel was recommended to me probably because I've been obsessed with skincare videos. They have a lot of informative videos on skincare from board-certified dermatologists. Doctorly along with Dr. Dray are the only people skincare videos I trust as they are actual dermatologists with years of knowledge, unlike certain content creators. Doctorly also has a podcast which I quickly binged! I hope they release more episodes soon!

Up & Up Deep Cleaning Oil-Free Acne Wash
If you read my latest skincare haul then you would know that this cleanser (along with a serum) has helped clear my forehead from flesh-colored pimples. This cleanser is comparable to the Neutrogena oil-free acne wash which I haven't used but I hear is popular in the acne community. I don't have acne but I've been trying to incorporate more salicylic acid into my skincare routine because salicylic acid helps reduce blackheads and pores and acts as a light exfoliator which is why I'm using it. It just so happened that salicylic acid is a popular ingredient used to treat acne.

The consistency of this cleanser is like a thick gel almost a jelly, it cleanses nicely and leaves my skin feeling nice. I've been using this as a body wash on my upper chest because I'm prone to backache and I've recently started using it on my thighs as a way to reduce ingrown hairs on my thighs. At first, I used my hands to apply this on my body which resulted in my hands getting dry so I switched to a loofah because it dried my hands. Aside from that, I enjoyed this cleanser and if you have a similar skin type as me you you may enjoy this.

The Ordinary Salicylic Acid 2% Solution
This is the serum that I mentioned above! I thought I would include it in my favorites because I think the combination of using this serum with the cleanser contributed to the disappearance of y forehead pimples. This is a salicylic acid serum that you leave on instead of washing off like the cleanser. I am currently rotating three serums by The Ordinary so I don't use this daily just when I feel like it. I've also been using it as a spot treatment because salicylic acid can also help treat acne-like bumps.

Favorite Blog Posts
Belt-Tightening Will Be Good For Podcasting
Daisy Flower Pull-apart Cupcake Cake
The Last Unicorn x Selkie
No Diffuser? The Day 4 Reveal
5 Ways To Channel Your Inner Daisy Jones
Why Your Curls Aren't Getting Longer + How to Improve Length Retention
Retro Beauty Tips: the 1960s
Cottagecore Baking: Making Fairy Cakes
Writing Tips from A 13-Year Blogging Veteran
The Dalmatians from Dalmatia
Dragon Fruit Smoothie

Posts From The Month
MUNDANE MAGIC ☆ 18
Curly Hair Products I've Repurposed
Spirit Junkie Card Deck Review
MUNDANE MAGIC ☆ 19
The Aces | Minor Arcana ♥ Tarot 101
MUNDANE MAGIC ☆ 20
Magical Moments #17
Animal Crossing Island Tour ♥ Spring 2023
MUNDANE MAGIC ☆ 21
Drugstore Skincare Haul ♥ First Impressions

What were some of your favorites from the month?