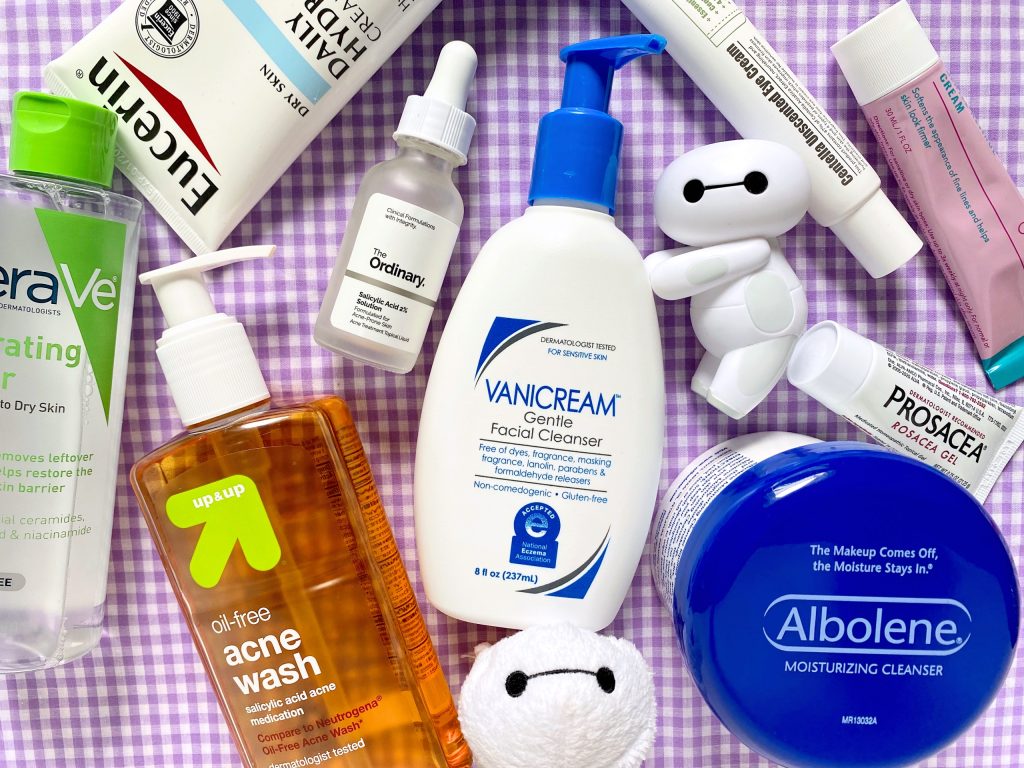 If you're caught up on all my blog posts then you might know that I'm currently obsessed with skincare. I've gone down a major skincare deep hole and I don't see myself crawling out anything soon! My skin type is combination/normal skin and my skin has both dry and oil spots but neither is overwhelming. I developed mild rosacea in my mid 20's which is the main issue I've been trying to tackle. Everybody's rosacea is different but my rosacea flares up with the temperature and emotions which is embarrassing. It was a recent rosacea flare back in April that made me finally realize that I need to do something about it.

I searched on Youtube for tips on how to reduce rosacea and facial redness which is how I came across Dr Dray's Youtube channel, I quickly binged her videos on skincare along with the Doctorly another Youtube channel by board-certified dermatologists.

I've learned so much about skincare by binging these two Youtube channels. As a result, I've been influenced to buy some new skincare products. Dr. Dray specifically recommends affordable skincare that you can easily get at any drugstore. I love how she calls out products with a bunch of unnecessary ingredients and always suggests that you don't need a bunch of fancy skincare products just the basics such as a cleanser, moisturizer, and sunscreen.

With that being said, because of my latest skincare obsession, I've acquired many new skincare products, focusing on drugstore skincare products which I will be hauling in this post. It takes a couple of weeks or months before you start to notice any changes with your skincare products so I won't be reviewing any of the products but I will be sharing my first impressions on the products that I have noticed changes with.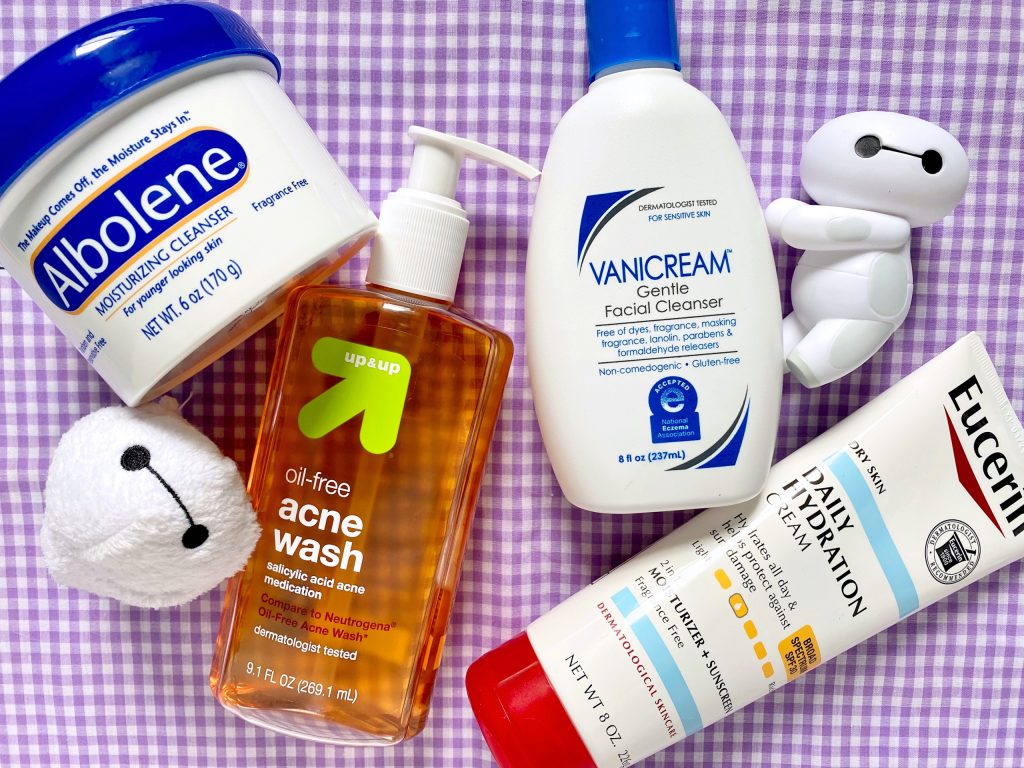 DISCLAIMER: Links included in this post might be affiliate links. If you make a purchase with the links I provide, I may receive a small commission at no additional charge to you.

Eucerin Daily Hydration Cream Broad Spectrum SPF 30 2-in-1 Moisturizer + Sunscreen
Eucerin Daily Hydration Cream Broad spectrum SPF 30 provides 24 hour moisture to dry skin while helping to protect it from sunburn and long-term skin damage with broad spectrum UVA/UVB sunscreen.UV light is the main cause of sun-induced skin damage and a major risk factor for most skin cancers. This lightweight 2 in 1 moisturizer and sunscreen is fast-absorbing and non-greasy. Daily Hydration Lotion SPF 30 is safe for sensitive skin and is fragrance-free and dye free.

First Impression: I didn't have an all-over sunscreen so I went with this one by Eucerin after watching this video on affordable drugstore sunscreens. I don't go out that often and when I do I'm mostly covered with clothing because I don't expose my skin that often. I use this sunscreen on my body and face anytime I go out. It has that traditional sunscreen smell and melts into the skin easily without it being too greasy. For $7 you a big bottle that will last a long time.

You can purchase the Eucerin Daily Hydration Cream Broad Spectrum SPF 30 here

Albolene Moisturizing Cleanser and Makeup Remover
With 5 simple ingredients Albolene's original Moisturizing Cleanser effortlessly melts away makeup while hydrating the skin. Our formula is time tested to cleanse and moisturize your skin to keep it healthy and radiant.

First Impression: I bought it after watching Dr. Dray's anti-redness skincare routine. I use this as the first step of my cleansing routine to remove makeup. I don't use makeup every day but when I do I use this cleanser, I just time a pea-size amount and warm it between my fingers before applying it to my face. When I don't wear makeup I skip the step and just cleanse my face with the next cleanser.

You can purchase the Albolene Moisturizing Cleanser here

Vanicream Gentle Facial Cleanser
Vanicream Gentle Facial Cleanser has been formulated to avoid harsh detergents and common chemical irritants. Effective, yet gentle to sensitive skin. It helps remove dirt, oil and makeup without drying the skin. Leaves skin feeling clean and soft. Ideal for dry skin associated with eczema, psoriasis, ichthyosis, and winter itch.

First Impression: This cleanser was also featured in Dr. Dray's anti-redness video. I could've continued using my favorite CeraVe moisturizing hydrating cleanser because the ingredients are simple and good for sensitive skin but I decided to try a new cleanser. The Vanicream gentle face cleanser is a mixture of a gel-like cream and provides a light foamy latter. My skin has never liked foaming cleansers because they all leave me feeling dry afterward but not this one! So far, I am really enjoying this cleanser.

You can purchase the Vanicream Gentle Facial Cleanser here

Up & Up Deep Cleaning Oil-free Acne Wash
Show your blemishes who's boss with the Deep-Cleaning Acne Treatment from up & up™. Perfect for acne-prone or combination skin, this face wash offers deep pore cleansing to help clear current blackheads and whiteheads. With salicylic acid to prevent future breakouts, this acne wash helps you get back to the glowing skin you love.

First Impression: I've never been one to use a cleanser in the morning. However, I workout in the morning and I started noticing these small flesh-colored pimples on my forehead which I think might be because of sweat (I can't confirm this) so I decided to do so Youtube research and came to the conclusion that I need to introduce salicylic acid into my skincare routine. Upon further reading, I found that using salicylic acid can help lighten dark underarms and reduce ingrown hairs on your legs, both of which I have. I've been basically slathering this cleanser all over my body. The pimples on my forehead have disappeared and I have noticed that my dark underarms have gotten lighter, it's subtle but noticeable. Big skincare changes require time!

You can purchase the Up & Up Deep Cleaning Oil-free Acne Wash here
CeraVe Hydrating Toner
Developed with dermatologists, CeraVe Hydrating Toner, with ceramides, hyaluronic acid, and niacinamide, helps restore the skin's natural protective barrier for improved hydration, and helps visibly smooth and calm skin. The formula is non-comedogenic, alcohol-free, oil-free, astringent-free, and fragrance-free and helps to remove leftover residue while helping maintain the skins moisture barrier. This lightweight, leave-on formula can be used as the last step in a cleansing routine to remove residue, so you can start your skincare routine with a clean canvas.

First Impression: This is the only product from this post that I haven't used much so I can't really say anything besides that I only bought this because I love CeraVe products, especially from their hydrating line so I thought I would give their toner a try. The first time I used it I did notice some irritation but I've tried it a few other times and didn't get that same reaction, I'm thinking the irritation from the first time was from another product but I'm not sure. As I mentioned, I need to test this out more.

You can purchase the CeraVe Hydrating Toner here

The Ordinary Salicylic Acid 2% Solution
Made with Salicylic acid 2% concentration, this water based serum offers surface level exfoliation, encouraging the natural shedding of dead skin. It's also lipophilic (oil- soluble) which means it can penetrate pores to control acne blemishes. The formula's multi-functional approach helps clear up pores, improve the appearance of visible redness and comedones. This approach treats acne, allows skin to heal and results in clearer, smoother-looking skin. Suitable for use in teenagers with mild to moderate acne.

First Impression: I've actually used this serum before but don't remember if it did anything or not so I bought it again! Using this alongside the cleanser could also be the reason why my forehead pimples vanished. I bought this serum before I bought the salicylic acid cleanser but I only use either the salicylic acid cleanser or this serum once a day because I don't have to go too excessive on the salicylic acid products.

You can purchase The Ordinary Salicylic Acid 2% Solution here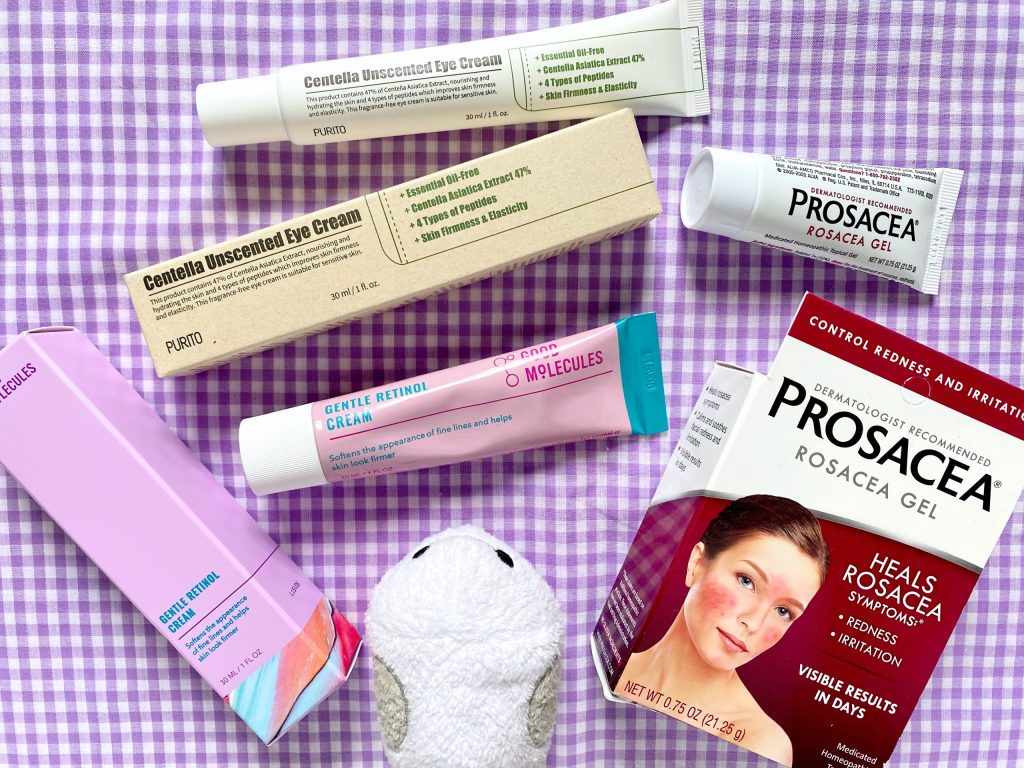 Prosacea Rosacea Gel
Prosacea Gel contains sulphur 1x, a medically recognized homeopathic ingredient that, when used as directed, has been recognized to be effective for relief of common rosacea symptoms such as redness, bumps, pimples, and irritation. Prosacea's non-oily formula doesn't cause pimples and won't clog pores (non-comedogenic). After treatment with Prosacea has started, carefully adhere to package directions for best results. Continue to use Prosacea until you have achieved satisfactory results or are given further advice from a doctor.

First Impression: The Prosacea box recommends you use this gel for three days to see how it works on your skin, if you break out stop using it immediately. After my 3-day trial period, my skin was alright so I continued using this gel every night for two weeks then I had the worst breakout pimple on my cheek so I stopped using this. It was only a pimple but it was a big juicy red pimple that was on my left cheek which is an area I've been applying the gel on. It's gone now but there is still a dark spot from where it once was that I'm trying to fade away. I started using Prosacea along with other skincare products so I'm not blaming this product and I'll willing to give this product another shot but only when the spot has fully faded. So yeah, I can't recommend this product yet but if you have rosacea and are curious if this product will work for you then purchase at your own risk.

You can purchase the Prosacea Rosacea Gel here

PURITIO Unscented Eye Cream
This lightweight cream glides smoothly on the skin, helping reduce the appearance of fine lines and wrinkles. The fragrance and essential oil-free formula is enriched with Centella Asiatica Extract 47%, Panthenol, and Ceramides to soothe, plump, and hydrate skin around the eye area. Four types of peptides support collagen and elastin production to enhance the firmness and strength of the delicate skin.

First Impression: It's funny all of the dermatologists that I mentioned above say that you don't need an eye cream. However, I love using eye creams! I've been using them since I was in my early twenties and I feel like my skincare routine isn't complete without one. I like the feeling of my eyes being hydrated. I've actually used the scented version of this eye cream by PURITO before but now because I'm trying out the unscented version because I'm trying to not use scented products on my face. I remember enjoying this eye cream before so I didn't hesitate to purchase the unscented version. So far, I can no complaints about this eye cream it does what it says it's supposed to do but without the scent from the original version.

You can purchase the PURITIO Unscented Eye Cream here

Good Molecules Gentle Retinol Cream
Help reveal smoother, firmer-looking skin with this gentle, fragrance-free retinol treatment from Good Molecules. Formulated with 0.1% retinol, Gentle Retinol Cream helps to improve the appearance of fine lines, wrinkles, and lack of elasticity. Nourishing, soothing ingredients help to hydrate and minimize dryness and irritation.

First Impression: Baby's first retinol! I was recommended this product by my younger sister. It's a $8 retinol cream so I was skeptical but after reading various positive reviews online I decided I would bite the bullet and try it. I've only used it four times so far. Doctorly recommends introducing a retinol into your routine by using it every third day for the first month, every other day in the second month, and daily on your third month so that's what I've been doing. I have noticed subtle changes in my skin's texture, smoother and my forehead crease isn't as noticeable. However, these changes could be from one of the products I mentioned above. haha

You can purchase the Good Molecules Gentle Retinol Cream here

What's the last skincare product you bought?