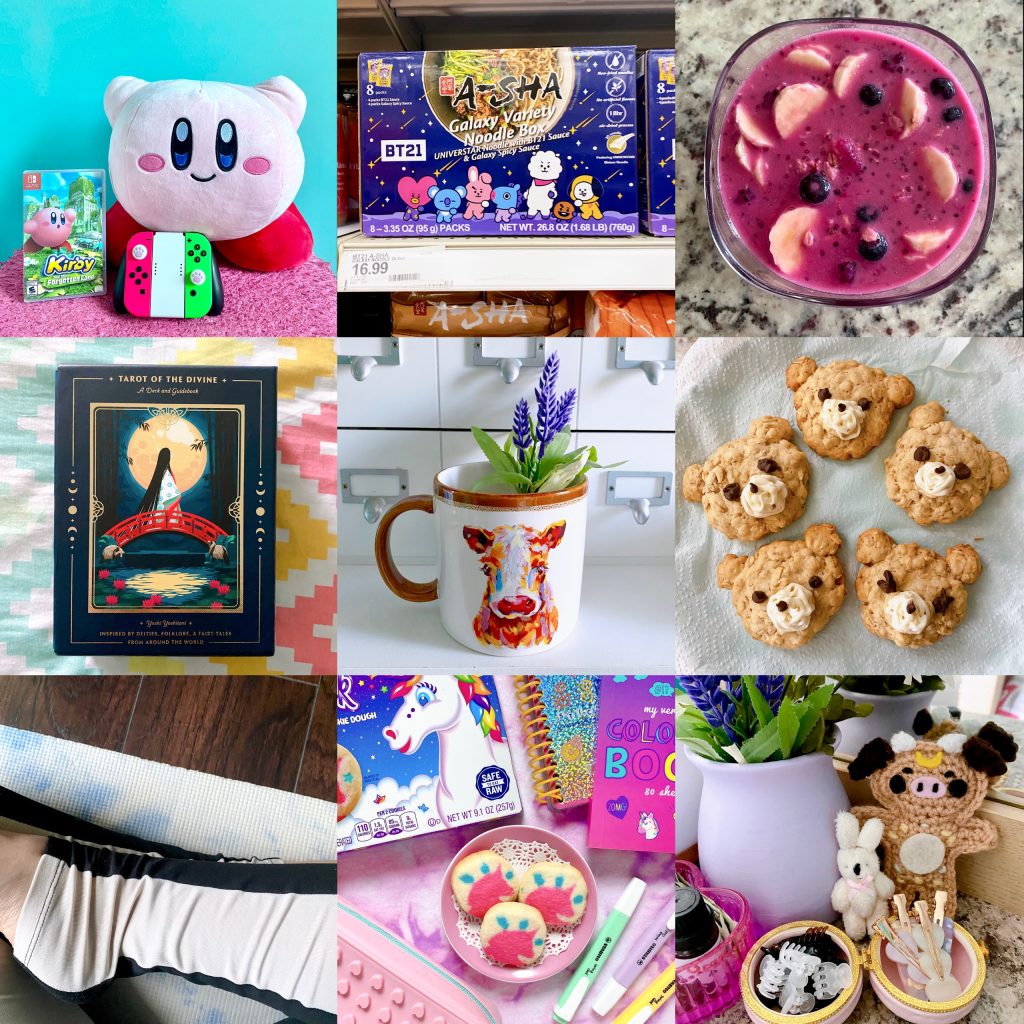 DISCLAIMER: Links included in this post might be affiliate links. If you make a purchase with the links I provide, I may receive a small commission at no additional charge to you.

What I Watched
Chocolat – Netflix
This is a film about a mysterious woman and daughter who move into a small town and they attempt to open up a chocolate shop but trouble starts to unfold because the townsfolk think they're strange. It's a cute movie with a lot of important messages. I suggest having a cup of hot cocoa or a chocolatey snack present as you watch this movie because you will want some!

The Menu – HBO Max
A young couple travels to a remote island to eat at an exclusive restaurant where the chef has prepared a lavish menu, with some shocking surprises.

I'm not sure how to describe this film. It's kind of like a dinner party but some insane stuff starts happening. I really enjoyed this film, it was fun to watch and left you thinking afterward. It's a thiller-horror-comedy film and a foodie's dream come true!

Girls5Eva – Peacock
A one-hit-wonder band from the '90s gets a second shot at fame when a young rapper samples their song.

This series is about a 2000's girl group whose song goes viral after it's featured in a new song. This is a very funny series and the songs get stuck in your head, I had the main theme song stuck in my head for days! I just finished the first season and planning on watching the second soon.

That '90s Show – Netflix
Now it's 1995, Leia Forman is visiting her grandparents for the summer where she bonds with a new generation of Point Place, WI, kids under the watchful eye of Kitty and the stern glare of Red.

I was a fan of The 70's Show back when it was on air so I decided to give The 90's Show a chance. The 90's Show follows the same premise as The 70's Show but in a new era and with new kids. A lot of the original cast shows up and I sweat they haven't aged a day! The series was alright but it took me a while to get used to the new cast.

What I Listened
Way V – Phantom – The 4th Mini Album
MONSTA X – Beautiful Liar
ATEEZ – HALAZIA
NewJeans – OMG
VERNON – Black Eye
VIXX – Gonna Be Alright
SMTOWN – The Cure
SMTOWN – Jet
SMTOWN – Hot & Cold
TAEYANG – VIBE (feat. Jimin of BTS)
GOT the bear – Stamp On It
TWICE – MOONLIGHT SUNRISE
Jinyoung – Cotton Candy
SUMIN – Best Friend (feat. Woo)
YESUNG – Small Things
YESUNG – All Night Long
TOMORROW X TOGETHER – Sugar Rush Ride

Things I Did
Completed CENTER – A 30-day Yoga Journey
I completed yet another 30-day yoga journey from Yoga with Adriene. The CENTER 30-day yoga journey was a relaxing experience and beginner-friendly compared to the other Yoga with Adriene monthly challenges. If you're new to yoga then Yoga with Adriene is the perfect introduction to get you into yoga.

Back stretches
In December I started noticing how tight my upper back and chest felt so I started doing some stretches that focused specifically on the back hoping they would help open up that area. I followed the stretches from this video and started doing them in late December and did them every day in January. I can report back that they did indeed help! The first week I didn't notice any difference and felt ridiculous doing these stretches but I stuck with them and I'm thankful I did because as I mentioned they helped tremendously and I've gotten more flexible as a result!

What I Read
Murder on the Orient Express by Agatha Christie
Just after midnight, a snowdrift stops the famous Orient Express in its tracks as it travels through the mountainous Balkans. The luxurious train is surprisingly full for the time of the year but, by the morning, it is one passenger fewer. An American tycoon lies dead in his compartment, stabbed a dozen times, his door locked from the inside.

One of the passengers is none other than detective Hercule Poirot. On vacation. Isolated and with a killer on board, Poirot must identify the murderer—in case he or she decides to strike again.

My second Agatha Christie novel! I went with Murder on the Orient Express because I believe it's her second most popular book, and I wanted a wintery book to read. What I loved about Agatha Christie's writing is how gripping her plots are. The first few chapters were kind of boring but quickly picks up and keeps you engrossed til the end! This was also my first introduction to Hercule Poirot, one of Agatha Christie's beloved characters. If you have any suggestions as to what Agatha Christie novel I should read next let me know.

Poison for Breakfast by Lemony Snicket
This true story—as true as Lemony Snicket himself—begins with a puzzling note under his door: You had poison for breakfast. Following a winding trail of clues to solve the mystery of his own demise, Snicket takes us on a thought-provoking tour of his predilections: the proper way to prepare an egg, a perplexing idea called "tzimtzum," the sublime pleasure of swimming in open water, and much else.

This was a delight to read. You probably know Lemony Snicket as the author of the popular series, A Series of Unfortunate Events. I came across Poison for Breakfast when I was browsing a bookstore and it was featured in one of those readers' picks from the bookstore workers. The aesthetic cover and title drew me in at first and after reading the inside snippet I bought it. The book is described as a book about philosophy with a mysterious plot as you follow Mr. Snicket and their journey in trying to discover who poisoned him. I really enjoyed this book and thought it was pieced together perfectly, I wished it was longer!

Things I Love
Paperage Lined Journal Notebook ~ Lavender
I've been loving my 2023 journal! Earlier this month I shared my magical journal setup for the year and have been enjoying putting together new spreads, collaging, writing in my daily tarot cards, and much more! I like to pop on some music or some lofi and just journal for a few hours every few days.

The Lets Read Podcast
"The Lets Read Podcast centers around narrating True Scary Experiences from real people, just like yourself. Ranging from creepy stalkers to paranormal encounters with the other side. My goal is to lull you into beautiful nightmares" This podcast has been one of my favorites to listen to. The stories are fascinating and the narrator has such a calming voice despite the macabre topics.

Overnight Oats
I used to love overnight oats to the point that I hated them which is why I stopped eating them and switched to regular oatmeal. But I recently came across an overnight oat hack that has made me love them all over again! It's not really a hack but just a different way to prepare and eat them. Instead of using regular fruit you place frozen fruit at the bottom of the jar and place the rest of the ingredients on top and leave them overnight in the refrigerator. The next morning serve the oats in a bowl with more fruit if you desire. I know it doesn't seem like much of a hack but I've been loving using frozen fruit because the texture of the fruit is refreshing and eating overnight oats in a bowl instead of the jar makes them taste better so much better!

Tarot of the Divine
I have to admit I haven't used this deck that often yet but my older sister also has this deck and has used it in multiple readings that she did for me so I'm familiar with the deck. The illustrations in this deck are stunning and the main reason I bought this deck. The few times I have used this deck I have always pulled The Chariot which is my card which means it already has some good vibes! haha

Dead Meat Podcast
"The Dead Meat Podcast is your horror safe haven. Reviews, film history, and all things that make your skin crawl." I used discovered this podcast last week and have been loving it thus far! I love their movie reviews because they go really in-depth with subjects sounding the film's main topic which makes the episodes more enjoyable. The only downfall is that they don't post every week, they post every other week.

Favorite Blog Posts
Why You Should Stick to a Planned Monthly Reading List
How to Become a More Efficient Reader
TikTok is a Chinese Superweapon
Simple Flapjack Recipe
How to Brush Style Faster + Low-density Tips
12 Books From My Bookshelf I Want To Read This Year
Things To Send In A Handwritten Letter
Valentine's Day Blog Post Ideas: 55 Ideas To Use
My 2023 Bullet Journal Setup
How To Use Canva To Up Level Your Blog in 2023
Winter Dark Academia Outfits
Why I'm Setting Intentions For The New Year, Instead of Resolutions
4 Tips for Starting a Successful Blog in the New Year

Posts From The Month
This December ♡ 2022
Astrology Spotlight ♥ Capricorn (December 22 – January 19)
MUNDANE MAGIC ☆ 01
My Magical Journal Setup For 2023
Curly Hair Styling Tools ♥ Haul & Reviews
MUNDANE MAGIC ☆ 02
2023 Year of the Rabbit Garland ♥ Crochet Pattern
Llewellyn's Witches' Datebook 2023 ♥ Review
MUNDANE MAGIC ☆ 03
Magical Moments #13
Kawaii Tarot Deck Review
MUNDANE MAGIC ☆ 04
Daily Magickal Practices

What were some of your favorites from the month?