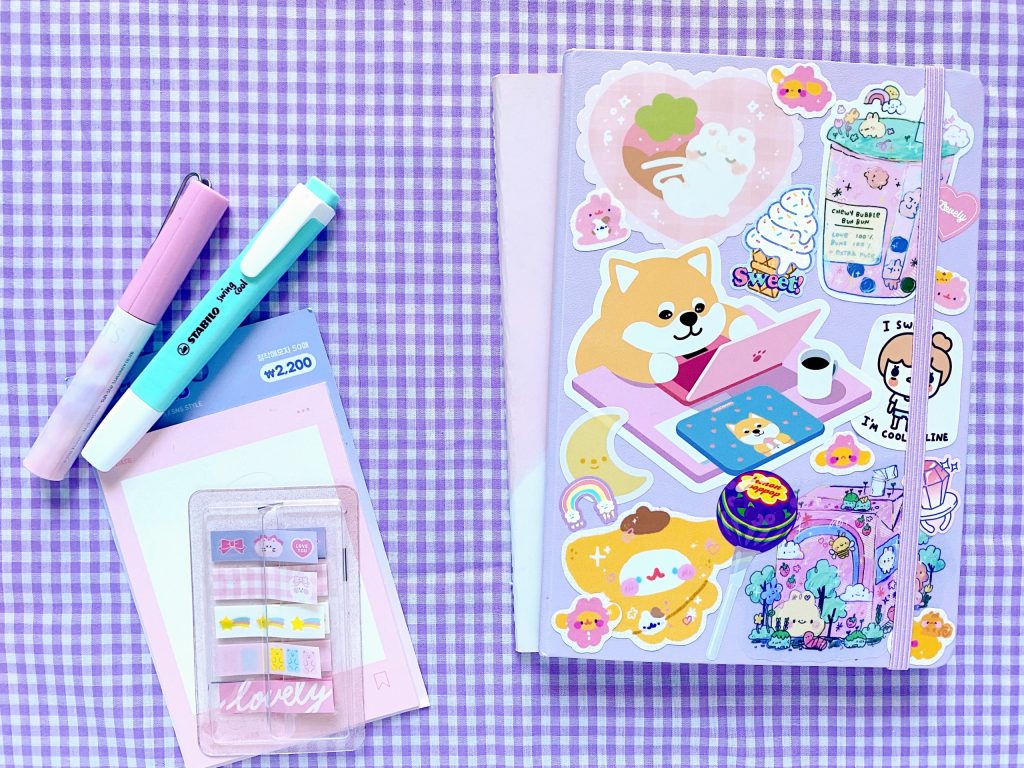 A new year means a new journal! I wasn't sure if I was going to buy a new journal for 2023 but after thinking and running a poll on Instagram it was decided that I would! My journal is everything it has to be, a way to track my progress, a memory scrapbook, a kawaii journal, etc. I use my journal as a bullet journal/Hobonichi/scrapbook/art journal. I fell in love with the kawaii memory scrapbook style back in my Hobonichi days. I get inspiration for my journals from Rainbowholic, Lace & Whimsy, and bullet journal layouts I see on Instagram and Pinterest.

I use my journal for a lot of things but I don't use my kawaii journal as a planner though, I use a separate notebook for that. I'll talk about the planner that I use for my daily tasks in another post. In this post, I'm going to share some magical spreads that I include in my journal and that you might want to include in your journal this year. Let's make 2023 your most magical year yet!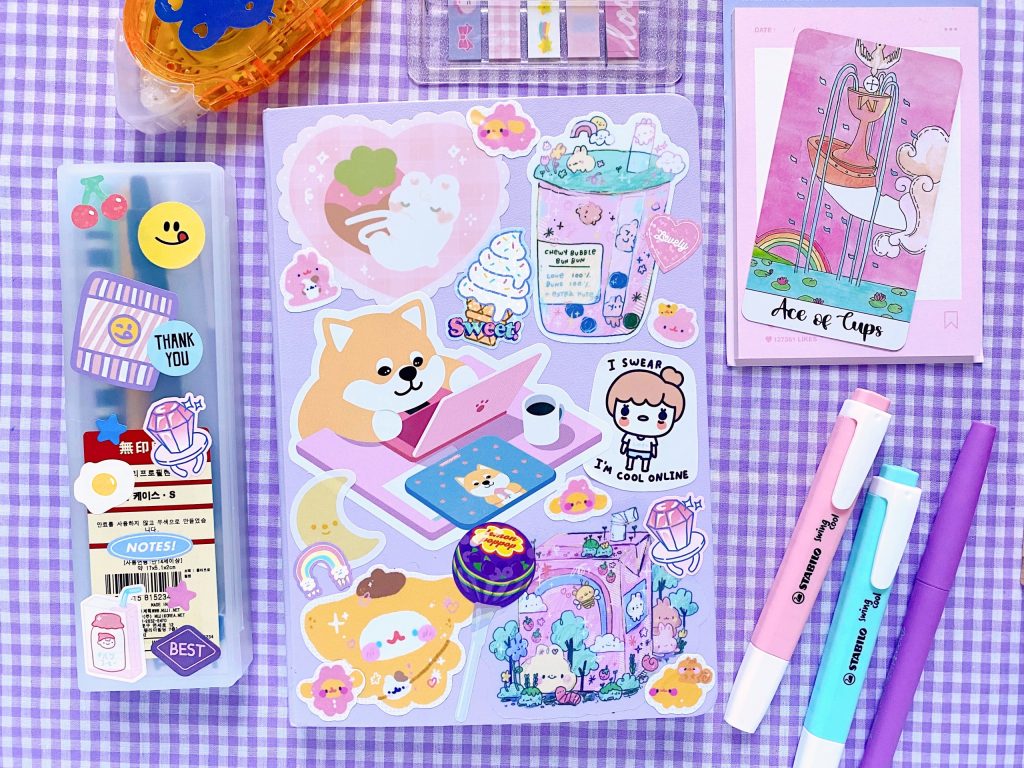 DISCLAIMER: Links included in this post might be affiliate links. If you make a purchase with the links I provide, I may receive a small commission at no additional charge to you.

This year I chose the Papermake journal in a lovely lavender color as my 2023 journal. This is my first time using this notebook brand, what drew me to this journal specifically was the pastel lavender color, my signature color. I had thought that I bought the dotted bullet journal but once my notebook arrived I realized that I accidentally bought the lined journal! Instead of returning the notebook, I decided to keep the lined journal seeing as the dotted journal in lavender was sold out. Honestly, I don't mind because I don't always use the dotted pages.

I decorated the cover of my journal with a bunch of stickers that I've been saving for a special moment and what's more special than a New Year journal? Some of the stickers are from Artbox Korea and some are from the small businesses Tiny Plant, Tabetaaii, and Chichilittle.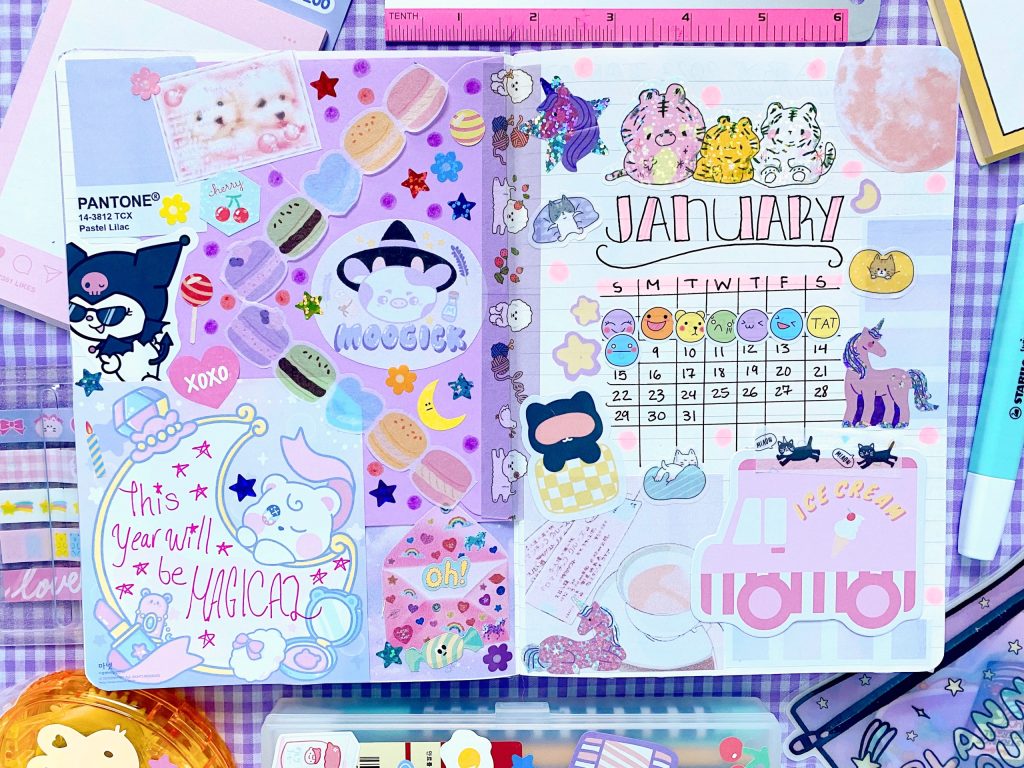 Write a Letter to Yourself
To welcome myself into a new journal I like to write a letter to myself on magical paper, paper with special meaning I used a sheet of notebook paper that I obtained in France. On the sheet, I write down a declaration to this journal and the new year with a promise that 2023 will be a better year than the last.

Tip: Insert your letter into an envelope and tape it to a page in your journal or if your journal has one of using those back pockets you can place your note in there and seal the pocket shut with some washi tape or a sticker.

Word of the Year
A word of the Year is just that, a word that you want your year to represent and focus your energy on. You can use this post or this word generator to help you search for a word. I dedicate a page in my journal to my word of the year by printing the definition and attaching it to the page and adding quotes that have to do with my word.

Mood/Habit Tracker
If you struggle with your mental health you may want to track your mood with a smiley face sticker. This is a cute way to log your progress with your moods if you are prone to depression, like me. Alternatively, you can make a habit tracker and use a shiny star sticker on the days you complete your habit.

Tip: Buy one of those stickers books that teachers use to grade their students' work. These sticker books tend to be more affordable too!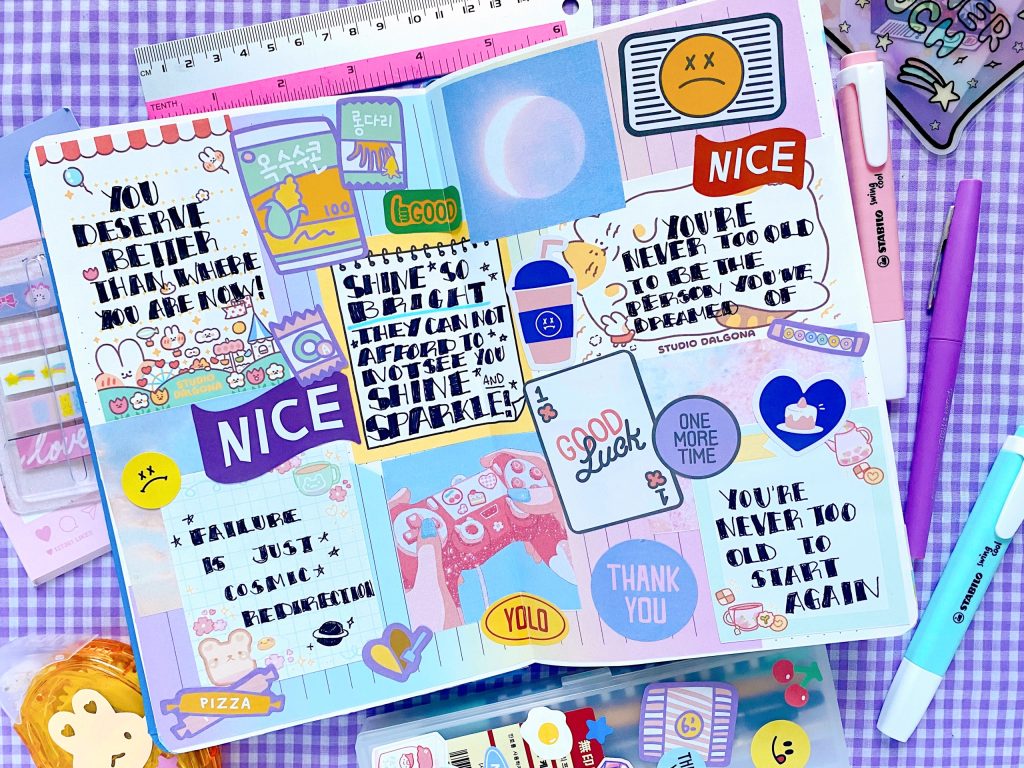 Vision Board
Because I live with other people, I like to keep my vision boards hidden because of this I started making my vision boards in my journals. Lay your notebook flat on its spine to make it look like a mini vision board. Print out photos of things that are associated with your dreams, (Pinterest is a great place to search for photos!) and attach them collage-style with washi tape and stickers. Once you're finished, hold your journal close to your heart and say an affirmation. Do this anytime you flip to this page!

Motivational Notes
I've been doing this for a couple of years now and highly encourage you to write inspirational and motivational notes to yourself on a post-it and randomly stick them throughout your journal. Then, one day when you come across a note you'll smile at yourself!

Tip: Make a 2-page bulletin board-style spread of your favorite inspiration or motivational quotes!

Memory Pages
Back in my Hobonichi days, I would save old receipts, cute packaging, clothing tags, wrapping paper, and a bunch of random junk from memorable days like holidays, events, concerts, birthdays, etc. Use these things are a way to record memorable days or use them to decorate your other pages.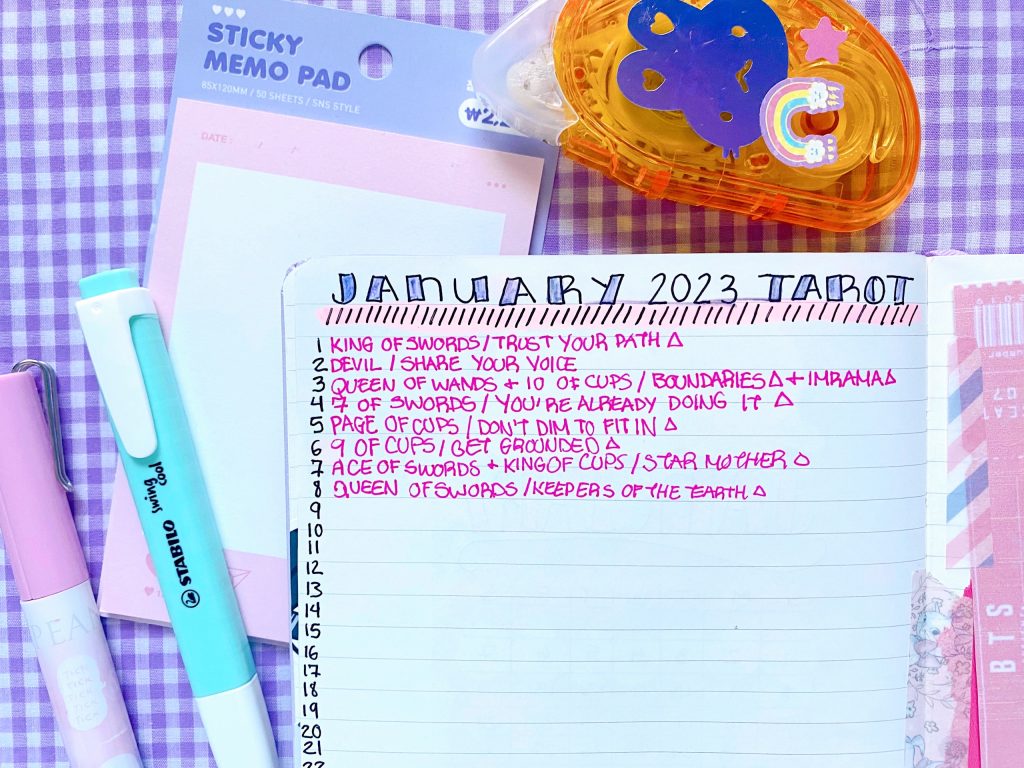 Full Moon and New Moon Spreads
I treat the Full Moon and New Moon as events. I do a whole ritual for each of them, this includes lighting moon incense, doing a special guided meditation, drinking tea, a tarot spread, and writing down about my experience with the Moon in my journal. I devote a page to the Moon and write about what I learned in my meditation, the tarot cards I pulled, and anything else that comes to mind.

Tip: On a Full Moon, keep your journal outside or on a window sill so that your journal gets kissed by the moonlight.

Gratitude Pages
Practice gratitude by writing down a list of things you are grateful for. I usually start with 3 things but if new things come to mind then I'll make this list longer. Writing down what you are thankful for can really shift your mindset and make you feel more positive. It can be that most average things such as your snuggling in a comfy bed or your first sip of coffee in the morning.

Tarot Card-A-Day Log
Every morning I pull a card for the day. I enjoy tracking my daily tarot card pulls in a monthly log. It's cool to look back at my tarot logs to see if I can notice any irregular patterns and reflect to see where I was at that moment in my life.

Tip: Pull a Tarot card at the beginning of the month and use it as a bookmark in your journal for the entire month.

What journal are you using this year?