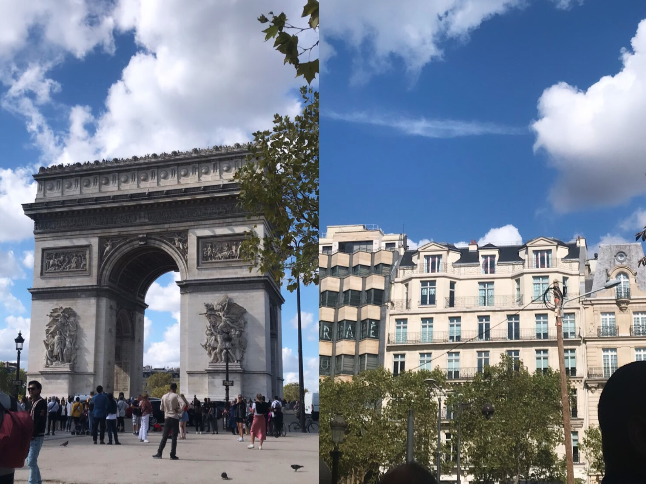 Last week, I spent 5 days in Paris, France with my family to celebrate my father's birthday. I didn't take as many pictures as I would've liked but it's because I'm not comfortable taking pictures in public. It rained on and off for most of our entire visit which also prevented me from taking pictures. We went at a time when there weren't as many tourists which were great because we didn't have to deal with too many people everywhere. The weather was cool and slightly windy but not too cold, without the rain it would've been the perfect weather!
I would've loved to see more of Paris but my younger sister is currently pregnant so we didn't do as much as we originally planned because she kept getting tired and even fainted during our trip! Don't worry though she's alright! Next time I visit hopefully I can get more done, like consume more Franch pastries! hehe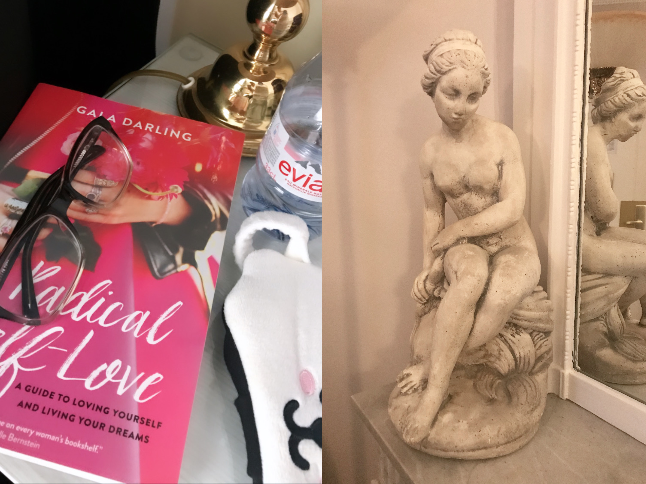 Day 1: Our plane landed in France at around 6-7 am. As soon as we arrived we took a nap in our hotel because we were really tired. We stayed at a hotel near the Arc De Triomphe so we explored the area. We later ate and did some food shopping.
By the time night had arrived, I was extremely exhausted and called it a night before midnight! My sleep schedule was in tune with Paris during our entire trip. I would wake up around 7 am and go to bed before midnight every day, All of my family members had a difficult time keeping up with a normal sleeping schedule whilst we were in France. It's probably due to my messed up sleeping schedule in the states but apparently my messed up schedule is a completely normal one in Paris! haha
Day 2: On our first official day we went the Musee De Louvre. My parents had bought tickets for this day but I kind of wished that they had waited a day or two when we were all a little more wellrested.
After waiting about 20-30 minutes in line we finally got to see the famous Mona Lisa. The painting is a lot smaller than it looks (look at the paintings behind for size reference). The process for which you see the Mona Lisa was a wild experience. Even when we were in line people kept trying to pass us in line. When you arrived at the painting they called on a random number of people and give you a few minutes to take pictures. It reminded me of like a shark attack. People were pushing and families were separated from each other and then they yell at you to leave as soon as your time is up.
When we were done viewing the Mona Lisa we explored the rest of the museum, which is huge! I didn't relaize how big it was. If you ever plan on going to the Musee De Louvre I recommend marking all the exhibits you want to visit because when you're inside it can be a little overwhelming.
After an intense day The Musee De Louvre we had dinner. We went to a little restaurant that served various cuisines. I ordered the most amazing veggie burger! Everywhere we ate in Paris had many vegetarian and vegan options which made me feel very included. McDonald's even had a vegetarian-friendly menu!
Day 3: We were all starting to feel the jetlag on this day so we slept in and decided to take it easy. When we all woke up we headed to see the Eiffel Tower. The entire area where the Eiffel Tower is located in tourist-heavy but gorgeous, The Seine river was especially gorgeous!
The day we visited it was cloudy so I couldn't get any photos with the blue sky in the background. However, look at this cute eerie picture of the carousel that I took though.
Here is a look of what the inside of the Eiffel Tower looks like.
Day 4: It rained all day on this day which sucked because we didn't get to explore as much as we would've liked. We visited the Eiffel Tower again, this time the other side. We weaved in and out of random shops and cafes when the rain got heavy. I ate this really yummy pastry and a caramel Alpro Caffe.
Day 5: On our last day in Paris, we woke up early so that we could squeeze in some last-minute shopping. I bought lots of cute souvenirs that I'll share in the next post.
After finishing shopping, my parents and I took a closer look at the Arc De Triomphe. We didn't go all the way to the top but we did see the inside of the Arc De Triomphe. For some reason they had the French flag flowing on the inside, I don't know why. It wasn't there the day we arrived. Before we hopped into our Uber we bought some macarons from the local McDonalds. haha
Overall, it was a short trip and we didn't get to see as much as I would've liked to see but I had a wonderful time and can't wait to go back one day!
Have you ever visited Paris?
Related Posts
5 Beauty Travel Hacks/Tips ♥ Summer 2018
Disney Photo Diary ♥ Summer 2017