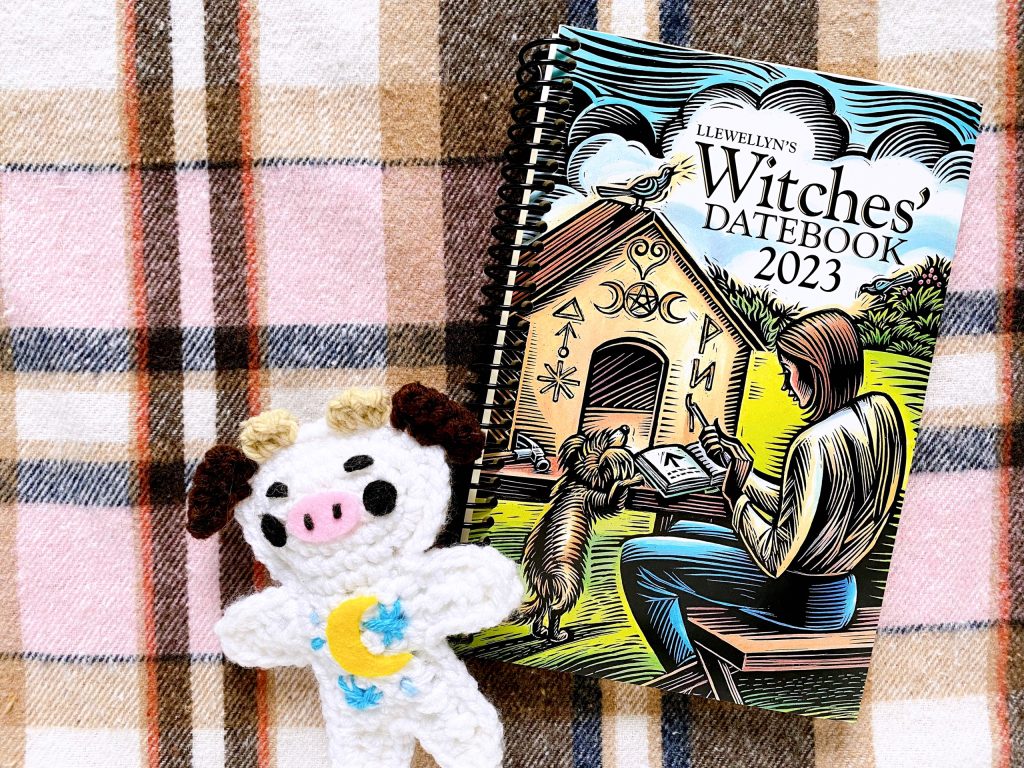 In my latest journaling post, I mentioned that I would discuss the planner I used in a separate post, well that post is this one! The planner that I've been using for multiple years is Llewellyn's Witches' Datebook. This is my third witches databook by the publishing company Llewellyn has released hundreds of New Age books for those on their spiritual journey. Their mission is to provide work for personal growth and the transformation of the body, mind, and spirit. Llewellyn publishes books on everything from alternative health and healing to metaphysics and the paranormal. In this post, I'll be discussing the Llewellyn 2023 Witches' Datebook so you can decide if this planner is right for you.
DISCLAIMER: Links included in this post might be affiliate links. If you make a purchase with the links I provide, I may receive a small commission at no additional charge to you.

What drew me to Llewellyn's Witches' Datebook was all the magickal goodness that's featured in it. The Witches' Datebook was designed for Witches, Pagans, and magical people (me) to organize your chaotic life or a magical event. Someone I follow on Instagram who is into witchy subjects mentioned this planner so I decided to check it out and bought it after finding out it was on sale for $6! Originally these planner datebooks run for double the sale price but it's still an affordable price for a daily planner, they go on sale pretty often so if you're on a budget you may want to wait until it goes on sale.

The databook itself is a spiral-bound notebook that contains 168 pages that are smooth and matte. The cover artwork and the illustrations throughout the databook are by award-winning artist Jennifer Hewitson.
The Llewellyn's Witches' Datebook contains a simple monthly calendar and weekly calendar with a horizontal layout. Along with the calendars, there are multiple articles, recipes, DIYs, magickal tips, and information on sacred seasons and holidays. One of my favorite things about this planner is the wonderfully written and educational articles that are throughout the witches' databook. If you're someone who enjoys learning about magickal topics I recommend getting this planner just so you can expand your knowledge if you are interested in enhancing your practice.
Every day you can expect updated information on new moon cycles, astrology placements, planetary movement, planting and harvesting days, time zone changes (Note: this datebook is set in Eastern Standard Time), and articles about magical topics. The back of this planner provides a lot of useful information so you can learn about each of the weekdays, lunar phases, astrological moon signs, crystals, chakras, herbs, and info all about the eclipses, Full Moons, and planetary retrograde.
Overall, if you're someone who enjoys learning about magical topics, you're interested in astrology transits, moon phases, crafty, and organizing your life, then this is the perfect planner for you! As I mentioned, this is my third Llewellyn's Witches' Datebook and I've been using these books daily for a few years I'm always excited to write in it and read new articles while organizing my life all conveniently in one place!

What planner are you using this year?