Back in November, I shared a curly hair haul with a bunch of styling products, in that post I mentioned that I didn't include the styling tools I has purchased because that would've made the post super long and I didn't want to torture you all with a super long post. Since it's been more than a month since I last published that post it's time to publish the second part. Not only am I sharing my recent styling tools but I will also be reviewing these items because there has been enough time for me to form an opinion on each of these tools and I've used them multiple times.

You don't have to have curly hair to use these products, all of these tools can benefit someone no matter what type of hair you have. However, seeing as I have naturally curly hair I'll be reviewing these products based on how well they performed on my wavy curly fine hair.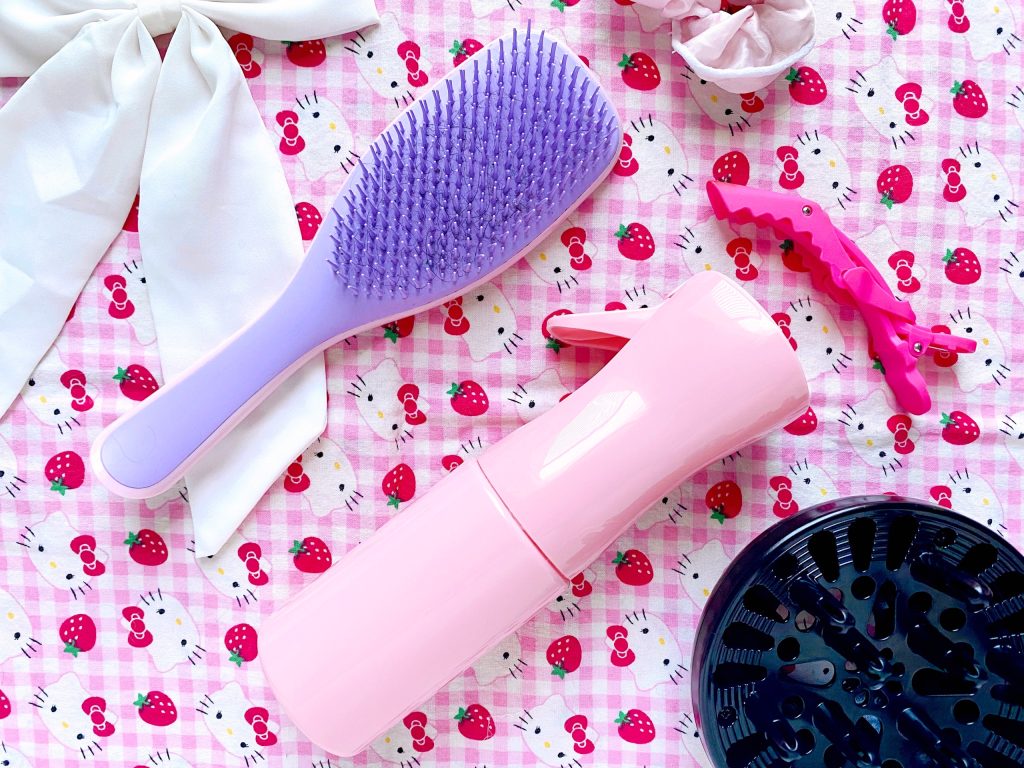 DISCLAIMER: Links included in this post might be affiliate links. If you make a purchase with the links I provide, I may receive a small commission at no additional charge to you.

Mister Spray Bottle
This is a 6.7-ounce spray water bottle that features a specifically designed nozzle that shoots out a fine mist. The effortless handle is easy to press and features a continuous mister that makes spraying easy.

Review: To be honest, the only reason I bought this was because it came in a pink color. I've been wanting a continuous spray bottle like this for a long time and I'm glad to finally have one. I wished I would've bought a bigger size because I go through the water in the bottle quickly. One thing I have noticed bout this spray bottle is that when it's full water will start to leak on the sides.

You can purchase the Mister spray bottle here

Tangle Teezer The Ultimate Detangler Hairbrush
The Ultimate Detangler Tangle Teezer hairbrush features an ergonomically designed handle for a steady and controlled grip. The patented two-tiered teeth gently but confidently detangle vulnerable shower-fresh hair, helping to cause less breakage. The long teeth detangle and the shorter teeth smooth. You can also use it to draw through conditioning treatments.

Review: Curly-haired people have a weird relationship with hairbrushes because chances are most of us had our curls roughly brushed as a kid which made us hate hairbrushes. I'll admit I used to be someone who would never use brushes in my hair unless I had to untangle hair knots. However, I've been opening my mind to brush-styling curls, yes you can use certain brushes to help define your curls! I have a faux Denman brush and that works well but I feel like the bristles are too rough for my fine hair, then, I came across the Tangle Teezer Ultimate brush. It's a favorite amongst the curly-haired community so I decided to give it a try. The bristles are soft and glide through my hair effortlessly and it doesn't pull my hair. I'm still trying to find a styling technique that works for me but I will say that brush styling with the Tangle Teezer hairbrush is a great way to distribute the product throughout my hair and I haven't had any problems with tangles due to this brush.

You can purchase the Tangle Teezer The Ultimate Detangler Hairbrush here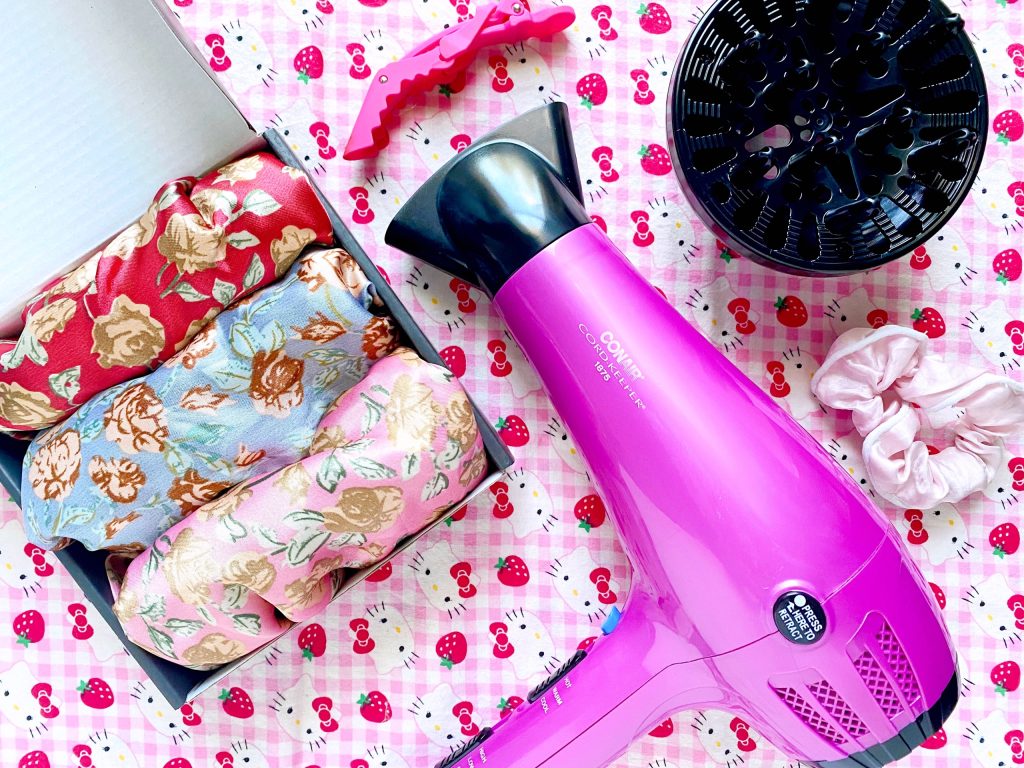 Satin Silk Bonnet Set
One of my biggest curling hair issues is dealing with frizz. My hair can get really frizzy! I already use a satin silk pillowcase and scrunchies and whilst they do help prevent frizz I wanted to see what using a bonnet would do to my curls. I've also been wanting to limit using water to style my curls because I read that constant wet styling can lead to hygral fatigue and I don't want that. This set comes with a 3-pack floral-print satin silk bonnet set because the floral print looked cute to me. haha

Review: Due to my sleeping problems, I toss and turn a lot, and whilst the bonnet usually stays on I don't like sleeping with a bonnet because I find it uncomfortable. When I take off the bonnet in the morning, my curls look squished, wonky, and misshapen and no amount of hand manipulation helps them get to a wearable state without producing more frizz which beats the purpose of wearing a bonnet. I've tried steaming my curls to get in some moisture in without water but that didn't work for me. I also tried using a light oil to help revitalize my next-day curls and didn't do much either.

Another issue I have with wearing a bonnet is that because I exercise every morning I will eventually put up my hair in a ponytail and get my hair wet with sweat (TMI: I sweat a lot) so again I find wearing a bonnet pretty pointless. If you don't exercise daily then I would recommend a bonnet as it does help with preventing frizz. However, after wearing a bonnet for a couple of weeks I've found that my hair does'mnt benefit from wearing a bonnet.

You can purchase the Satin Silk Bonnet Set here

Conair Blow Dryer with Diffuser Attachment
The Conair 1875 Watt Cord-Keeper Hair Dryer delivers ultimate style control and fast drying with its powerful motor. The cord keeper handle retracts the cord at the push of a button for easy storage. Tourmaline ceramic technology provides gentle, even heat to protect hair from heat damage and 3 heat /2 speed settings for all hair types. This full-size hair dryer also features ionic technology to help reduce frizz and enhance shine.

The Conair Cord-Keeper Hair Blow Dryer is equipped with all the features you need to create your favorite hair styles, plus a concentrator for pinpoint styling and diffuser to enhance natural curls and waves. For easy and convenient storage, just press the button to retract the cord line. 

Review: I bought this blowdryer because it comes with a diffuser attachment and was super affordable. I only diffuse on days when I wash my hair and I love the amount of volume I get from diffusing! I also like that I don't have to wait as long for my hair to completely dry, back when I would airdry my curls it would take 1-2 hours but now my hair takes less than 30 minutes to get completely dry. Diffusing has been a game-changer!

You can purchase the Conair 1875W Cord-Keeper Blow Dryer here

Do you have a favorite curling hair tool?