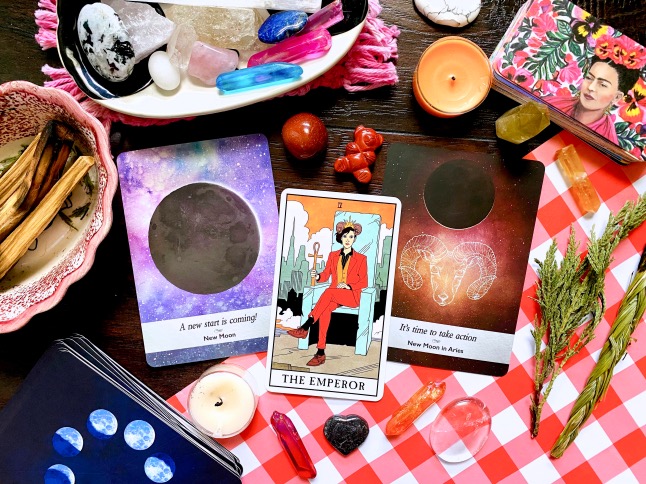 On Friday, April 1st at 2:24 AM EST there will be a New Moon in the sign of Aries. Aries is a Cardinal Fire sign ruled by Mars and the 1st house. The Tarot card that represents the sign of Aries is The Emperor and the polarity of Aries (opposite sign) is the sign of Libra.

If you're not an Aries, make sure to check your birth/natal chart to see where Aries lands in your chart and what Aries characteristics you have within you. If you don't have Aries in your chart check to see what you have under your Mars or 1st house. This goes for any astrological sign, if you don't have that said astrology sign in your chart check the corresponding planet and house.

Aries kicks off the Zodiac wheel and the start of a new astrological year as the first Zodiac sign. Aries are brave, headstrong, direct, assertive, and independent. Aries signs are competitive and fierce at heart. They will always take action and do what they think is right in a given situation. Some negative traits of Aries include being too aggressive, insensitive, loud, blunt, and can have a bad temper. When an Aries sign gets upset or angry their anger REALLY SHOWS they can be rude, insensitive, and hurt you to the point where they don't care because they have an argumentative nature, remember they are ruled by Mars!

A New Moon is also the start of a new lunar cycle and it's also the start of a new month so take advantage of this new energy by starting a new adventure. Remember that the Moon's energy is strong enough to work with on the day before, the day of, and the day after. I like to plan out my moon rituals a few days in advance so that I have all my materials ready. Check out this post to see what's the difference between the New Moon and Full Moon and learn more about both. You can also read all my past moon posts here.

What to expect during this New Moon?
– Perfect time to start a new chapter in your life
– Powerful motivational energy to manifest
– Extra sensitivity and strong connection to the other side

Activities to do during this New Moon
– Journal and write down your dreams and how you can turn those dreams into a reality
– Start a new project or restart an old project
– Take action in a situation
– Practice visualization through meditation
– Pull some Tarot cards and do this Tarot spread
– Work with Selenite, Clear Quartz, Howlite, and Pyrite
– Work with the scents, frankincense, peppermint, and dragon's blood
– Light candles
– Do a burning bowl ritual
– Move! Get that energy out!
– Wear red (ex. dress, nails, lipstick, undergarments, etc.)
– Get a scalp or head massage
– Work on your root chakra

Are you an Aries?