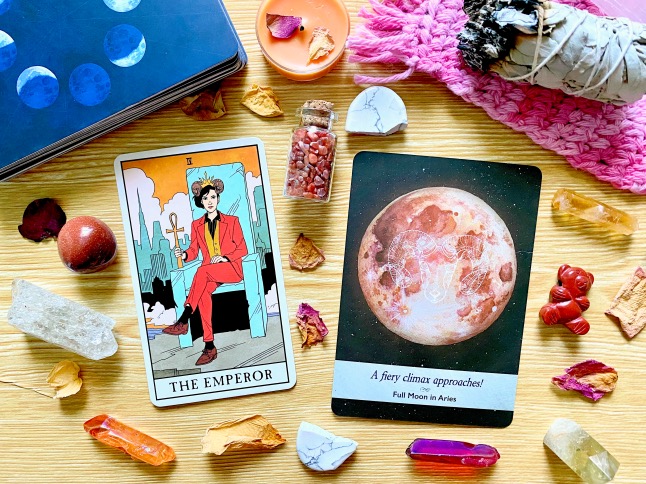 Wednesday, October 20th at 10:56 AM EST there will be a Full Moon in the sign of Aries. Aries is a fire cardinal sign ruled by the planet of Mars and the 1st house (in your natal/birth chart). Aries is the first sign in the Zodiac. They're risk-takers, adventurous, energic, and spontaneous. On the other side, Aries can be aggressive, reckless, impulsive, and Inpatient. As always, check out your natal/birth chart to see where Aries lands in your chart, every chart is different so depending on your placements this moon can affect you more or less.

The Moon's energy is strong enough to work with on the day before, the day of, and the day after. If you would like to learn more about the Full Moon make sure you read this post. You can also read all my past moon posts here.

What to expect during this Full Moon?
– Perfect energy for starting something new
– Take action or ignite movement
– Sensitivity is at a high
– Try to be empathic
– Tension

Activities to do during this Full Moon
– Reflect on what happened 6 months ago, are you on the path you want to be on? If not, what can you change to get yourself back on track?
– Do this Full Moon meditation
– Do this Tarot spread for the Full Moon. This account posts some great Tarot prompts
– Work with a piece of Selenite or clear quartz
– Work with the following crystals, Bloodstone, Carnelian, and Hematite
– Use the scents cinnamon, allspice, ginger, and nutmeg (perfect for this season!)
– Workout (get that energy out!)
– Wear the red colored clothing
– Light red-colored candles
– Work with fire (safely) like light a candle or have a bonfire
– Do a burning bowl ritual
– Work on your root chakra

Have you worked with the Full Moon before?