Welcome back to another deck review. In the post, I'll be reviewing the Cozy Witch Tarot by Amanda Lovelace. Check out my last deck review here. If you don't like spoilers then you might want to skip this post or not stare at the pictures below for too long as I will be showing some cards from the deck.

The Cozy Witch Tarot deck was created by Amanda Lovelace with artwork by Janaina Medeiros.
Amanda is most well-known as an author and poetess who has released multiple poetry collections. This is Amanda's second deck, the first being the Believe in Your Own Magic oracle deck. Janaina is also the same illustrator who designed the cards in the Believe In You Own Magic oracle deck. The cozy Witch Tarot was inspired by the traditional Rider-Waite-Smith deck and is ideal for practitioners of any skill level.

The box contains 78-cards and a 128-page guidebook that includes the basics of tarot, all the card meanings, and card spreads. The guidebook is very informative as it explains the basics of tarot including its structure, how to prepare your deck, and extra tips on how to get extra cozy with the Cozy Witch tarot deck.
DISCLAIMER: Links included in this post might be affiliate links. If you make a purchase with the links I provide, I may receive a small commission at no additional charge to you.

PROS
– Nice cardstock
– Matte finish
– Beautiful illustrations
– Creative
– Informative guidebook
– Lovely phases at the bottom of cards
– Diverse illustrations
– Great for beginners
– No extra cards

The cardstock for these cards is lovely, they're matte, have rounded edges, and feel almost powdery. But in a good way! I quite love the texture of the cardstock because they shuffle nicely and make this nice woodsy sound which I find therapeutic. The size of the cards is standard and similar to other tarot decks that I own but they are a bit thicker. There is a glided border around each of the cards which you don't see too often.

The Major Arcana cards are numbered and some of the major arcana cards have different names like the cozy witch (fool), the good luck charm (wheel of fortune), the patient witch (hanged man), the broom (death), and the toxic witches (devil) but I think this is a cute and creative twist on the major arcana cards so I don't hate it. In the guidebook, these cards are explained.

At the bottom of each keyphrase that explains the meaning of the card. If you're completely new at reading tarot I think this is a nice way for you to understand tarot quicker.

The illustrations on these cards are so gorgeous! The artwork gives off this warm and cozy feeling! I love the colors used and the diversity in this deck. The representation in terms of skin color, body type, hair types, imperfections, various ages, and people with disabilities is all lovely to see. 'Imperfections' like stretch marks, wrinkles, messy hair, grey/white hair, eyebags, etc. These are real representations of what people look like and I love to see that! I also love how chill and cozy the people on these cards are. They're beautifully designed and I adore a lot of the outfits!

When it comes to the Minor Arcana, Instead of the four suits being displayed right in front of the cards they're used in creative ways. You really have to search for some of the suits because they could be hidden in the background, on the clothing or accessories of the people in the cards. It was fun, searching how the suits were represented in certain cards. For example, in the ten of pentacles card, the 'pentacles' are displayed on the collars of cats! I like this idea because it makes you focus on the illustration of the card and what the card is trying to tell you so you can interpret the card better.

Every suit is also represented by a color. Cups – pink/mauve, Pentacles – green, Swords – blue, and Wands – red. Depending on the card you pull, you will see that color focused on more in said card. If color magick is a thing, I think you'll enjoy this deck!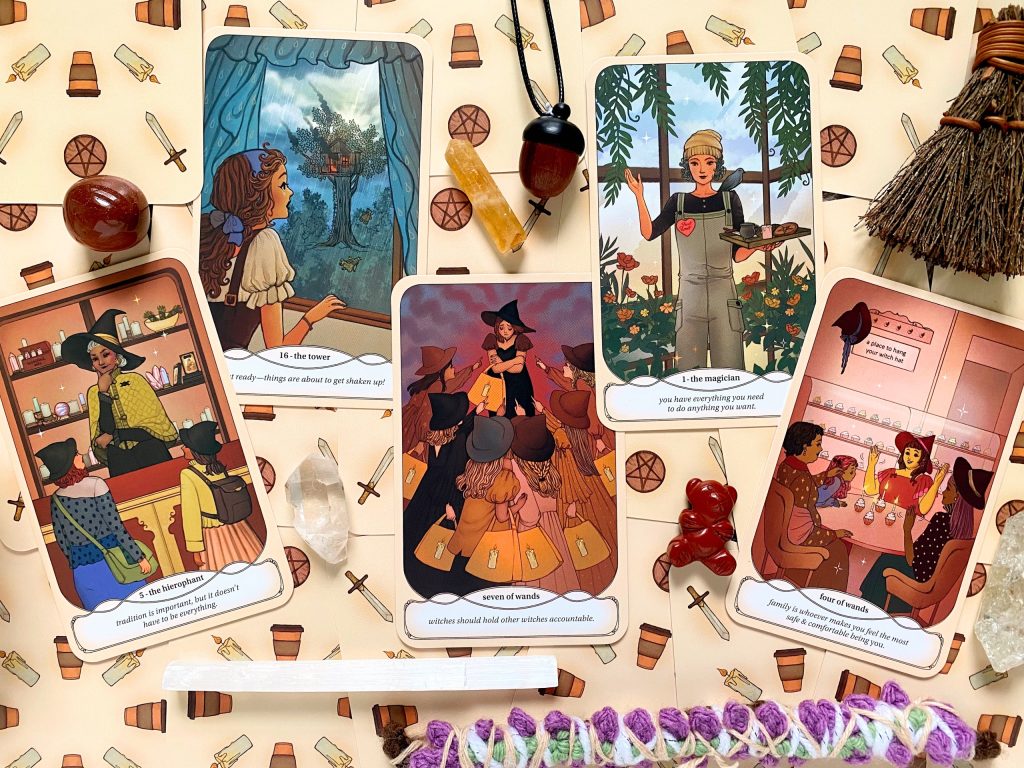 CONS
– Struggle to shuffle
– No men

The deck is quite thick making it difficult to shuffle at times. I had no problems with shuffling the cards, however, my older sister who has smaller hands than the average human said it was difficult to shuffle. Side note: go follow her YouTube channel where she does tarot readings.

I mentioned there is a lot of representation of real women in this deck, however, there aren't any men. There are a few masculine-esque cards but not that many and no men. I know some might not care about this and might not see it as a flaw but it's something I noticed while flipping through. This deck represents a lot of different types of women and possibly non-binary people so for there not to be any men is kind of odd. Men can be witches too. There could've been at least a few men scattered in the background or even boys in this deck.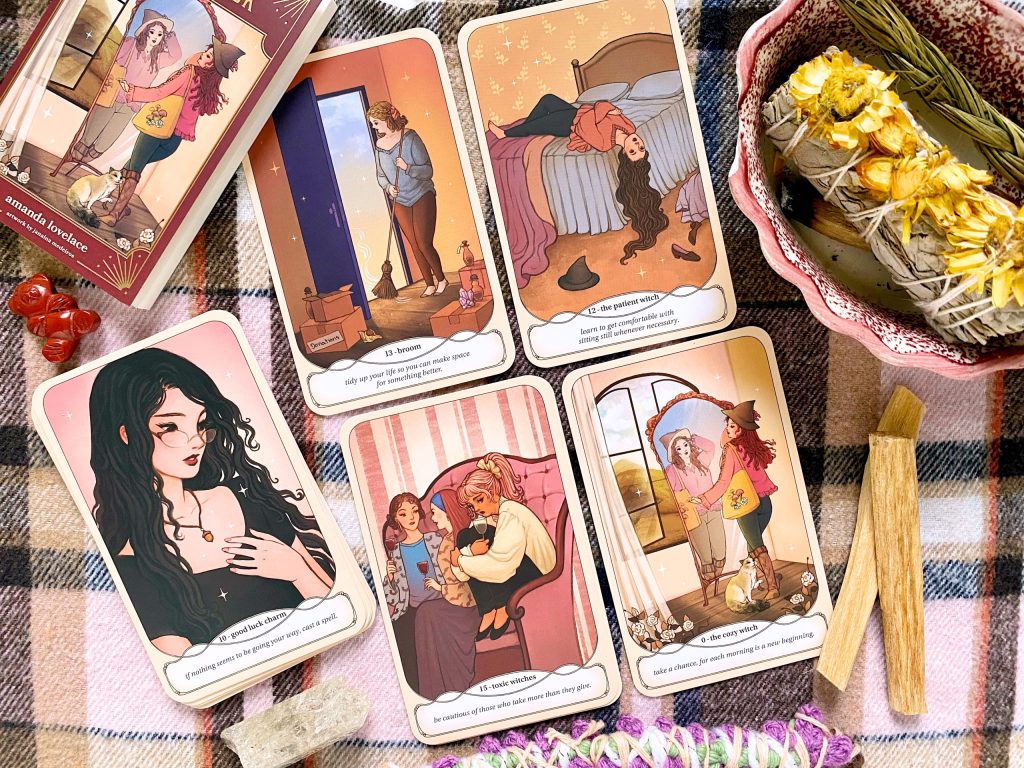 FINAL THOUGHTS
This deck is so warm and cozy and the perfect deck for the autumn and even the winter season as it makes you want to light a bunch of candles with a comfy sweater and snuggle up and do an in-depth tarot reading. This would be a great tarot deck if you're new to tarot or a gift for someone new to tarot.

I adore this tarot deck! I've only been playing with this deck for a few months but it's already a new favorite that I can see myself using throughout the year and I am so happy to have this deck in my collection!

You can purchase the Cozy Witch Tarot here

Do you have this card deck in your collection?