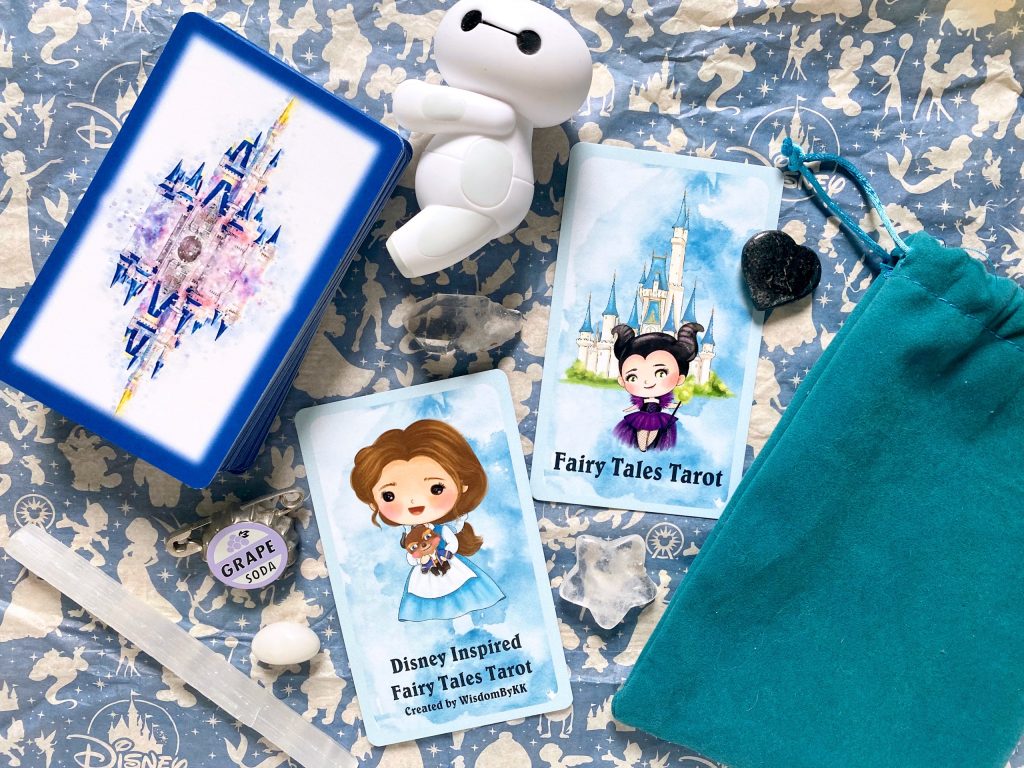 Welcome back to another deck review. In the post, I'll be reviewing the Disney-Inspired Fairy Tales Tarot by WisdomByKK. Check out my last deck review here. If you don't like spoilers then you might want to skip this post or not stare at the pictures below for too long as I will be showing some cards from the deck.

The Disney-Inspired Fairy Tales Tarot was created by WisdomByKK, at least that's what the tarot deck says. There is not much information about this deck online so I can't credit the artist who created the beautiful illustrations in this tarot deck. If anybody knows any information about this deck let me know.

If you know me or have followed me for a while, you might know I'm a huge Disney fan. I go to DisneyWorld multiple times a year, enjoy watching Disney movies, and enjoy everything Disney-related, I am a true Disney adult! So when I received this Disney-inspired tarot deck as a birthday a few months back I was pleasantly surprised! I had never seen or heard of this deck before. I'm not sure if it classifies as an indie deck because you can only get this deck on Etsy. With that said, I have a lot of positive and negative things to say about the Disney-Inspired Fairy Tales Tarot so let's get this review started!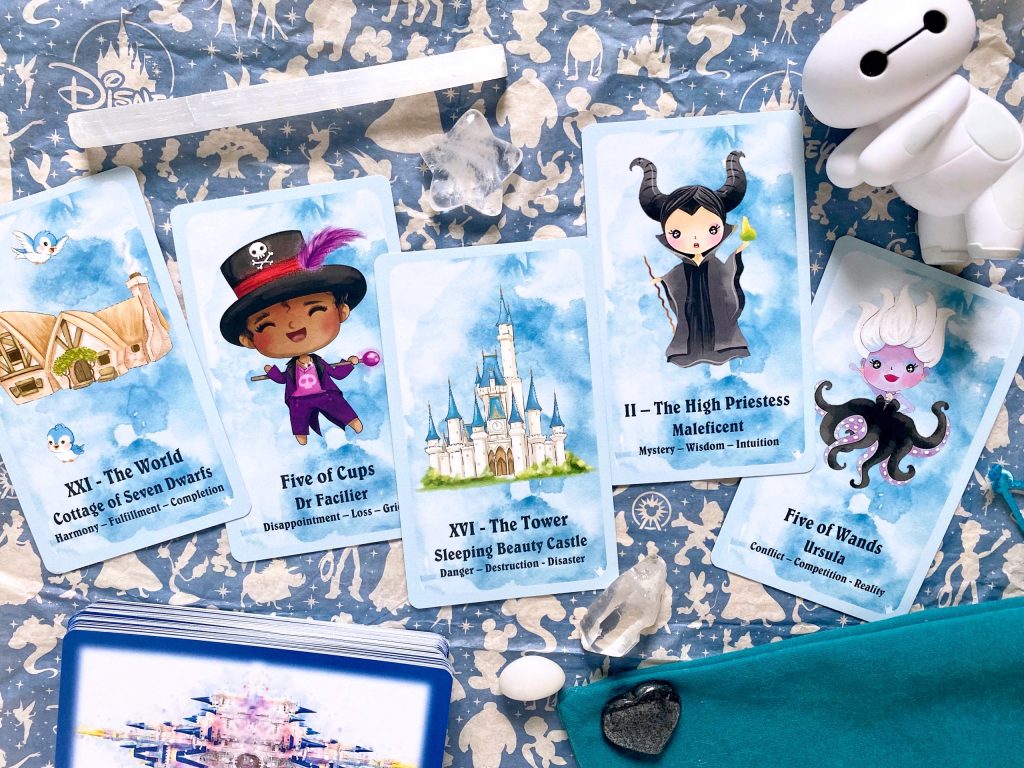 PROS
– Amazing cardstock
– Semi-gloss finish
– Cute watercolor illustrations
– Lovely card back art
– Easy to shuffle
– Comes with a blue pouch
– Comes with three words that represent each card
– Perfect for a Disney fan

Let's start with what I enjoy about this deck. The fact that it's Disney-related and has a lot of illustrations of my favorite Disney characters that I grew up watching so it has some strong childhood nostalgia. The cards themselves are printed on semi-gloss cardstock, not too shiny that it causes a mean glare but not so matte either. I would classify the cardstock as standard, it's not too flimsy nor too thick but they shuffle nicely and the cards have a rounded edge.

I love the watercolor art style and the colors used throughout the deck are lovely. But the backs of the cards are probably my favorite! The castle on the back with its reflection is such a gorgeous image to look at! It's so whimsical!

Each tarot card comes with a few words at the bottom of the card. These words are used to describe the tarot card that you pulled. This is great for beginners who are new to tarot and are trying to remember all the different tarot meanings.

Because there is no box, this deck comes with a blue pouch, Nothing special just a blue-colored faux velvet pouch. Still, this is a nice gesture seeing as I've bought decks that don't come in a pouch or box so I'm happy with the pouch.
CONS
– Price
– Ships from Lithuania
– No guidebook
– 2 extra cards
– Characters get repeated
– Strange illustrations on some cards
– Illustrations didn't always make sense

I'll start by saying that this is not a cheap deck! It's the most expensive deck that I own, coming in at $55 (with free shipping). You are paying for a Disney-inspired tarot deck so expect Disney prices (lol). This deck ships from Lithuania so depending on your location this might be a pro or con for you. I'm based in the US and from what I read online (via reviews) it takes a couple of weeks for it to arrive but I think it's understandable. Since I received this as a gift I'm not complaining! haha

There is no guidebook with this deck. I contacted the person who gifted me this deck to ask if maybe it was sent to their email because it says in the description of this deck that an ebook would be sent via email but they said they never received any sort of ebook or email with further information on the deck. Upon seeing the reviews of this deck, a lot of customers complained they never received an ebook either so there is that.

There are also two extra cards. To me, 'extra cards' have no meaning and are just fluff in the tarot deck. In the Disney-Inspired Fairy Tales Tarot, there are two extra cards. Both say the same thing, the title of the deck. Because this deck doesn't come with a guidebook or in a box I'll accept one extra card but two? You only need one.

Another problem I had with this deck was that Disney has so many characters to choose from and yet, despite that, a lot of the Disney characters in this deck were repeated, especially the princesses! There were multiple Disney characters grouped together and then there were like 5 Cinderellas! On that note, on some of the cards, there are goth versions of some of the princesses. I found this so strange, CUTE but strange. Why not use a villain on these cards or someone else? On that note, the artwork, though cute didn't always line up with the meanings of the cards so tarot enthusiasts might be annoyed with this.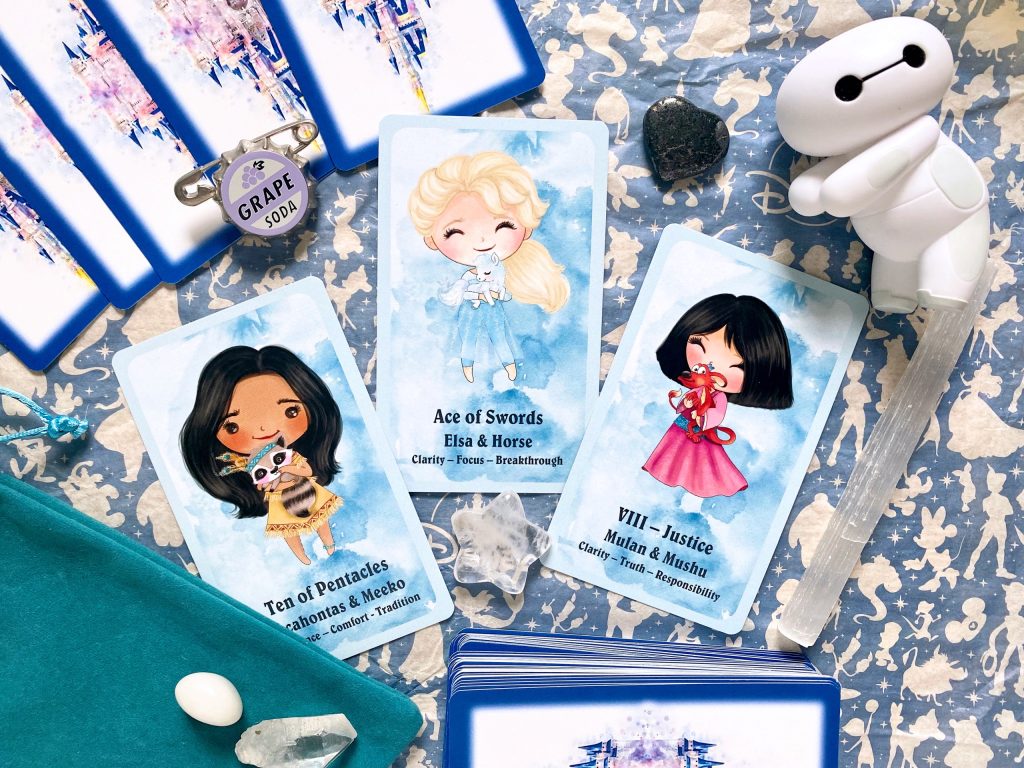 FINAL THOUGHTS
Overall, I still love this deck and have been enjoying using it. I would recommend this deck to a huge Disney fan or a complete beginner because they can use the words to help them learn the tarot cards. I'm happy to have this tarot deck in my collection!

You can purchase the Disney-Inspired Fairy Tales Tarot here

Do you have this card deck in your collection?