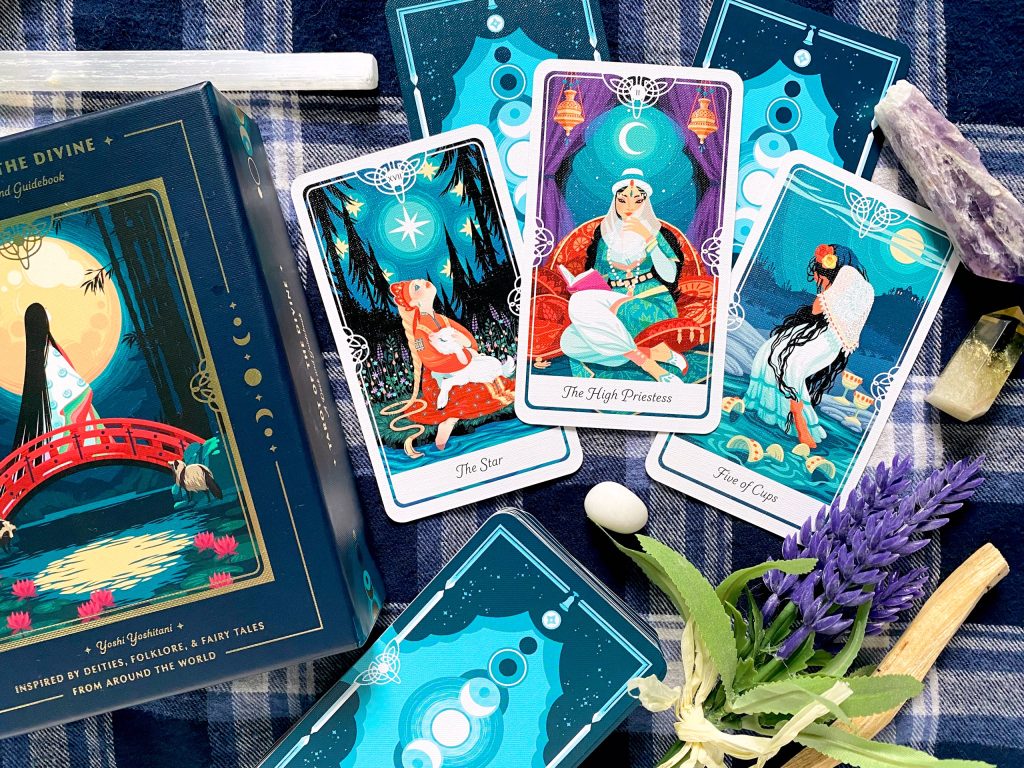 Welcome back to another deck review. In the post, I'll be reviewing the Tarot of the Divine deck by Yoshi Yoshitani. Check out my last deck review here. If you don't like spoilers then you might want to skip this post or not stare at the pictures below for too long as I will be showing some cards from the deck.

The Tarot of the Divine was created and illustrated by Yoshi Yoshitani. The Tarot of the Divine deck was inspired by Yoshi's experience of being raised in various locations, the deck was inspired by numerous cultures. Yoshi has worked with various well-known brands such as Disney, Dreamworks, Netflix, DC Comics, to name a few.

The first time I saw this deck was on a Youtube tarot channel. Then I found out that my older sister (who also reads Tarot) had this deck in her collection so I got to play with it firsthand. I quickly fell in love with this deck and bought it early this year. Since getting this deck I've been using it daily for a total of 5 months! Because I was able to use this deck for so long I was able to test out the durability and get familiar with the deck which I will explain in this review.
DISCLAIMER: Links included in this post might be affiliate links. If you make a purchase with the links I provide, I may receive a small commission at no additional charge to you.

PROS
– Amazing cardstock
– Semi-matte finish
– Gorgeous illustrations
– Diverse and inclusive representation
– Beautiful color palette
– Easy to shuffle
– Lovely backings
– Bright colors
– Affordable

First off, the cardstock from this tarot deck is AMAZING! The cards feature a semi-matte finish with rounded corners but the texture, the TEXTURE! I absolutely adore it! The texture has a sort of gritty smooth texture that makes shuffling effortless. Out of all the card decks I own this has the most interesting type of cardstock that I have.

The artwork is stunning! The colors are vibrant and go along well with many other decks. I used this deck along with the Spirit Junkie Deck and the colors from both decks work lovely together.

What drew me to this tarot deck is that I am fascinated with other cultures and stories from different countries. The Tarot of the Divine tarot cards is inspired by folklore, fables, myths, and fairy tales from all over the world. Most of these stories I have never even heard of! Yoshi also released an accompanying book that goes more in-depth into these stories so if you want to learn more about some of the stories make sure to get the book.

Because of all of the diversity, there is a lot of representation in the cards such as different cultures, ethnicities, body types, skin tones, ages, and mythical creatures it's a beautiful thing to see!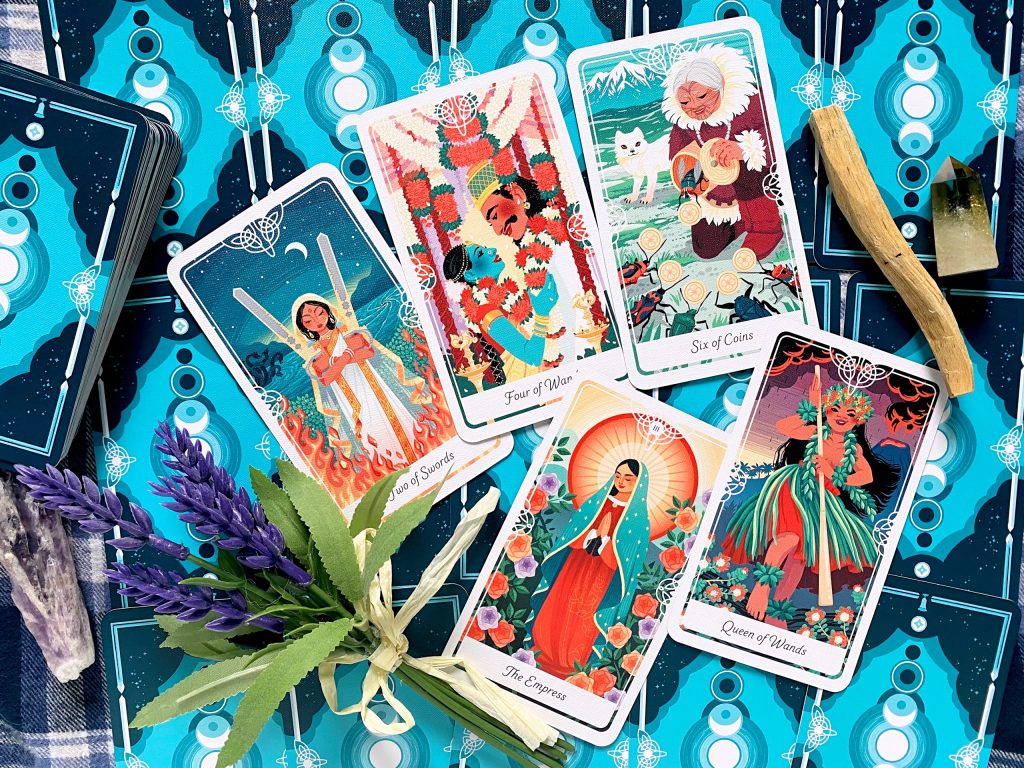 CONS
– Box quality isn't the best

The only problem I had with this tarot deck is the box. I keep my tarot decks stored in their original boxes for convenience. The spine of the box has started to peel from opening the box too much, I mentioned that I've been using this tarot deck for months, however, a good-quality box should be able to handle this, and I'm very careful with my things!

Inside the box, there is a box that holds the cards in place that has started to come apart which sucks. The damage is minimal but I thought I would mention it. I'm actually looking for a cute tarot pouch so I can prevent further damage to the box.

You can purchase the Tarot of the Divine Deck here
You can also purchase the Tarot of the Divine Handbook here

Do you have this card deck in your collection?