Last Thursday was my 29th birthday and in honor to celebrate me entering my final year in my twenties we decided to go to the happiest place in the world, DISNEYWORLD! We spent a few days in Orlando and visited two Disney parks, Disney's Hollywood Studios, and Epcot. If you would like to see some videos of my trip check out my Instagram story here.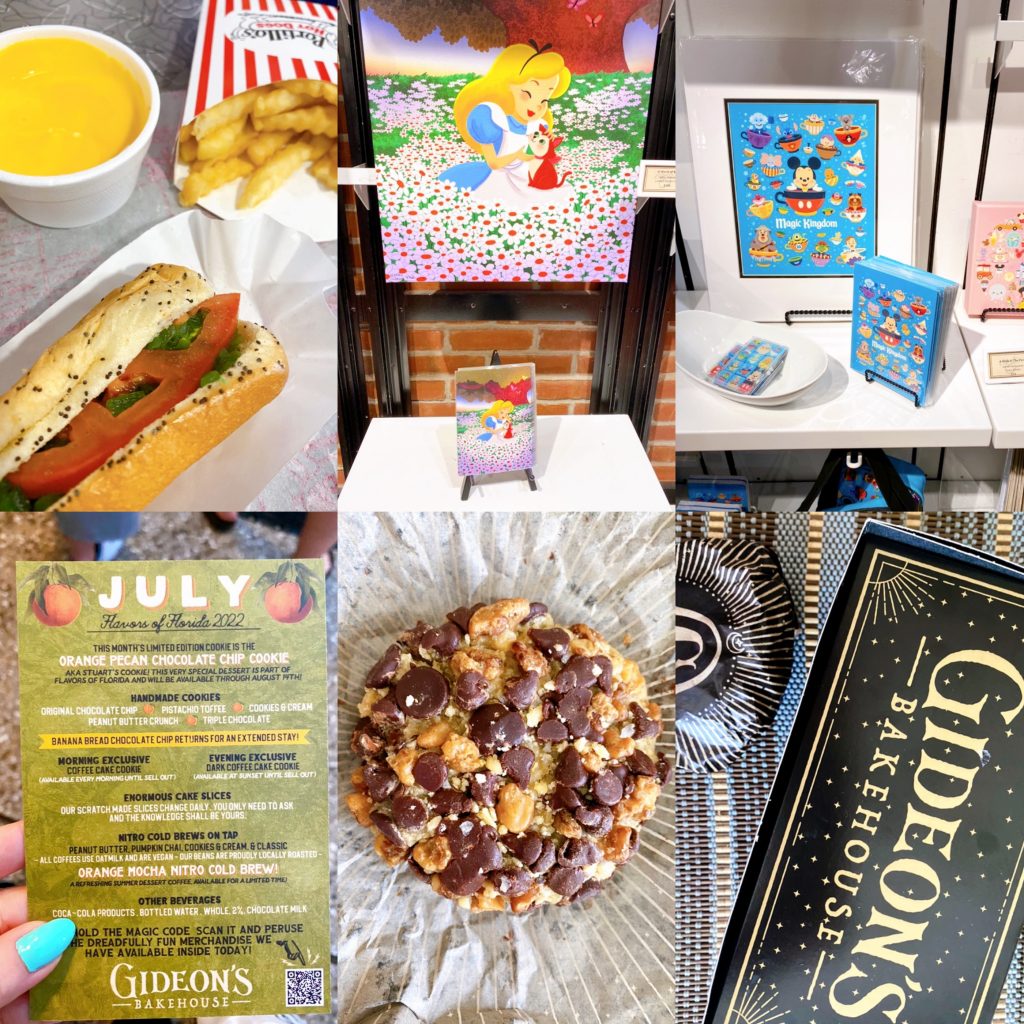 Disney Springs
Since we always drive to Orlando (it's an 8-hour drive from where we live) we got up early and left at 7 am so that we could arrive in the afternoon and visit Disney Springs.

After we arrived at our Airbnb a little early (check-in was at a certain time) so we decided to get some food at Portillo's, they had a new plant-based garden dog but not the burger I got last time which I was looking forward to getting but they didn't have it *cry*. I ended up ordering a garden dog, cheese fries (because I'm not vegan), and a lemon strawberry cake milkshake. Everything tasted delicious! Afterward, we went back to the Airbnb to unpack, rest a little, and freshen up.

Later that night we hit up Disney Springs! We went to Gideon's Bakehouse where we got some cookies and a peanut butter cold brew, highly recommend it! I got the banana bread chocolate chip cookie, it was too chocolatey for me so I picked out some of the chocolate chips but the rest was delicious! Our box of cookies included a card from Jonathan Lindwurm, who previously owned a bookstore where one of the Gideon's Bakehouse is located. The card said that he mysteriously vanished inside his bookshop and no one has ever seen him since so that's some cookie lore for you all! haha

Afterward, we browsed other shops and I had dole whip float but it was too dark so I didn't take any photos of it but it was refreshing especially in the Florida hot-and-humid-as-hell weather! I didn't buy much during my trip but I received a Line Friends X Uniqlo shirt as a birthday gift.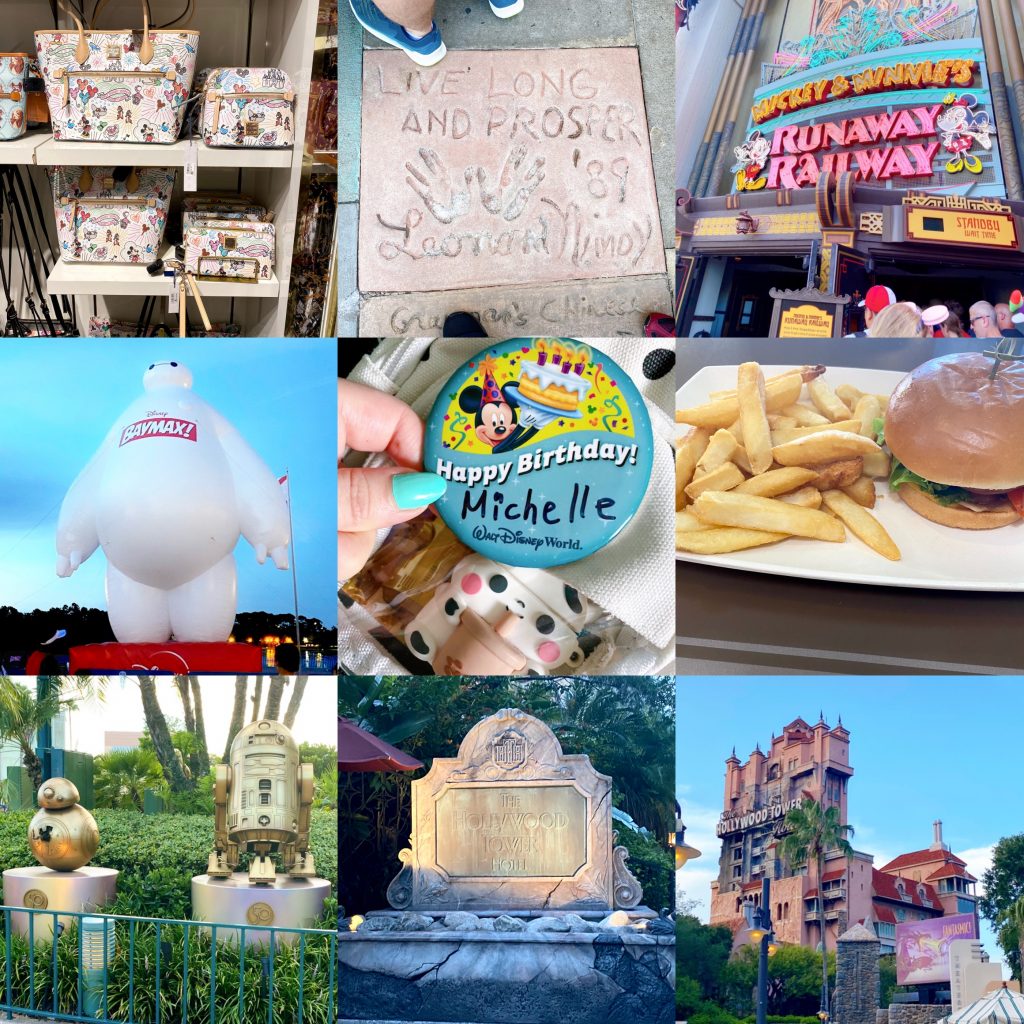 Disney's Hollywood Studios
The next morning, we woke up early and headed to Disney's Hollywood Studios and headed straight to Mickey & Minnie's Runaway Railway. It was a cute ride, we rode it again later that evening. Afterward, we went to Toy Story Land (which I forgot to take pictures of) and rode some rides there. It was really hot and humid so it wasn't the best place to go when the sun was out. Our entire day at Hollywood Studios it didn't rain so we were lucky in that way but also the rain cools everything down so…we weren't so lucky. haha

We didn't ride the Twilight Zone Tower of Terror, I rode it once a couple of years ago and I never want to ride it again! I felt so uncomfortable! However, I like the creepy aesthetics so I just took a few photos. haha

They didn't have the special nighttime show Fantasmic! at Hollywood Studios when we visited. The website said it would be returning in 2022 but sadly not when we were there. Not going to lie, it felt weird not watching a nighttime show in a Disney park.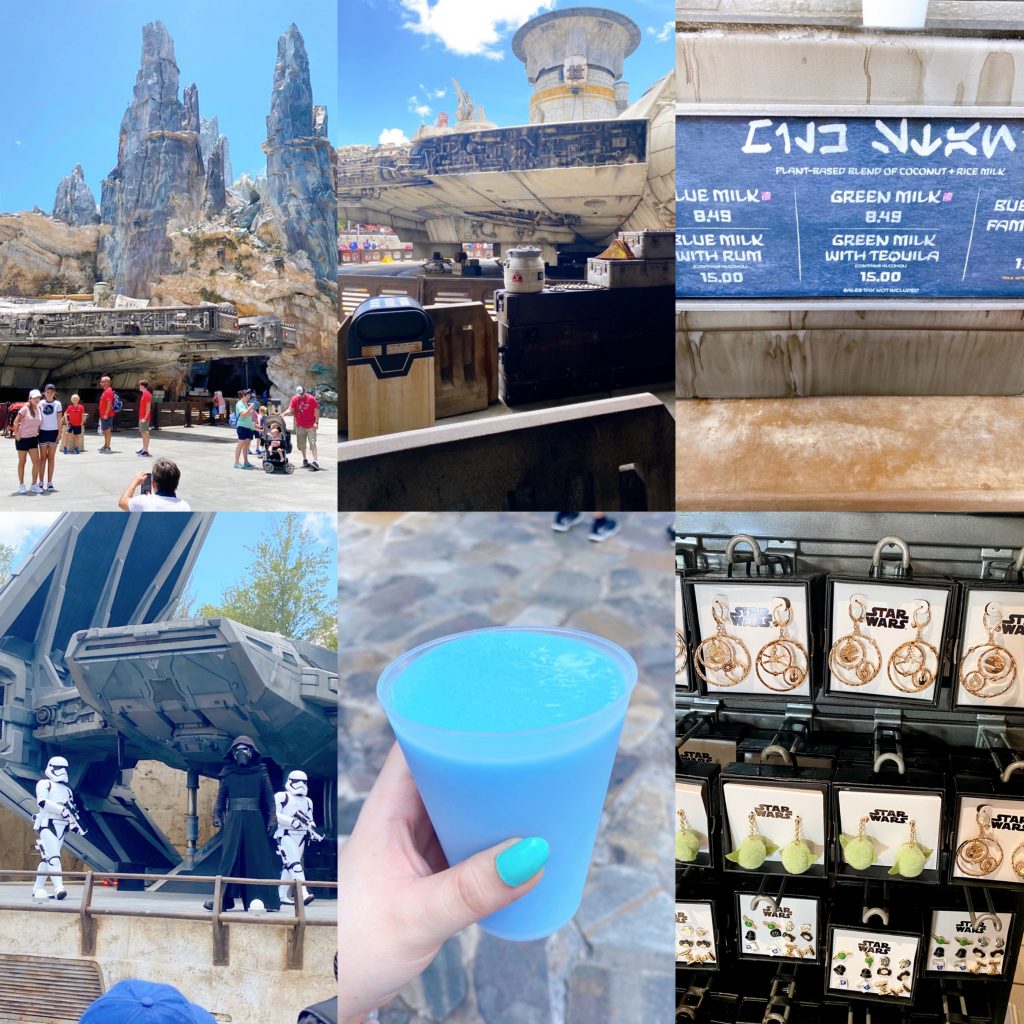 Star Wars land (aka Galaxy's edge) is located within Hollywood Studios so if you're a Star Wars fan this is a place you must visit! It's fairly large and there are three Star Wars rides, two of which are located within Galaxy's edge.

At Star Wars: Galaxy's edge I tried the blue milk, which is vegan! I was surprised by the taste, I thought it would taste like a sweet milkshake but it tasted tart instead. I would compare the taste to a melted Skittle. Later we rode both Rise of the Resistance and Smugglers Run, both were fun but had long lines but were worth it! Rise of the Resistance is more of an experience than a ride, they move you from room to room to the point you forget you're on a ride!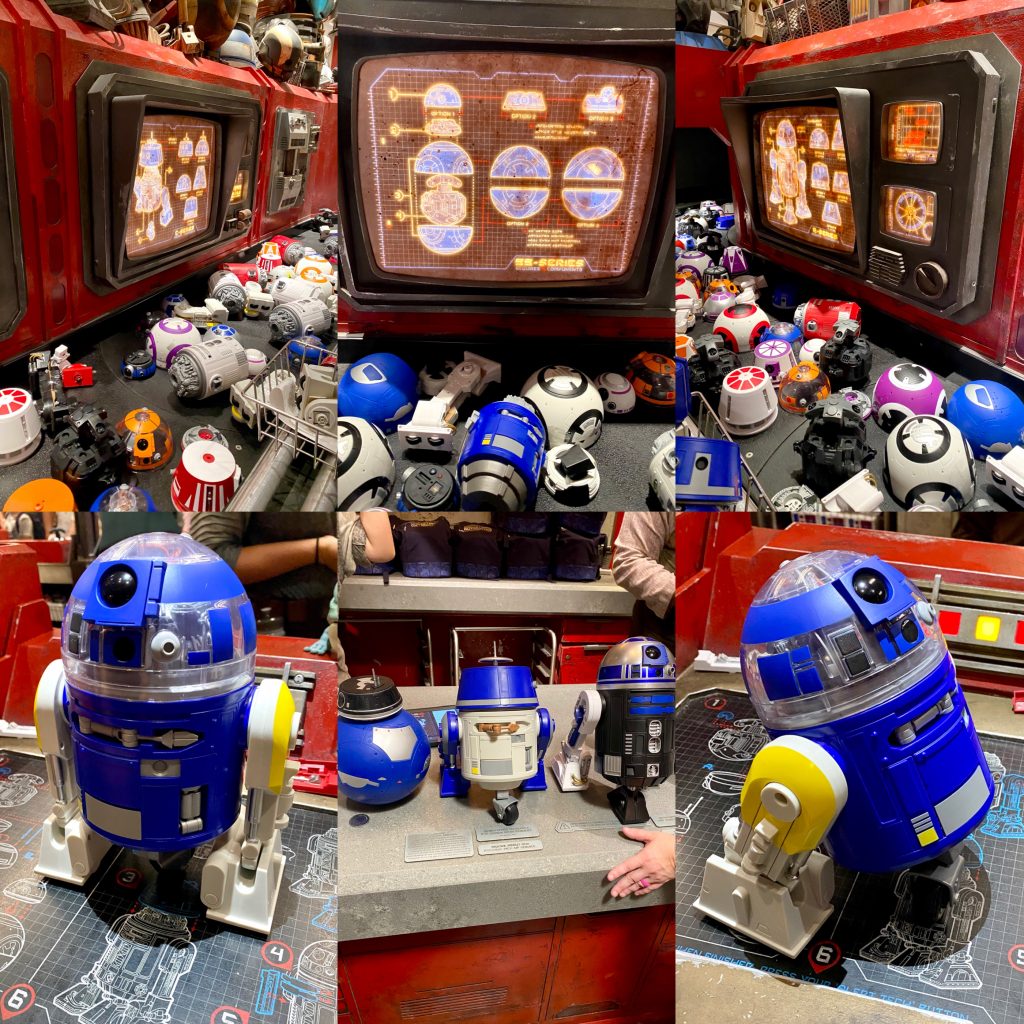 My older sister signed up to create another droid (yes, she already has one but wanted another one) at the Droid Depot. This time she created an R2-D2 style droid. You choose different colored parts and assemble your own droid. It's a cute experience but each droid runs you around $100+ so unless you're a huge Star Wars nerd… With that said, I have played with her droids and they're pretty entertaining! I'm going to crochet them little lightsabers and make them duel to the death!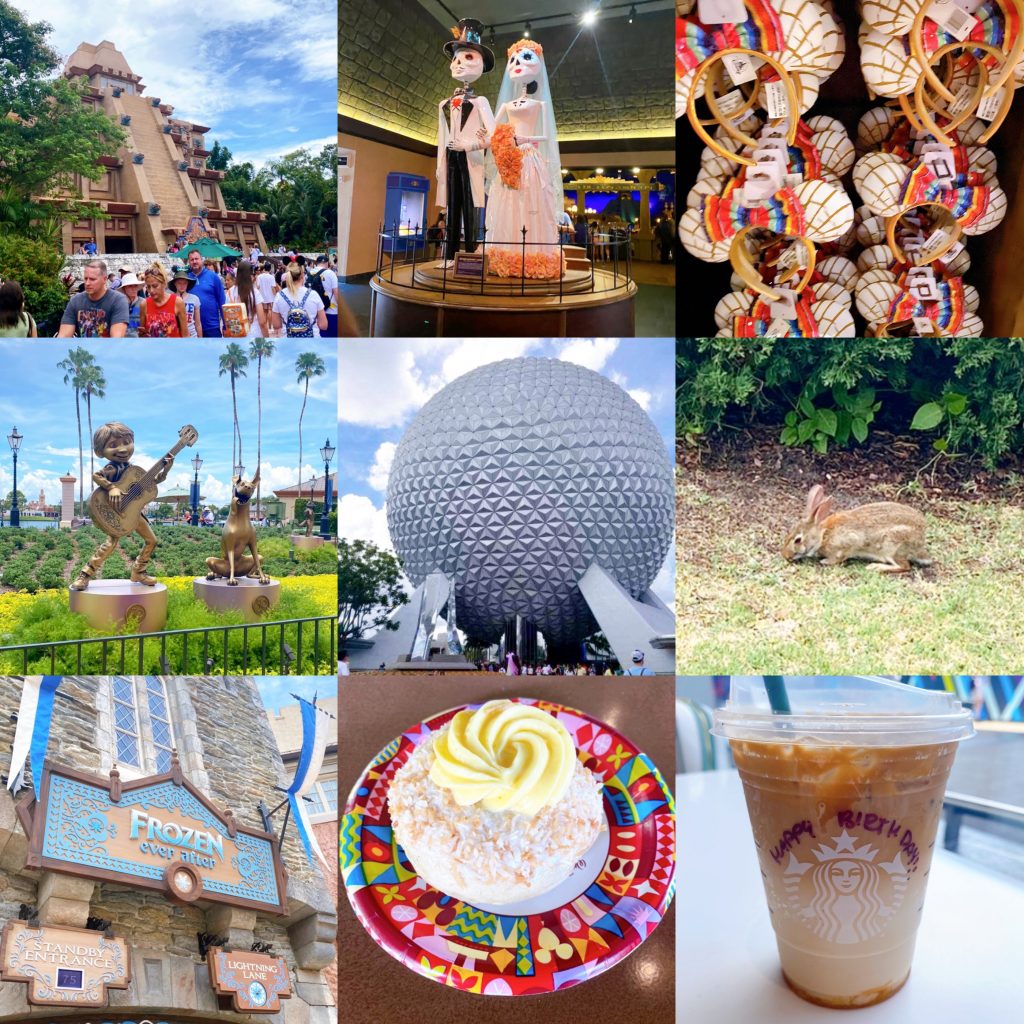 Epcot
The next day we went to one of my favorite Disney parks, Epcot! The Food & Wine Festival is currently going on so there were a bunch of food stands with different food from different countries. To be honest, we don't eat too much at the parks but I did get to try the Norwegian school bread (which is able all year long) which was so tasty! It's a bread-like pastry with vanilla custard and coconut flakes on top.

They also had concha Minnie ears in Mexico! If I didn't buy a new ear headband at Hollywood Studios the day before I would've bought them. Hopefully, next time I'll get them!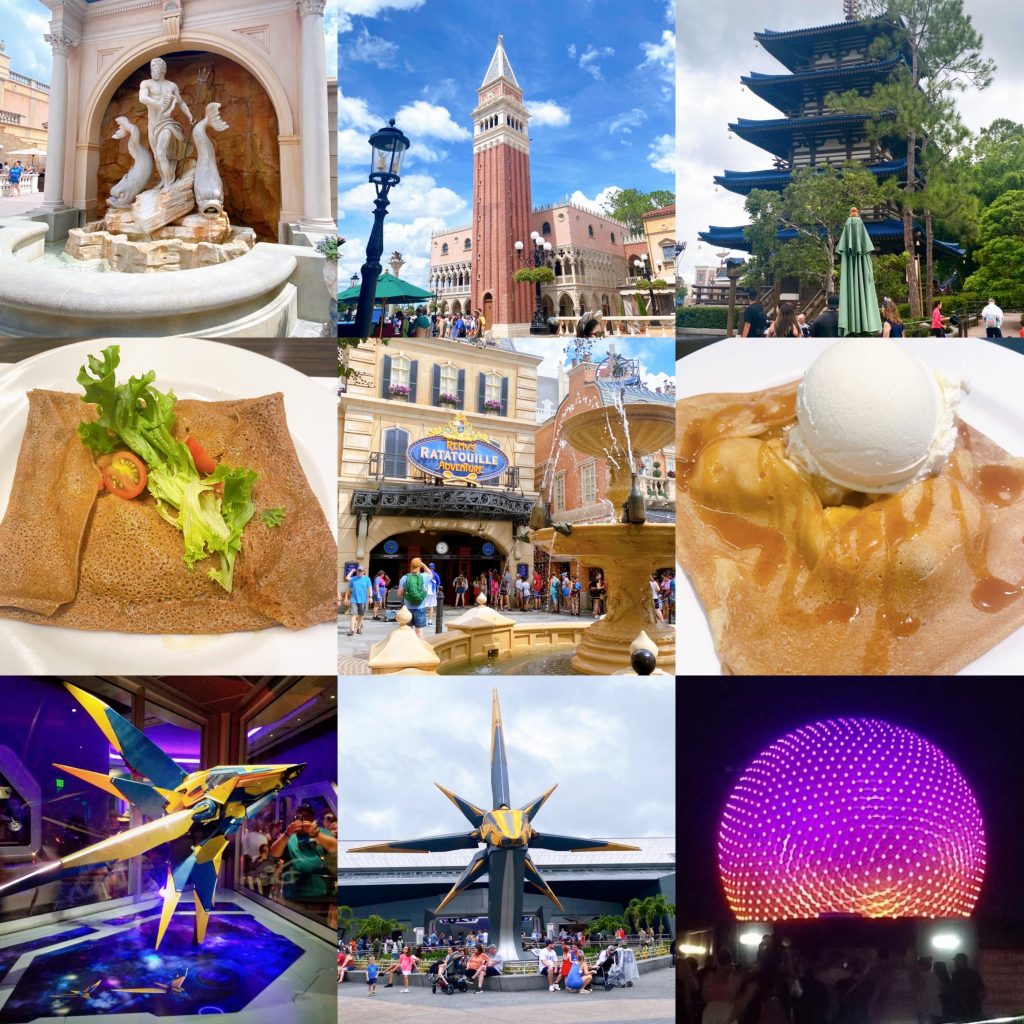 One of my favorite things about Epcot is the world showcase where you can walk around the world in under an hour! I challenged myself to try to take picture of a landmark in each country but sadly I failed! I did manage to take pictures in Mexico, Itlay, Japan, and France but we did explore the countries in between. Sadly, we ran out of time because we had some scheduled activities and didn't get the chance to explore the United Kingdom or Canada.

We were lucky enough to get picked for the virtue queue for the new Guardian of the Galaxy: Cosmic Rewind! IT WAS AMAZING! My new favorite ride at DisneyWorld! However, like Rise of the Resistance, Disney tried to make this ride an experience rather than just a ride. This would be great if there wasn't such a long wait for these rides! I've seen rides at DisneyWorld with 2-hour wait times and the last thing you want to do is wait an extra amount of time to be moved from room to room just to feel like you're in a different world.

When was the last time you went to Disneyworld?