Last week, I spent 5 days in Orlando, Florida, 3 total days with 2 half-travel days. I went with my family (mom, dad, younger sister, and nephew) and we drove from Georgia to Florida, we live about 7-hours away from Orlando so we actually go to Orlando pretty often because we live so close. The last time I was in Orlando was in July 2019, pre-nephew and pre-pandemic. We also brought along Lucy, my majestic Pomeranian because I hate leaving her behind so we booked a room at a pet-friendly resort.

Saturday was our first travel day. We left the house around 9-10 am and arrived at our hotel at 4-5 pm, so the trip took around 7ish hours not including food and rest stops. After we checked in, we got some food at Chiptole and went to Target to pick up some essentials. I bought a really cute Fleur Zodiac shirt at Target! We didn't do much after that. We decided to chill the rest of the evening and prepare our plans for the rest of our trip.
On Sunday, we had brunch at Portillo's, when I lived in Chicago, Illinois my parents used to love going to this place to eat, it holds many special memories to us! I was surprised to see that they had a vegetarian option as well, it was a grilled portobello mushroom sandwich/burger. I also had some cheese fries and a strawberry shake. As a result of going heavy on the dairy, I was very gassy the rest of the day (TMI, I know!). We don't have a Portillo's in Georgia so I didn't regret being gassy! haha

After we ate we hit the Orlando Outlets. My parents love outlets for some reason, I'm not much of a fan because I don't care for designer brands. However, they have a Disney store at this particular outlet so I went to check it out to see if they had anything cool/ However, I left disappointed because they didn't have anything special so I didn't buy anything at the outlets, besides an iced soy green tea latte from Starbucks.

Later, we stood in the drive-thru line at White Castle for almost 2 hours! My younger sister really wanted some so we waited, thankfully none of us were too hungry when we got in line but after 2 hours we were! I ordered an Impossible slider meal but sadly, they forgot my order ? and we didn't find out until we returned to the hotel so I just ate a frozen Amy's meal that I had bought earlier at Target.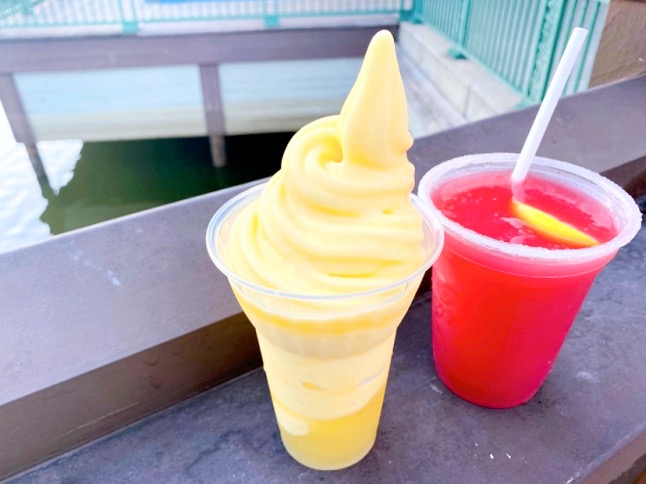 That evening, we went to Disney Springs. We love going to Disney Springs at night because of the cooler atmosphere. We walked around visiting various stores and then got an ice cream sundae at Ghirardelli. My uncle and his girlfriend who live in Flordia met up with us here and we caught up. We ended up talking with them until almost midnight!
On Monday, we hit up Disneyworld's Magic Kingdom! We didn't arrive at the park until 2-3 pm because of staying out too late the previous night and I also had an emergency situation with my feet. Long story short, I choose cute shoes over comfortable shoes and I got some pretty nasty blisters. Thankfully, I wasn't in too much pain walking through Magic Kingdom. the magic of Disney! haha

Magic Kingdom wasn't too crowded but Disney probably made sure the park didn't get too crowded, we bought tickets and reserved everything online beforehand. After taking a few photos at Main Street U.S.A we hit up the shops to see all the Autumn/Halloween merchandise, I bought a Mickey pumpkin ear headband and Disney Halloween shirt. I've never been to Disney World when they had the Autumn decorations and merch so I decided to take advantage and buy these Halloween exclusive items. After some shopping and taking photos of the castle and catching some cavalcades on the way to eat. We ate at Pinocchio Village Haus, this is our usual spot we eat at. They have a decent flatbread-style pizza and a nice view of the 'It's a Small World' ride. In order to eat anywhere, you had to place an order online via the My Disney Experience app. Some restaurants didn't even allow you to enter until you had placed an order which I guess prevented guests from lounging indoors.

I was super impressed with how serious the Disney employees took the mask mandate, indoors anyways. Disney's rules were that you had to wear a mask indoors but outside you were allowed to not wear one but many people still did, including me. When inside, I heard many cast members telling guests to put a mask on but this was only inside shops and some indoor attractions. Because of Florida's hot humid weather, it was definitely difficult to keep a mask on all the time but I always made sure no one was near me when I took my mask down. But considering Flordia is a major Covid hotspot at the moment I was very careful. Even though I'm fully vaccinated I'm still being very careful.

Because my nephew is only 1-year old his mood shifts very quickly and because of that we weren't able to ride as many rides. I could've left my family and do things on my own and live that #singlerider life but I didn't want to leave them out of my Disney World experience. Plus, I wanted to be there in case they needed any help. He did ride a few attractions, "It's A Small World", Mickey's PhilharMagic, Prince Charming Regal Carrousel, and Dumbo the Flying Elephant. During Mickey's PhilharMagic show it sprinkled a little bit. During our stay in Orlando, it barely rained which is rare because Florida is known to be extremely humid, hot, and rainy, it's like a sauna but worse ?

Magic Kingdom closed at 9 pm, literally the earliest I ever left the Magic Kingdom park, I'm pretty sure they closed the park early because of the pandemic and they wanted to properly clean everything, or maybe they're understaffed like most places, or they wanted to get everything ready for Boo Bash after hours which was the next day. Either way, I was bummed because time flew by so fast! I didn't even get to ride the Haunted Mansion, it was actually closed ? They also didn't have the carts that drove you from the park to the parking lot so we had to do a lot of walking to get back to our car. This was when I started feeling the blisters on my feet ? I guess it was the perfect time to leave because we saw a thunderstorm approaching from a distance. Before heading back to the hotel, we stopped by a Walmart to buy a pizza and pasta to eat as dinner.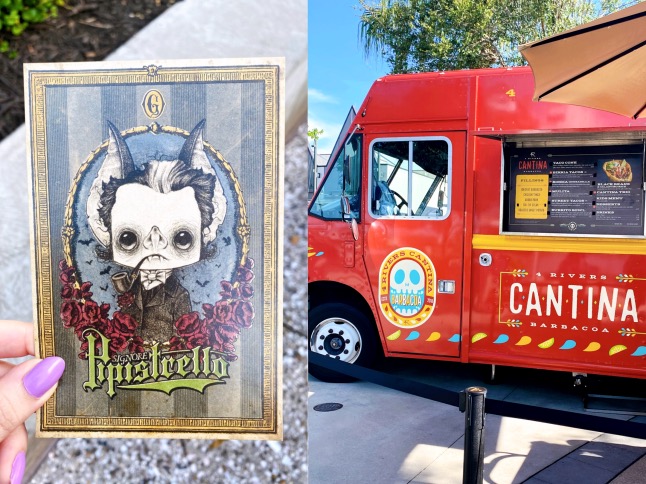 On Tuesday, it was my personal rest day. I can only spend so much time with my family ? I am an introvert after all. My parents, sister, and nephew went out to look at some houses. My parents are interested in buying a vacation house in Orlando so they went and toured some plots. Whilst they were away I stayed at the resort and slept in, had some quality time with Lucy, and just rested my feet because they really hurt this day. When my family returned, we went out and had lunch at Disney Springs, I wasn't really hungry so I just had a kid meal of mac n cheese and fries from Chicken Guy, a quick-and-service restaurant created by Guy Fieri who is well known in the Food Network community #flavortown, if you know, you know???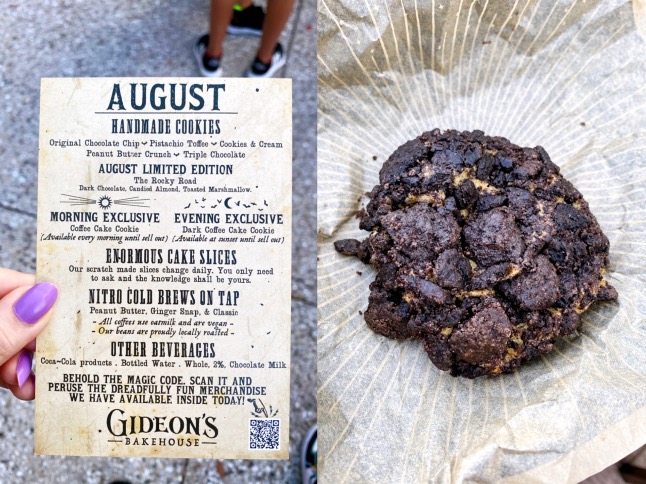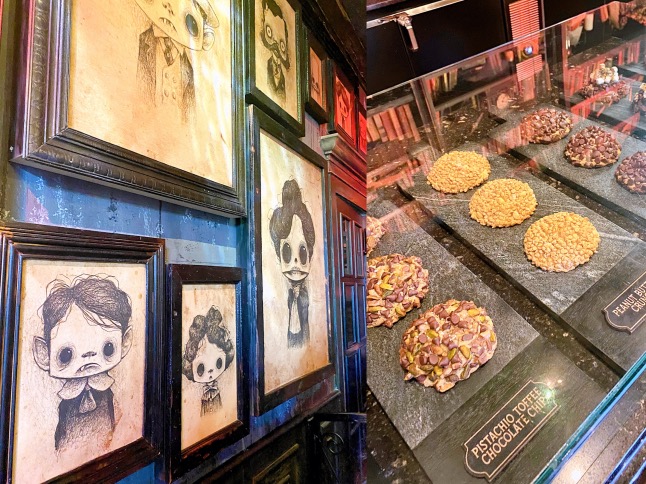 After we ate, my parents took my nephew and went to visit my uncle and his girlfriend at their home. They left me and my sister at Disney Springs to shop and bop. We visited Gideon's Bakehouse which is a very cute Tim Burton-inspired bakery. My older sister wanted me to bring her back a cookie from this place. One of the employees said it takes over 24 hours to make a batch of the cookies and that we came on a good day because they usually have a 2-4 hour wait time just to enter the place! Thankfully, we only waited like 10 minutes. I got my older sister a chocolate chip cookie and I got one of the cookies and cream cookies, they were really delicious!

We walked around Disney Springs and just shopped and enjoyed some quality sister time. I also finally got to try my first Dole Whip! I went with the Dole Whip float because it's both an ice cream and a drink! The pineapple juice was very strong but as the ice cream melted it created a wonderful combination. I highly recommend getting a Dole Whip they're definitely worth all the hype!

Later we caught an Uber back to the hotel. Since this was our last full day I decided to call it an early night by eating leftovers and packed my suitcase.
On Wednesday, we woke up early to hit up White Castle once again for breakfast. My younger sister also wanted to take a pack for later. This time it took less than 20 minutes to get in and out! I also finally got my Impossible sliders and fries. Was it worth it? Not really ? They also had a veggie slider so maybe I should've tried that! ?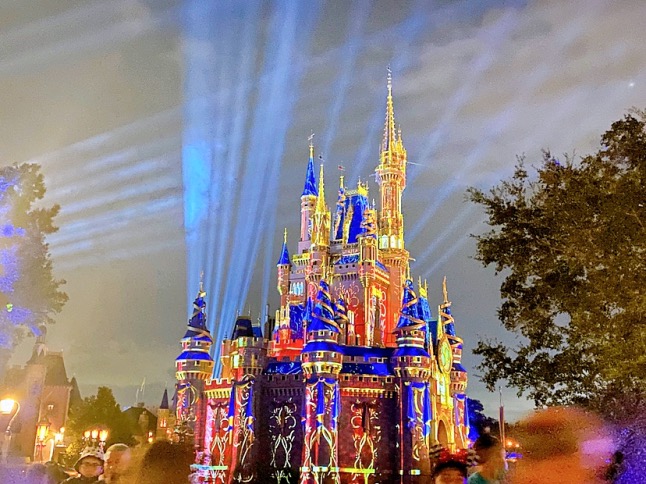 That was it! Time flew by so fast! I always find it interesting how quickly time passes when you are on your way back from vacation. Anyway, I'm sorry I didn't take as many photos as I wish I did. As I mentioned, I prefer to live in the moment and be mindful of each situation. I'll never understand those people who can vlog each moment of their lives because when I'm living my best moments I don't even have my phone with me! ?

Have you ever visit Orlando?