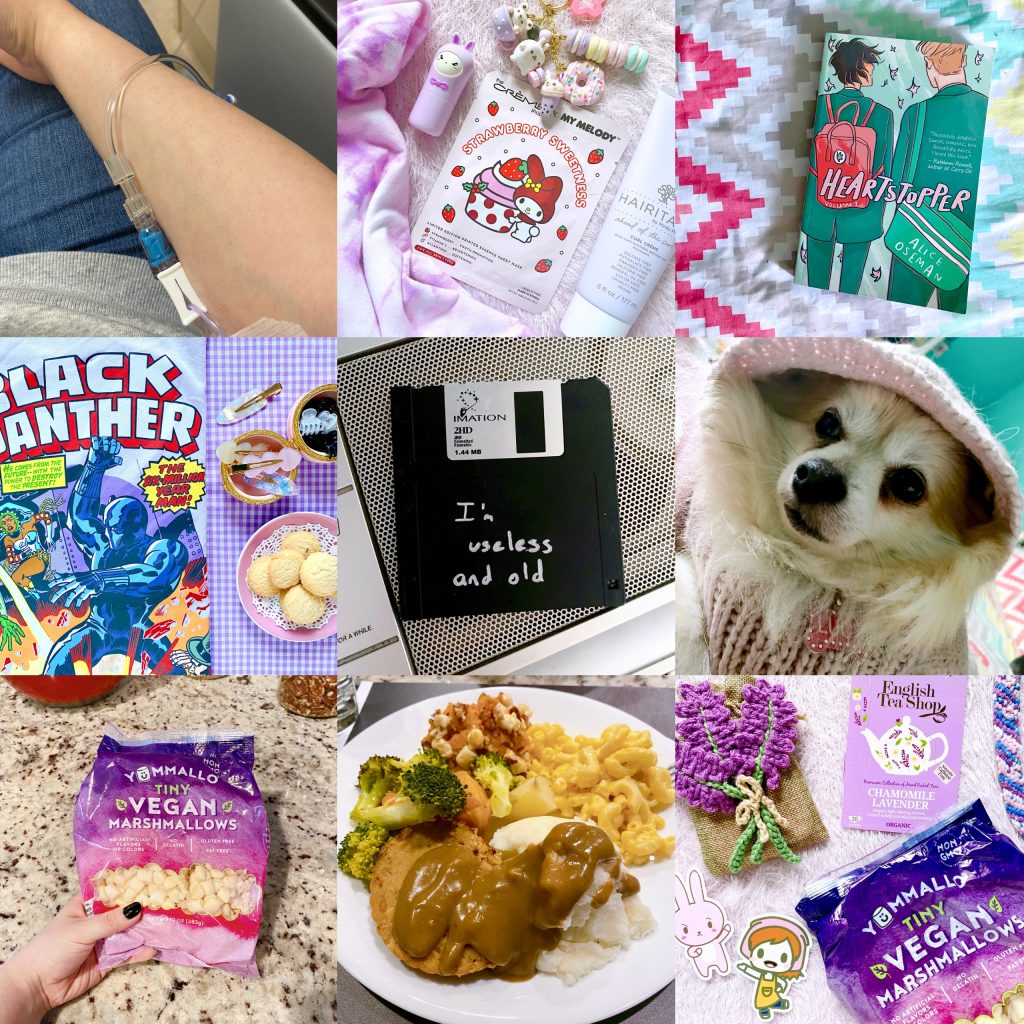 DISCLAIMER: Links included in this post might be affiliate links. If you make a purchase with the links I provide, I may receive a small commission at no additional charge to you.

What I Watched
The Crown Season 5
I love The Crown it's so interesting to learn about the drama that went behind historic events. I know not everything is 100% true but it's fascinating to see what might be true.

Black Panther: Wakanda Forever
Surprise, I didn't cry. I knew I should but I didn't. Maybe because I knew it was going to be an emotional film I came in prepared. I'll be honest, I haven't loved any of the latest Marvel films but Wakanda Forever felt like an actual Marvel film. A lot of stuff happened in this film that I didn't see coming and was shocked! I can't wait til they release this on Disney+ so I can see it again.

The Great British Baking Show
I loved this season of The Great British Baking Show! As soon as the first few episodes came out I fell in love with the people on the show. This series is so wholesome and I'm happy with who was crowned the winner.

The Guardians of the Galaxy Holiday Special
This was cute. I enjoyed the music and getting to see more of Mantis and Draxx. I will probably watch it a few more times this holiday season.

Disenchanted
I was so excited when I saw the trailer for Disenchanted because I loved Enchanted so I had high hopes for this film. However, I didn't like it. The scenery was beautiful but there was SO MUCH SINGING! The first film had a few songs but Disenchanted had song after (bad) song and I wasn't feeling it.

The Patient
I watched this because I heard a few people mention it was good and it featured Steve Carell and I actually enjoy seeing him in more serious roles. This thriller series is about a therapist who gets abducted by one of his patients and then ish hits the fan. The ending wasn't satisfying for me, they're probably waiting for a second season but I'm not sure I would watch another season of this series but that's just me.

Wednesday
I thought I was going to enjoy this series but I'm still divided. I enjoy the scenery, music, the return of Christina Ricci, and the casting of the Addam's Family. Wednesday's character was enjoyable and her comments were quite funny at times. However, the choice to make Wednesday not blink was strange and I found it distracting at times. There were times when she contradicted her choices, like trying to murder a boy but later trying to frame multiple people for murder… The love triangle wasn't necessary (I hate unnecessary romances), and Wednesday didn't convince me for a second that she was interested. I also didn't like the present Wednesday was given at the end, I hope they don't make her use it in the next season. To end on a positive note, I really hope they made an Addam's Family series or film next because I would love to see more of the rest of the Addam's Family! Side note: Why didn't they release this in October?

What I Listened
HIGHLIGHT – Alone
HIGHLIGHT – S.I.L.Y (Say I Love You)
VICTON – Virus
DRIPPIN – The One
B.I – Keep me up
CHEN – Last Scene
CHEN – Photograph
CRAXY – Poison Rose
slom – ANIRAGO (feat. Zion.T)
NINE.i – Young Boy
KANGDANIEL – Nirvana (feat. pH-1 & WD)
TEMPEST – Dragon
BoA – Forgive Me

Things I Did
I went to the Emergency Room
At the beginning of the month, I went to Urgent Care because I had horrible lower stomach pain. Long story short, the doctor at Urgent Care thought my appendix was going to burst and told me to go to the ER. After hours of waiting (it was a Full Moon) and tests, I was told that it was an ulcer.

I Voted
In the United States, the first Tuesday in November is always Election day so I did my civil duty by voting, as every American who wants to see change should. And funny enough we still have a special election that is happening this week! I swear, Georgia is one of those states that just can't catch a break when it comes to voting.

Celebrated Thanksgiving
It wasn't the ideal Thanksgiving. A few of my family members (including myself) caught a stomach bug which made Thanksgiving less enjoyable but we survived.

Started Walking on a Treadmill
After getting diagnosed with a stomach ulcer I decided to prioritize my health. I work out pretty much daily but my food intake and walking habits could be better so I started walking on an old treadmill that we have. I've been doing an hour a day for a few weeks now and have been enjoying it, I love aimlessly walking. I'm hoping walking will lower my stress and get my steps up! haha

What I Bought
Conair Hair Dryer with Diffuser Attachment
I only bought this hairdryer because it came with a diffuser attachment and it was a better deal to get a new blowdryer with two attachments instead of a new diffuser attachment. I've only used the diffuser a couple of times but I've noticed that I get a good amount of volume and my curl pattern begins higher up in my roots, when I don't diffuse my curl pattern begins about where my ears are. I only diffuse on days when I wash my hair but I'm going to test out diffusing on curl refresh days to see what it does to my hair.

What I Read
Heartstopper by Alice Oseman
After watching Heartstopper on Netflix I decided to buy the graphic novel that was based on the series. The graphic novel is basically the same as the series with a few differences. I was going to pick up the rest of the novels but then I found out that you can get the rest of the Heartstopper comics/graphic novels on Webtoon for free so I've been doing that.

Things I Love
TWIST Hype It Up Weightless Refreshing Spray
This has been my favorite hair product for the past month! It's been my go-to styling product to use on my refresh days. I like that it gives me that loose wave style that I adore. Check out my mini review on this refreshing spray here.

Favorite Blog Posts
5 Ways to Add More Curl and Volume to your Roots
The Ancient Art of Palmistry: A Beginner's Guide
Wool of Bat
Refreshing Troubleshooting – How To Get Rid Of Frizz, Tangles, Oil & Sweat, Stringy Curls
Snowman Cheese Ball – Christmas Appetizer
I Finished My Book! What I Learned & What's Next
I finished my second novel and all I got was this lousy repetitive strain injury…
The 21 Best Vegan Foods You Can Buy At Aldi

Posts From The Month
Week 44/52
This October
My Natural Curly Hair Journey ♥ Two Years Later
Week 45/52
Astrology Spotlight ♥ Scorpio (October 23 – November 21)
Modern Witch Tarot Deck Review
Week 46/52
My Dreamy New Moon Ritual
Magical Moments #11
Week 47/52
What is Lenormand?
Curly Hair Styling Haul ♥ Reviews & First Impressions

How was your month?