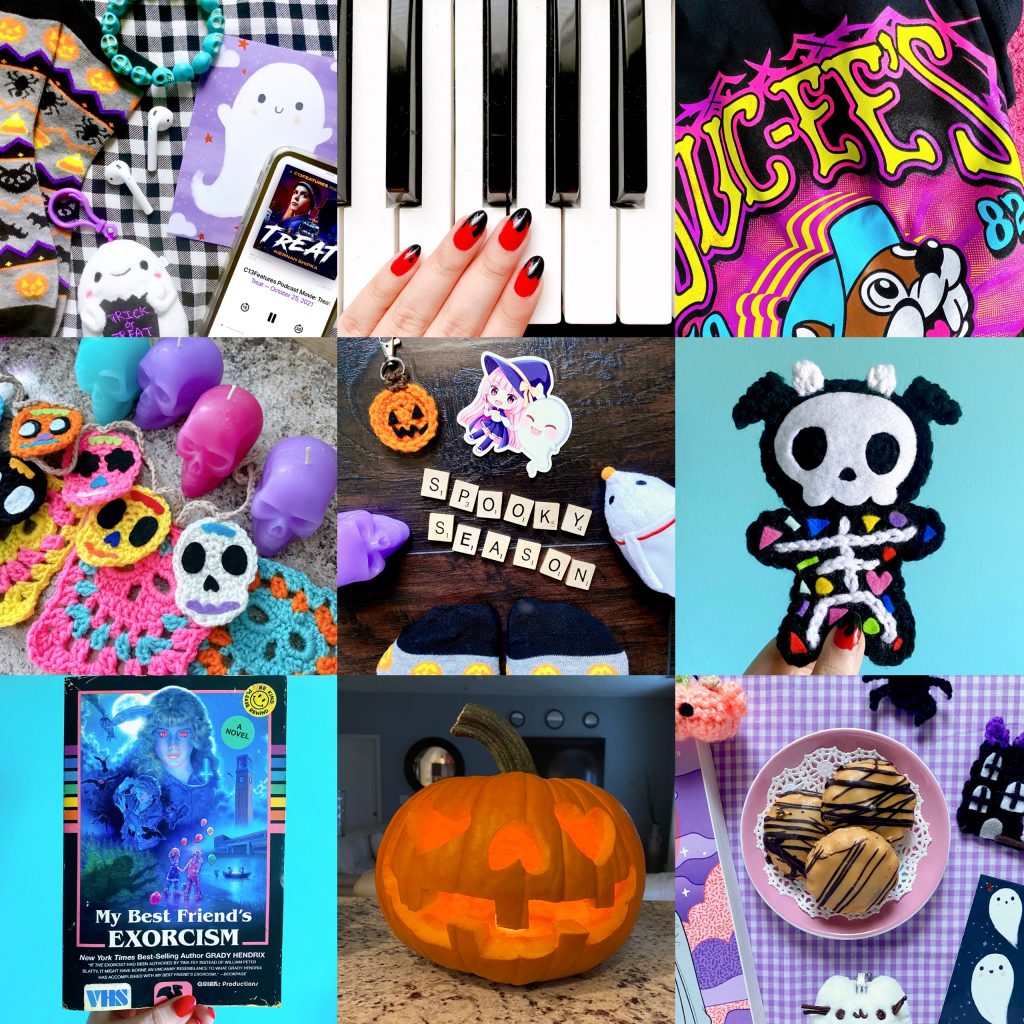 DISCLAIMER: Links included in this post might be affiliate links. If you make a purchase with the links I provide, I may receive a small commission at no additional charge to you.
What I Watched
Derry Girls ~ Season 3
I'm so sad that this was the last season! I loved Derry Girls. Most shows don't make me physically laugh out loud but this one does! if you haven't watched Derry Girls, I highly recommend it!

Hocus Pocus 2
I wasn't a fan of the original Hocus Pocus film because it was always on Disney Channel when I was a kid and I just thought the film was boring. However, I was presently surprised by the sequel. Hocus Pocus 2 was everything fans (and nonfans) could've wanted, it focus on the witch trio and gave them an origin story. The only thing that I was surprised by was that none of the kids from the original came back or do a cameo they could've easily made them the parents to any of the new kids but they didn't which I found odd. Nonetheless, I enjoyed the film even better than the first, but the song in the first film was way better than what they tried to do with the music in this film.

Werewolf By Night
Marvel's first special presentation special. It was different but fun and set in black and white which I loved! It was the perfect Halloween/spooky season watch.

The Munsters
I've heard of The Munsters but didn't know anything about the series so when Netflix made a film I decided to give it a watch because of spooky season. It was very cheesy! Like not funny dad joke cheesy. To be honest, I almost gave up watching it but I decided to just finish it. Unless you're a fan of The Munsters then I wouldn't recommend this.

We Baby Bears – Witches
I'm not a fan of the We Baby Bears show, it's cute but too obnoxious for me. I watch a lot of animated series and there are just some that you can tell are meant for children and We Baby Bears is one of them, it's literally in the title! However, when I heard that the witch trio from Summer Camp Island was going to be in a Halloween special I had to watch it because Summer Camp Island will always have my heart! It was nice to hear the voices of the witches again.

The Watcher
I've heard the story of The Watcher many times through podcasts so I knew the story front and back so I know that it didn't have to be as long as Netflix made it. They should've just made this a long film because I found the episodes dragged on. I know this was a popular watch so if you liked this show let me know your thoughts.

Heartstopper
The best thing I watched this month wasn't even spooky! Unless you find teen romance scary which I do. I was familiar with Heartstopper through Instagram but never gave any attention until I found out that the two main leads may be in future Marvel projects. The series was so pure and wholesome! I highly recommend it! I already order the first graphic novel because I want to read what the series was based on and I can't wait for the next season! haha

What I Listened
Stray Kids ~ MAXIDENT
Dreamcatcher – VISION
MAMAMOO – ILLELLA
TREASURE – HELLO
EXID – FIRE
The Rose ~ HEAL
ONEWE – Still Here
LIMELIGHT – Eye To Eye
XIUMIN – Brand New
(G)I-DLE – Nxde
LE SSERAFIM ~ ANTIFRAGILE
N.Flying ~ Dearest – EP
Kihyun – Youth
TEN – Birthday
CLASS:y – Tick Tick Boom
Roy Kim – It'll Be Alright

Things I Did
Completed Blogtober
Another successful year of Blogtober has passed! Check out all of my Blogtober posts here.

Got sick twice
And that's enough for me. Make sure to get your flu and updated covid shots!

What I Bought
DEWYTREE Hyaluronic Acid Moisturizing Masks
Dewytree are my favorite sheet masks and during Amazon's Prime Day these masks were on sale so I stocked up. These are the perfect mask to use if you daily mask or use sheet masks often.

Satin Silk Bonnet
As a frizz queen, managing my frizz is very difficult already but I also toss and turn at night a lot which makes my hair even more frizzy. I'm hoping a bonnet will help tame hair frizz and reduce wet refreshing with styling products.

What I Read
Tales of Mundane Magic: Volume One by Shaina Krevat
The book follows the story of two sisters and their ghost dog. The story contains 10 short stories and is a quick read, you can easily read this in a few hours.

The Babysitters Coven by Kate M. Williams
The Babysitters Club meets The Craft. It was a fun read but definitely had moments when I found the story boring and wished that more would happen. The lack of characters also made the story predictable. There are two more books in the series which I'll still read because I still enjoyed the story and I'm curious to see how the main story improves.

Things I Love
Tangle Tweezer Ultimate Detangler
Brush styling Is a new curly hair technique that I've been using to help define my curls. This brush helps detangle knots when wet or dry, reduces breakage, and helps distribute product easily due to the firm flex bristles. You can use this brush on all hair types but it's a favorite among the curly-hair community which is why I bought it.

Buc-ee's T-shirt
My older sister bought me a Buc-ee's tour band t-shirt on her last trip to Buc-ee's. I love the bright colors and how comfy the shirt is.

Favorite Blog Posts
Herbs of the Dead: What They Are & How to Use Them
3 Books I'd Love to See Turned into Spooky Movies
What Is The Difference Between Homeopathy and Holistic Medicine
Lush Halloween 2022 Collection
10 Self-Care Activities You Can Do Under 10 Minutes
The Spooky Halloween Tag
Time is Lonely
What To Do When You're Not Motivated To Do Anything

Posts From The Month
Welcome to Blogtober
Spooky Podcasts To Listen To This Month
My Witchy Full Moon Ritual
Week 40/52
Spoopy Tarot Deck Review
3 Books To Read During Spooky Season
Week 41/52
Magical Moments #10
SpiderWeb Bookmark ♥ Crochet Pattern
Week 42/52
Spoopy Mood Board
Witch Hat ♥ Crochet Pattern
Week 43/52
Spooky Island ♥ Autumn Dream Address
How was your month?