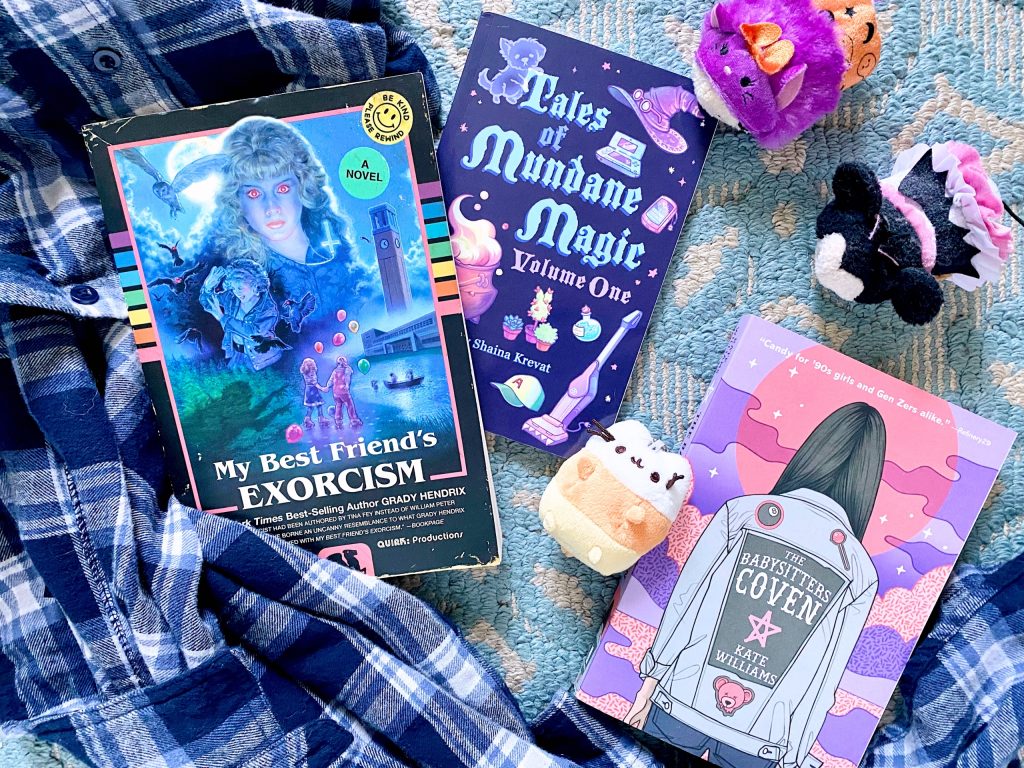 To get into the spooky season I decided to indulge and bought not one but three new books, new to me anyways! Two of these books have been on my TBR list for a while and the other was a complete surprise but a delight to read. If you're looking for something to read this season you might want to consider one of the following books.

DISCLAIMER: Links included in this post might be affiliate links. If you make a purchase with the links I provide, I may receive a small commission at no additional charge to you.

My Best Friend's Exorcism by Grady Hendrix
"The year is 1988. High school sophomores Abby and Gretchen have been best friends since fourth grade. But after an evening of skinny-dipping goes disastrously wrong, Gretchen begins to act…different. She's moody. She's irritable. And bizarre incidents keep happening whenever she's nearby. Abby's investigation leads her to some startling discoveries—and by the time their story reaches its terrifying conclusion, the fate of Abby and Gretchen will be determined by a single question: Is their friendship powerful enough to beat the devil?"

The cover of this book is absolutely incredible! Many of Grady Hendrix's books have been on my TBR list but I decided to pick My Best Friend's Exorcism as my first. I also just found out that it's being turned into a movie so if you want to read this before the film comes out now would be the ideal time.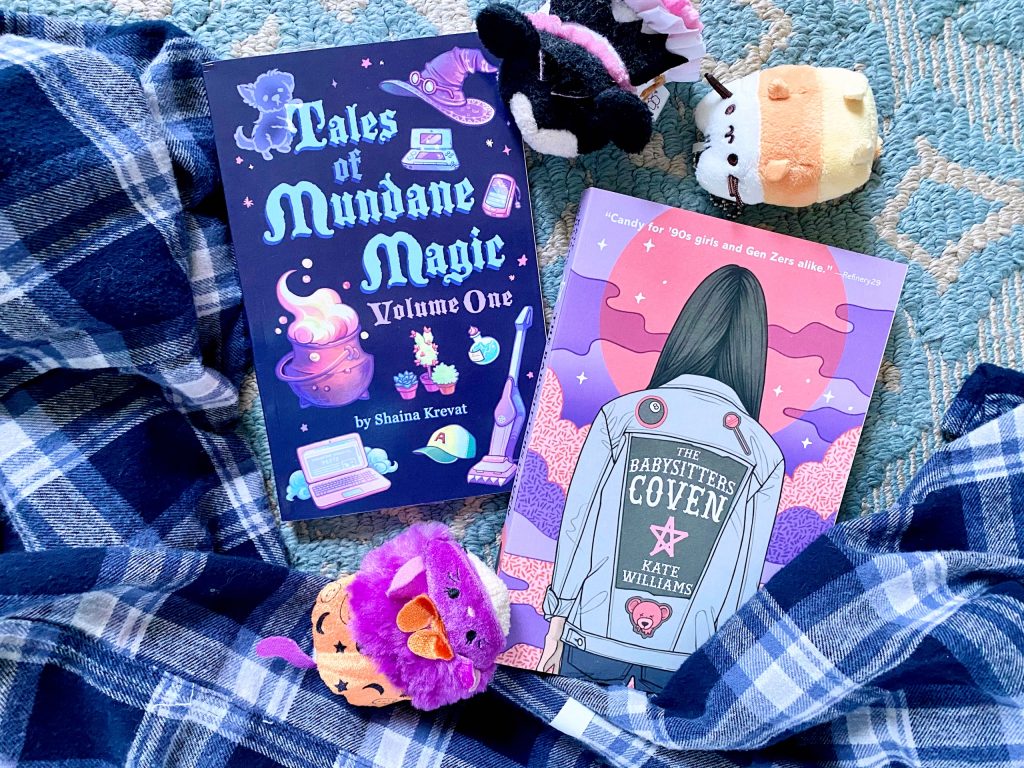 The Babysitters Coven by Kate M. Williams
"Seventeen-year-old Esme Pearl has a babysitters club. She knows it's kinda lame, but what else is she supposed to do? Get a job? Gross. Besides, Esme likes babysitting, and she's good at it. And lately Esme needs all the cash she can get, because it seems like destruction follows her wherever she goes. Let's just say she owes some people a new tree. Enter Cassandra Heaven. She's Instagram-model hot, dresses like she found her clothes in a dumpster, and has a rebellious streak as gnarly as the cafeteria cooking. So why is Cassandra willing to do anything, even take on a potty-training two-year-old, to join Esme's babysitters club? The answer lies in a mysterious note Cassandra's mother left her: "Find the babysitters. Love, Mom." Turns out, Esme and Cassandra have more in common than they think, and they're about to discover what being a babysitter really means: a heroic lineage of superpowers, magic rituals, and saving the innocent from seriously terrifying evil. And all before the parents get home."

The back of the novel says it's The Chilling Adventures of Sabrina meets The Babysitters Club, two of my favorite Netflix series! I read a few of The Babysitters Club books when I was younger so I can't wait to read a spooky version of these books.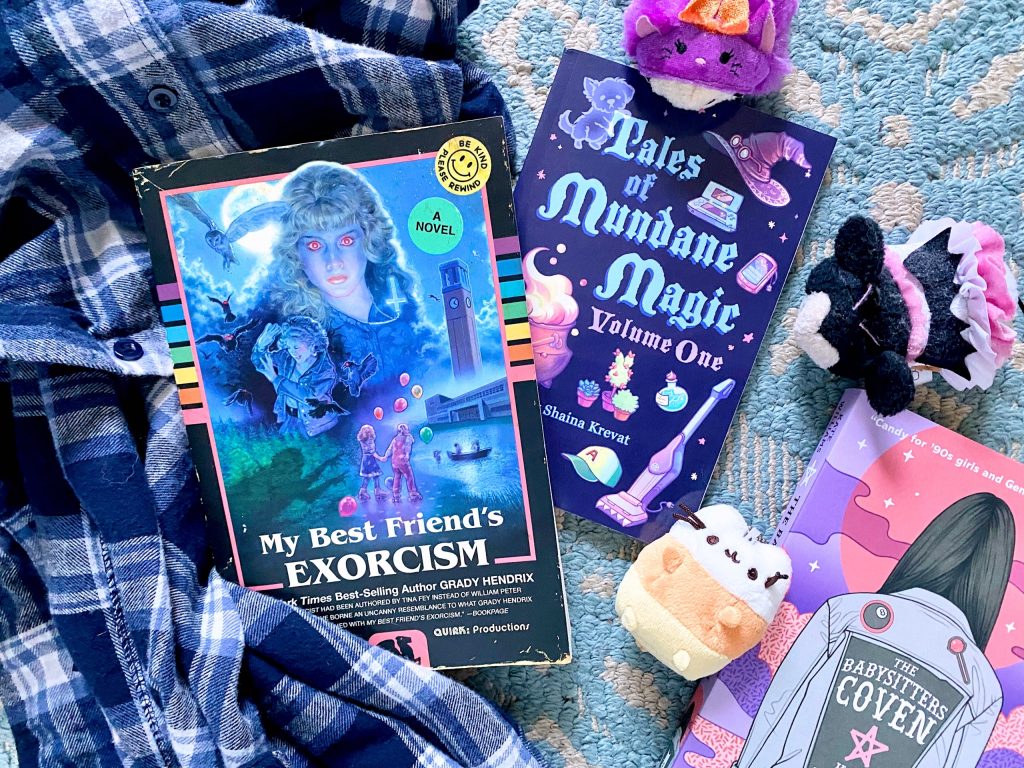 Tales of Mundane Magic: Volume One by Shaina Krevat
"Nothing too strange ever happens to Gertie and Bridget Mallon. The sisters don't have magical adventures fighting off dark lords or saving the world. Gertie spends her time learning the skill of enchantment, and Bridget has the ability to see things no one else can see with her left eye, which was bewitched in an accident many years ago. Sure, they attend Flories Boarding School, where Gertie takes a potions class and Bridget plays basketball, and the occasional magical anomaly takes place, but who doesn't deal with the occasional poltergeist or curse? Life is relatively calm for the Mallon sisters, but things might not be quite as mundane as they appear."

This is the only book of the three that I've read so far. This is a not-so-spooky read about ghosts, creatures, and all things magical! Follow the Mallon sisters and their magical adventures. This book was suggested to me on Amazon and the cover looked cute so after I read the description I ordered it. It's an easy read and I read within two days but could be easily gobbled up in a few hours. The author even includes a bonus story at the end which was very cute!

What are you currently reading?