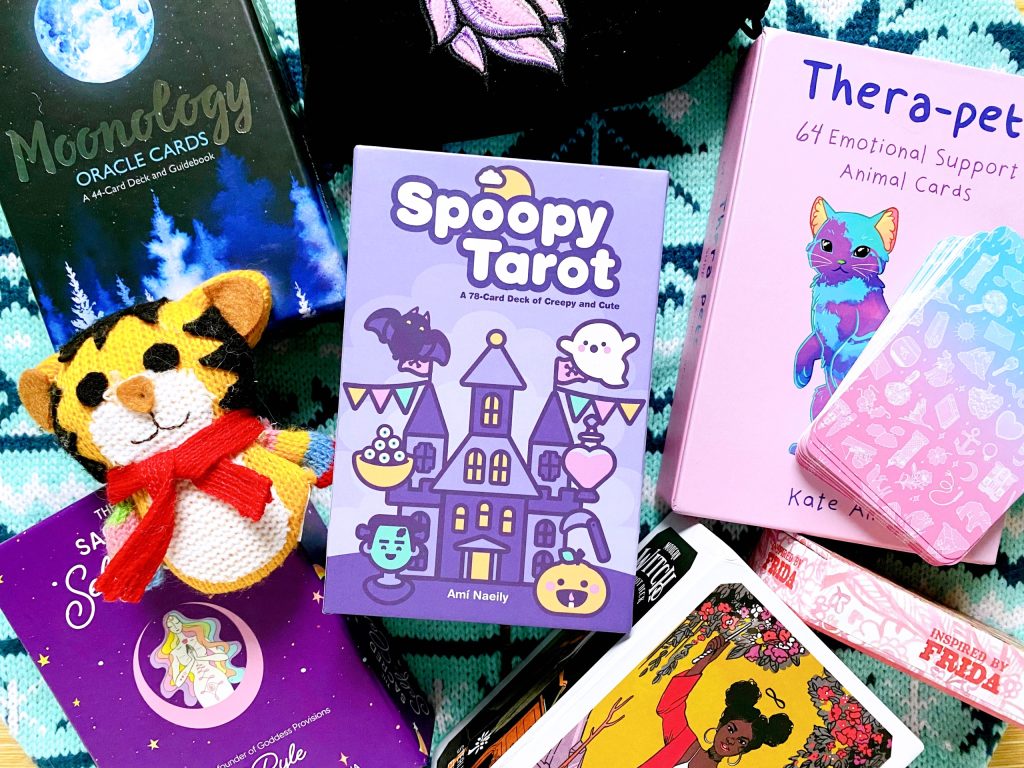 With tarot cards being very popular nowadays I thought it might be helpful to put together a card deck gift guide for those interested in gifting a tarot, oracle, or any other type of deck this holiday season. I split these decks into different categories hoping that this will help you decide which card deck is best suited for whatever type of person you shopping for. I don't own every deck that I suggest but have come in contact with them all at least once in my life and have spent enough time with these decks to know which decks are meant for which people. If you need more card deck options, I also have a bunch of deck reviews which you can read here. I don't feature every deck I've reviewed in this list and every deck in this post hasn't been reviewed.
DISCLAIMER: Links included in this post might be affiliate links. If you make a purchase with the links I provide, I may receive a small commission at no additional charge to you.

Beginner Decks
If you're new to tarot then the Rider Waite Smith Tarot Deck is best for you because this is the OG tarot deck that many newer tarot decks are based on. If you're looking to be traditional or know someone who likes the original versions of things then the Rider-Waite-Smith deck is for them.

If you're looking for a more modern interpretation Rider-Waite-Smith tarot deck I highly recommend the Modern Witch Tarot Deck. As the name suggests, It offers a more modern version of the traditional tarot by replacing the outdatedness of the RWS tarot deck with a more diverse representation and cuter fashion. haha

Self-Care Decks
If you're looking for a deck to help you take better care of yourself the Sacred Self-Care Oracle Deck or Self-Care Wisdom Cards would be the perfect pick. Both decks are great for a stressed-out soul looking for a way to incorporate more self-care into their routine. The Sacred Self-Care is a more bright, pastel-colorful deck whilst the Self-Care Wisdom has more muted earthy colors. Both decks are cute and have encouraging messages. I recommend reading my reviews on each deck to see which deck is right for you or your friend.

The Thera-Pets Animal Cards is another deck I recommend to those trying to improve their mental health. This deck has cards with messages for those who are struggling and need a positive uplifting message. I always pull from this deck when I feel upset and hopeless and the cards always make me smile because of the cuteness of the cards. This would also be a nice deck for a child, young-at-heart, or animal lover because the cards feature adorable animal illustrations.

(Also read: Major Arcana (Part 1) and Major Arcana (Part 2))

Kawaii Decks
If you're looking for a cute tarot deck I highly suggest the Kawaii Tarot, it's one of my favorite tarot decks because of the cute colorful illustrations that feature adorable creatures. Despite the card I pull I always feel happier looking at the cute artwork from the cards of the Kawaii Tarot deck.

If you're looking for another Kawaii Tarot that is more simple but still cute then the Kawaii Tarot might be better suited for you. If you want a spookier cute version of the kawaii tarot then its spookier sister, Spoopy Tarot Deck is meant for you!

The Unicorn Tarot is another kawaii deck that offers cute illustrations inspired by the Rider Waite Smith Tarot but with unicorns instead of people. The pastel-colored cards are lovely to look at and would be a great addition to any whimsical unicorn lover!

The Affirmators! Tarot Card Deck is a cute but also beautiful deck that features animals, bright colors, and is embossed with gold foil! It's such a gorgeous and high-quality deck and would be a wonderful gift to someone who loves animals.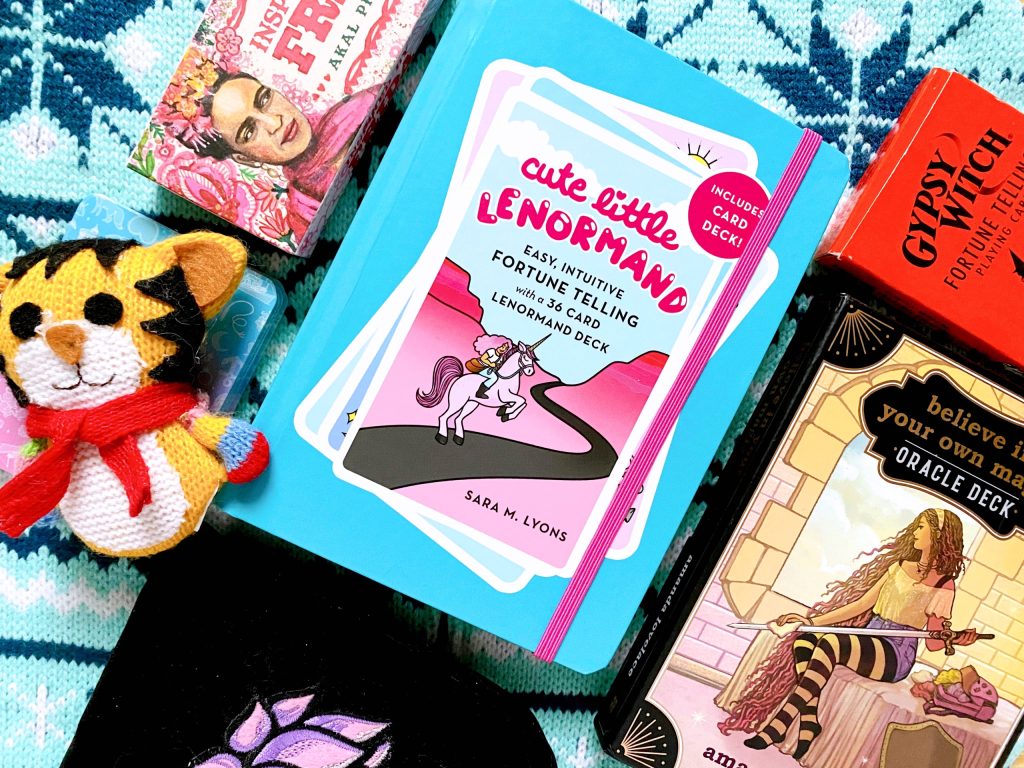 Travel Decks
The Gummy Bear Tarot Deck is another cute deck but what makes this deck travel-friendly is that it comes in a tin container. The concept of this deck is adorable, it follows the standard Rider Waite Smith rules but features gummy bears! If you want a cute travel deck then this is the one for you!

The Wild Unknown Pocket Tarot also comes in a tiny travel-friendly tin container. The cool black and white (with hints of color) artwork on these cards is phenomenal to look at! There is a lot of hidden meaning behind the illustrations on the card so looking at the guidebook will be beneficial. With that said, this deck may not the best for a tarot newbie. They also have a full-size version of this deck which you can purchase here.

The Tarot of the Divine isn't a travel-friendly deck but it's a deck for someone who is interested in stories from around the world as it features characters from fairytales, folklore, deities, etc. This is a gorgeous and high-quality deck. The colors and illustrations are beautiful and the fact that the creator of this deck was able to connect a story from different parts of the world to match every 78-tarot card is amazing! There is also a matching book that goes along with this deck.

(Also read: Tarot Beginner Tips)

Unconventional Decks
Cute Little Lenormand isn't a tarot or oracle deck which is what makes this choice unconventional. If you looking to surprise a friend with a new deck that isn't a tarot or oracle deck then a Lenormand deck would be a great pick! I recently wrote a post all about Lenormand and what it is which you can read here.

Runes for Modern Life: Ancient Divination Cards is a fun deck that explores the ancient wisdom of the runic alphabet and makes them digestible to a modern audience. The cards are colorful and beautiful illustrations with a rune on each card. The guidebook in this deck gives you a lot of information on how you can interpret the runes in your life.

Two beautiful unique decks are The Wild Unknown Alchemy Deck and The Wild Unknown Archetypes Deck. These cards are unusual but high-quality, and the artwork is stunning! The messages from these decks are very deep which can be very impactful in a reading.

Will you be gifting a card deck to someone this holiday season?