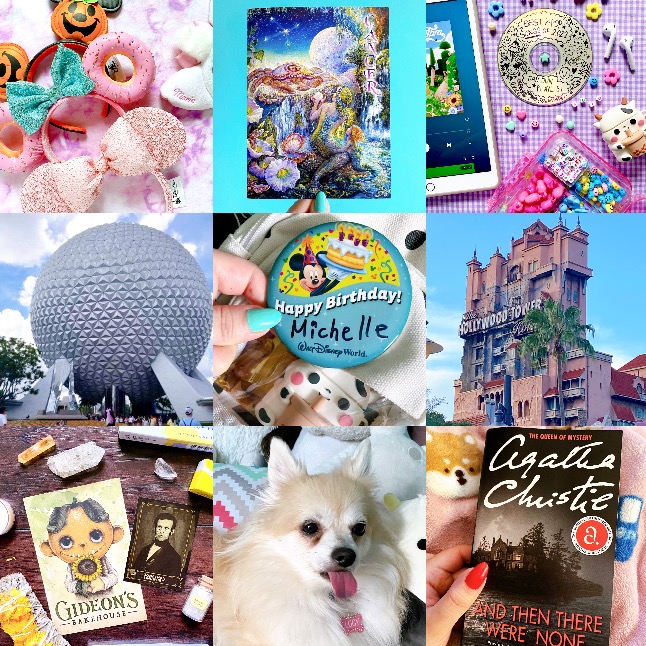 DISCLAIMER: Links included in this post might be affiliate links. If you make a purchase with the links I provide, I may receive a small commission at no additional charge to you.

What I Watched
MS.MARVEL
I have a love/hate relationship with this series. First off, the actor who plays Kamala Khan just didn't do it for me! I feel like the MCU has acquires some amazing actors (for the most part) so I was disappointed with this casting. Next, the effects! By far the worst effects out of the Marvel Disney+ series! I thought maybe they would improve the graphics as the season progressed but I felt like it just got worse. The upside of Ms.Marvel is the exploration of Muslim culture. As a POC, when a popular series showcases any culture in a positive way the culture as a collective shines (like Black Panther), and this is what this series did. Now if only the acting and graphics were better then Ms.Marvel really would've truly shined.

OBI-WAN KENOBI
Not going to lie, I had to force myself to finish watching this series because I know what happens to Obi-Wan because I've watched all of the Star Wars films. Don't get me wrong, I loved seeing Ewan McGregor reprise his role as Obi-Wan Kenobi but I wasn't on my feet waiting to know what happens. It's like when someone spoils an ending of a movie or series and you're not as invested anymore because you know what happens.

Take Joy: The Magical World of Tasha Tudor
This is a documentary on Tasha Tudor, a children's book illustrator. In the doc, the crew follows her around as she lives her life. I found out about Tasha Tudor because Uncle Bob's Magic Cabinet did a Witch Whisper on her and mentioned the documentary. She's a very interesting woman who lives a very simple yet magical life. I also love how much detail she goes into her hobbies. For example, she would handmake Christmas catalogs for her children's toys with actual items that she handmade! So cute!

SPY X FAMILY
I'm not a huge anime watcher but a lot of people who I follow on social media mentioned SPY X FAMILY so I decided to give it a try and it's so cute. I love Anya! This season ended strangely…that last episode was so random but that's how anime be sometimes. ?

HOUSE OF GUCCI
I finally watched this film! First off, I'll say that this was shot really beautifully! But I was underwhelmed with Lady Gaga's acting. I know she won a lot of awards so I thought she would've nailed her role but I was left underwhelmed. I thought the rest of the cast did a fantastic job and it was fascinating to learn some of Gucci's alleged past.

What I Listened
SUNMI – Heart Burn
NAYEON – POP!
WINNER – I LOVE U
VIVIZ – LOVEADE
WJSN – Last Sequence
ENHYPEN – Future Perfect (Pass the MIC)
CHUNG HA – Sparkling
aespa – Girls
Apink CHOBOM – Copycat
ZICO – SEOUL DRIFT
ITZY – SNEAKERS
STAYC – BEAUTIFUL MONSTER
NCT U – Rain Day
SEVENTEEN – _WORLD
XG – MASCARA
Hyolyn – Waka Boom (feat. Lee You)
HyunA – Nabillera
P1Harmony – Doom Du Doom

Things I Did
Went to Disneyworld
For my birthday, I went to Orlando, Florida to go to Disneyworld for a few days. I went to Epcot and Disney's Hollywood Studios! Check out this post to see photos from my trip.

What I Read
And Then There Were None by Agatha Christie
"Ten people, each with something to hide and something to fear, are invited to an isolated mansion on Indian Island by a host who, surprisingly, fails to appear. On the island they are cut off from everything but each other and the inescapable shadows of their own past lives. One by one, the guests share the darkest secrets of their wicked pasts. And one by one, they die…
Which among them is the killer and will any of them survive?"

This was such a great novel and a great introduction to Agatha Christie. You literally don't find out who did it until the last sentence! I can't wait to read more of her work!

Things I Love
Liquid I.V. Hydration Multiplier – Lemon Lime
I bought a pack of Liquid IV the day before we went to Disneyworld. I had heard of this brand before through podcasts and decided to give it a try because I am someone who drinks a lot of water but anytime I travel I drink less water which makes me feel off. I mixed one packet in a 16oz water bottle when I was at the parks and it really helped hydrate and energize me! I will definitely be purchasing these next time I travel.

Oracle Decks
In July I acquired three oracle decks, two of them were birthday gifts and I bought one for myself. The Rose Oracle, Thera-pets Emotional Support Animal Cards, and Self-Care Wisdom Cards. Let me know which deck you would like to see a review on first.

Posts From The Month
Week 26/52
This June
Best K-pop Songs of 2022 ♥ January-June
Week 27/52
My Disney Headband Collection
Week 28/52
Disney's Hollywood Studio & Epcot ♥ Photo Diary
Week 29/52
Magical Moments #8
The Moonology Oracle Deck Review
Week 30/52

How was your month?