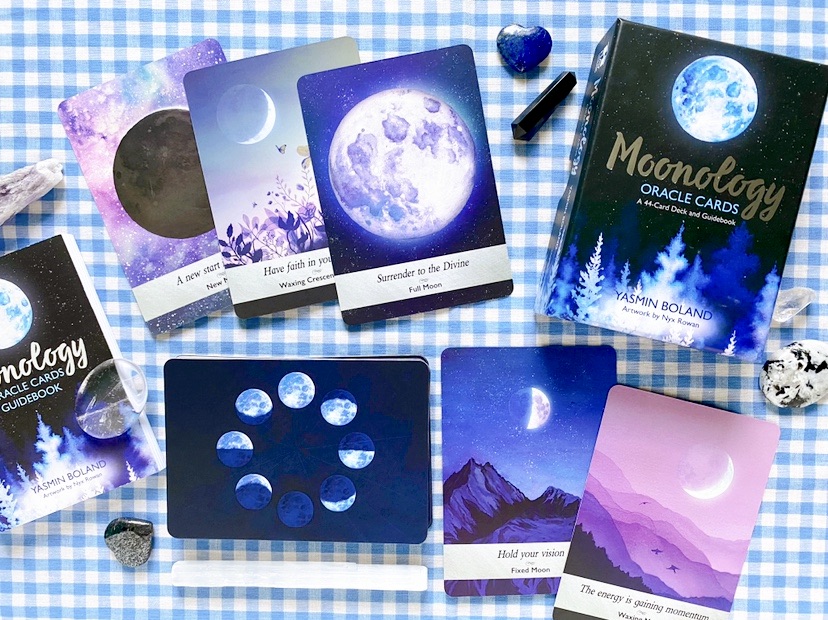 Welcome back to another oracle card review. In the post, I'll be reviewing the Moonology Oracle Deck. Check out my last oracle card review here. If you don't like spoilers then you might want to skip this post or not stare at the pictures below for too long as I will be showing all of the cards from the deck.

The Moonolgy deck was created by Yasmin Boland and illustrated by Nyx Rowan. Yasmin Boland is an award-winning astrologer, moonologer, and bestselling author of multiple moon and astrology books. The deck features 44-cards and a guidebook with 119 pages. These cards were created for those who want to tap into the energy of the Moon's wisdom and need advice. This is a great beginner deck for those who are new to oracle decks and want to connect to the moon.

A second Moonology deck was released last year which my older sister owns so if you would like to see a review on that deck I can ask her.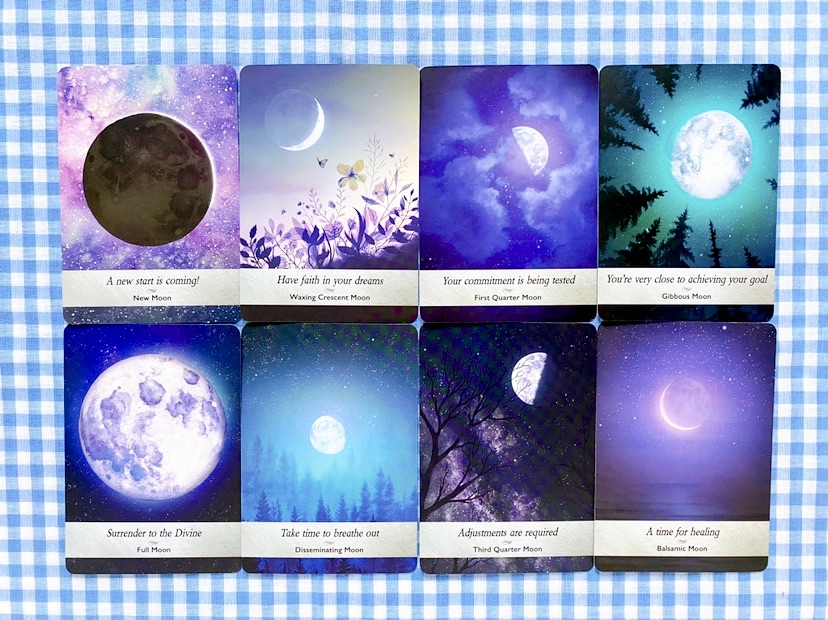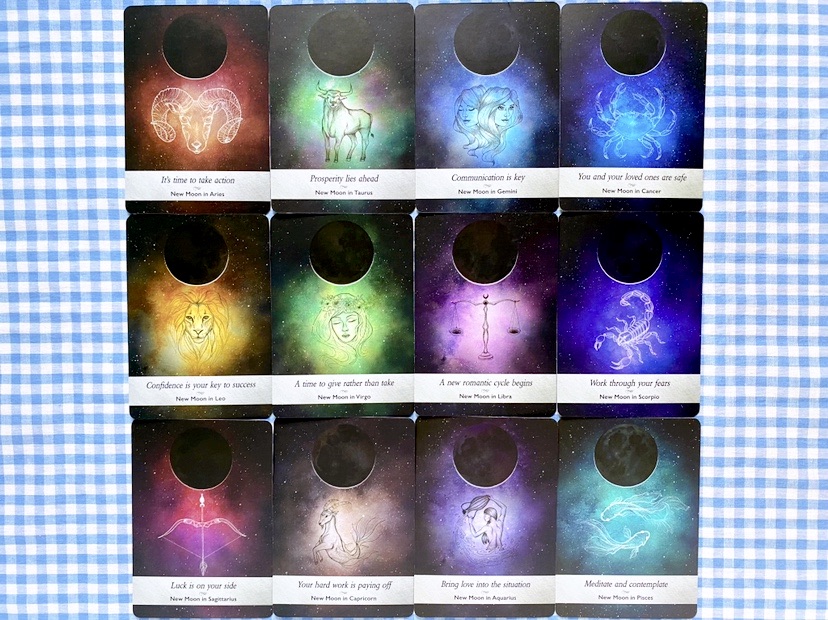 DISCLAIMER: Links included in this post might be affiliate links. If you make a purchase with the links I provide, I may receive a small commission at no additional charge to you.

PROS
– Affordable deck
– Good quality cardstock
– Matte finish
– No reverse meanings
– Comes with a guidebook
– Perfect for moon lovers
– Includes all the moon phases
– Includes astrology

The cards are broken into four parts which include Moon Phase cards, New Moon cards, Full Moon cards, and Special Moon cards. Each card has an explanation of the card, advice on how to use this card with the Moon, additional meanings, and some knowledge about the moon card you choose. For example, if you drew the Full Moon card you get some information about the Full Moon.

The cards are the same as the self-care oracle cards, matte, and sometimes the cards stick to each other. I've come to find that this is the standard with most oracle decks.

The artwork is beautiful and I love that this deck included information about all of the astrological signs. When I first bought this deck I wasn't well versed in astrology as I am now, but this deck helped me understand the signs more which inspired me to make posts about the Full and New Moons so this deck is special to me.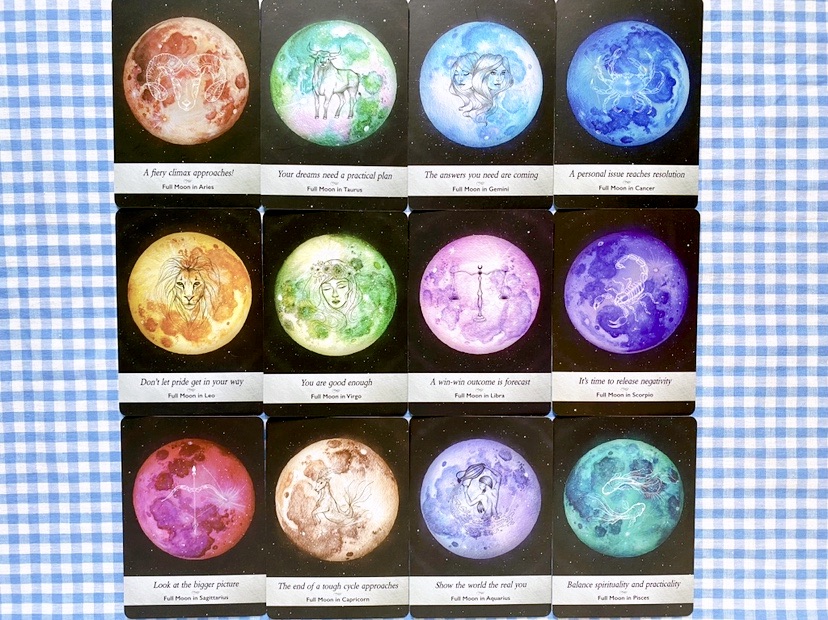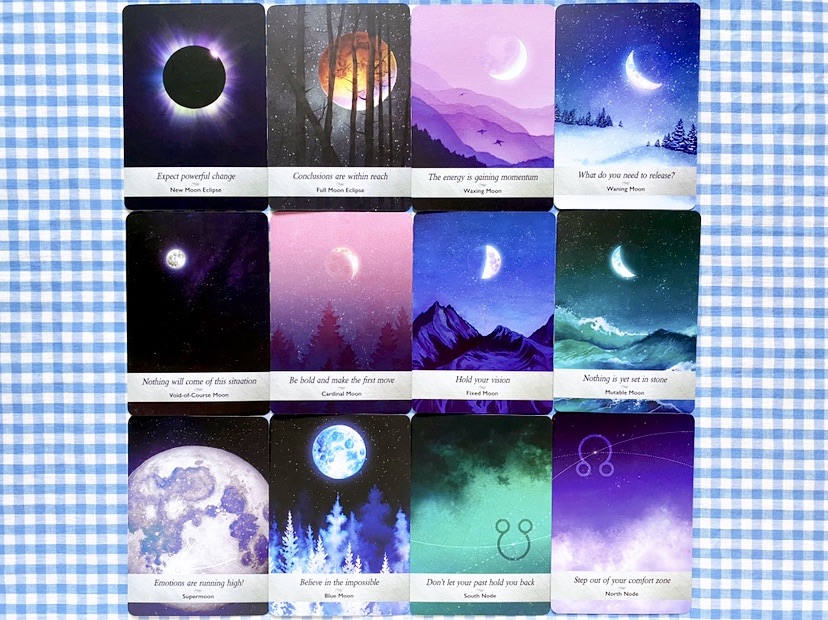 CONS
– Cards stick together
– Difficult to shuffle
– Black cards leave a cast in photos

When taking photographs of the black cards they leave a white glow (as seen in the photos) which drives me crazy! I know this sounds weird but as someone who takes photos often this annoys me, however, if you're someone who doesn't takes pictures of their decks/cards then ignore this. lol

You can purchase the Moonology Oracle deck here

Do you have this oracle card deck in your collection?