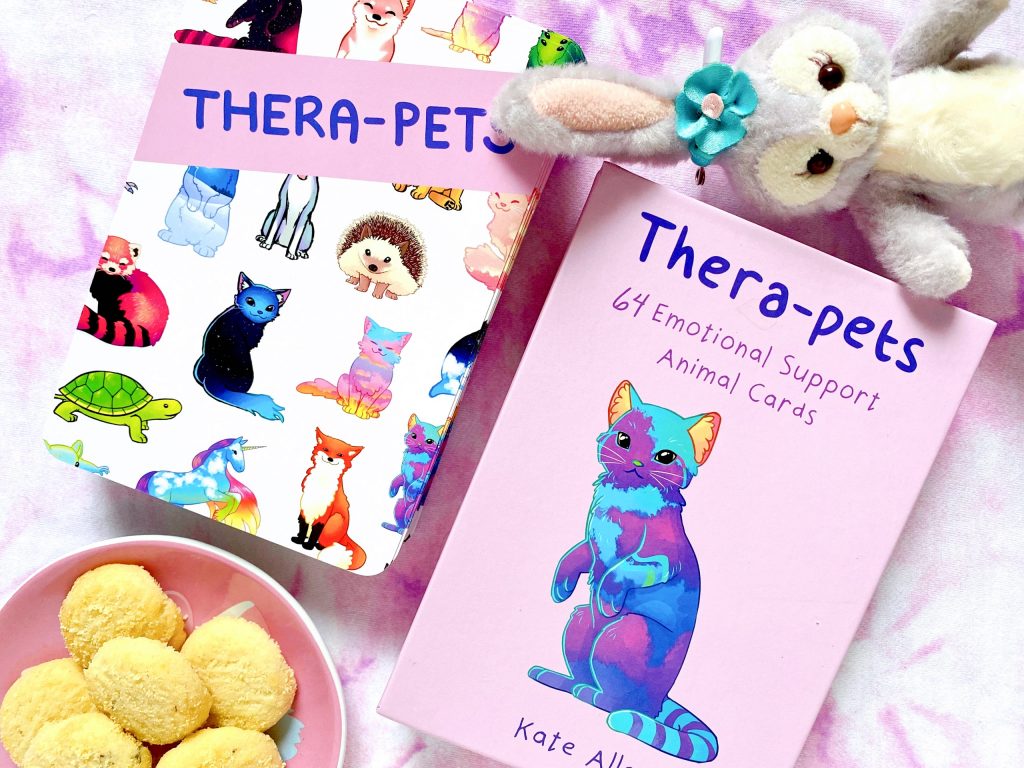 Welcome back to another oracle card review. I'll be reviewing the Thera-Pets Emotional Support Animal Cards. Check out my last oracle card review here. If you don't like spoilers you might want to skip this post or not stare at the pictures below for too long as I will be sharing some of the cards from this deck.

The Thera-Pets Emotional Support Animal Cards were created and illustrated by Kate Allan. Kate Allan is a bestselling author of You Can Do All Things, freelance designer and illustrator, and creator of the mental health art blog, The Latest Kate.

The deck features 64-cards. These cards were created for those who suffer from mental health illnesses such as anxiety, depression, grief, and stress to combat negative thoughts. Use them when you need emotional support, inner wisdom, or as a daily reminder that everything is going to be okay.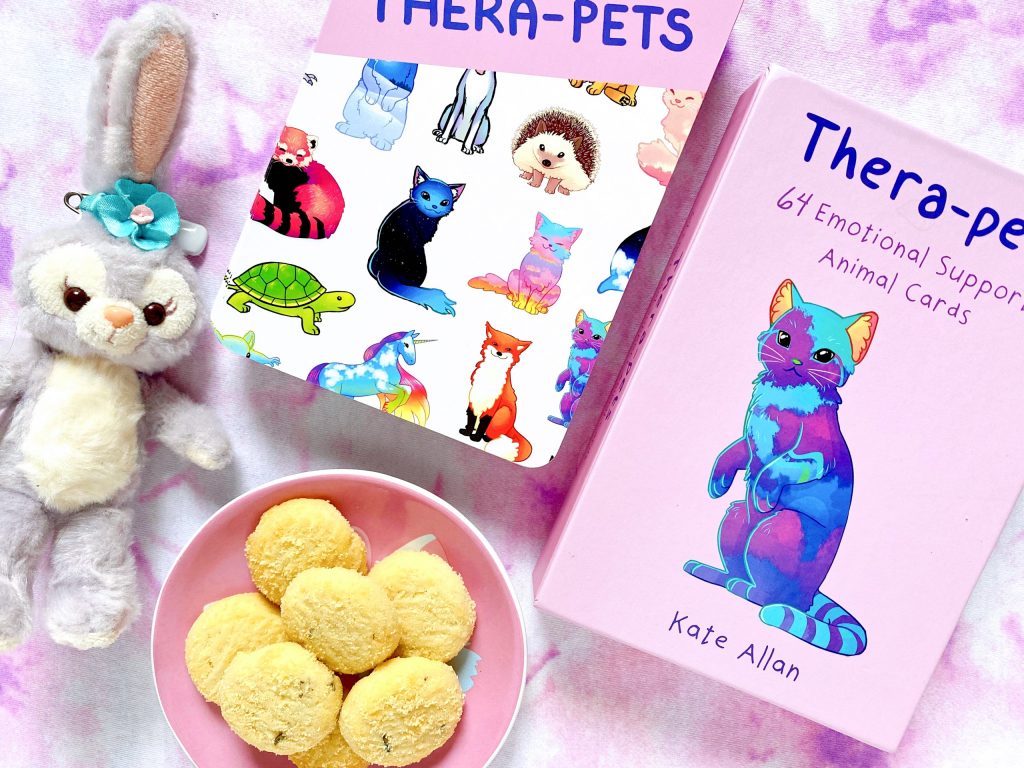 DISCLAIMER: Links included in this post might be affiliate links. If you make a purchase with the links I provide, I may receive a small commission at no additional charge to you.

PROS
– Affordable deck
– Adorable artwork
– Inspirational
– Easy to shuffle (due to finish)
– Cards can be used as prints
– No reverse meanings
– Can help those who struggle with mental health issues
– Great for kids (or those young at heart)
– Published independently

First off, I want to say that this isn't an oracle deck, just a positive affirmation deck. Every morning I pull one of these cards along with a Tarot and oracle card. The cute animal illustrations and uplighting quotes printed on bright-colored cards are a nice way to start my day.

The cards themselves are pretty large (6 x 4 inches), they're printed on a semi-gloss and the cardstock is pretty decent. The semi-gloss makes shuffling the cards a breeze. Because these cards are so large I've seen people use them as art prints and frame them which sounds like a cute idea! Some people also mentioned that they use these cards with their kids who struggle with depression and/or anxiety. As an adult (but a kid-at-heart) who struggles with both depression and anxiety, I also find these cards comforting.

I also want to note that this deck was published independently, meaning that the creator put a lot of love and hard work into this deck. With that said, I didn't post all of the cards from this deck because I want to respect the author's work and encourage those of you who are interested in this deck to support the artist and purchase it.

If you like this style of artwork, check out more products from Kate Allan. She also has coloring books, a planner, a desk calendar, journals, and many books. If you're someone who is comforted by positive affirmations and cute animals I think you'll love her work.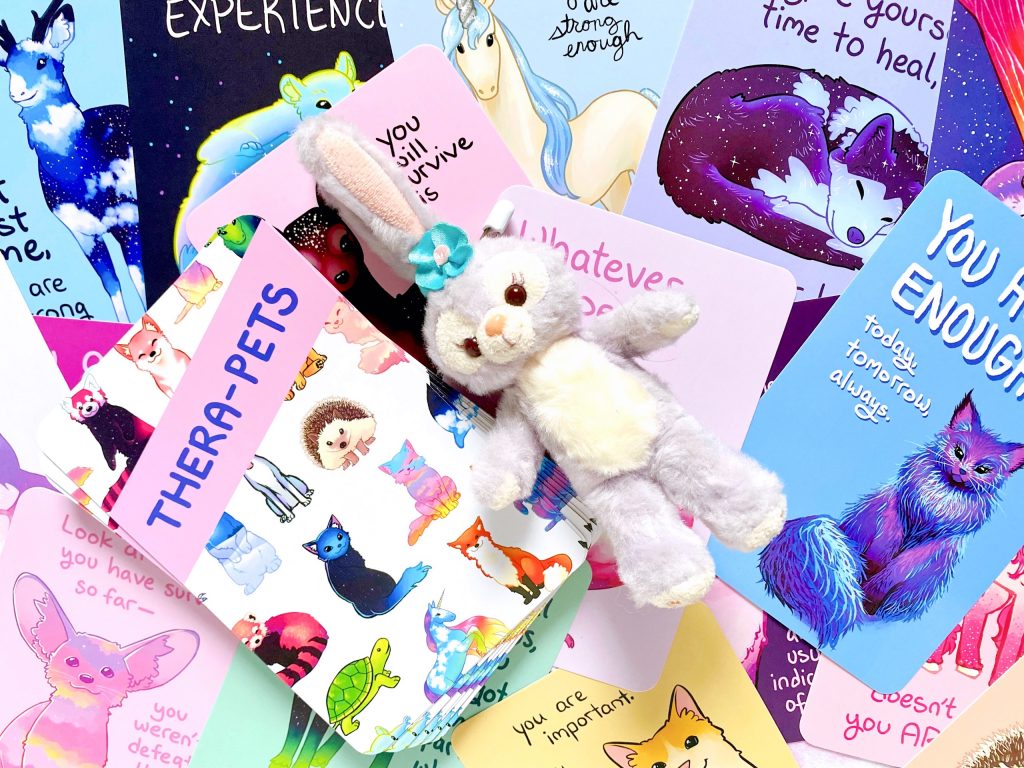 CONS
– Difficult to shuffle (due to size)
– Comes with extra cards
– Uncreative card backs
– No guidebook

As cute as this deck is, I have a few negative things to say. First off, the size of the cards, they're quite large to the point that it makes it difficult to shuffle. I have to shuffle the cards vertically because they're so huge!

Another thing that bothered me about this deck was the excessive amount of extra cards. Extra cards serve no purpose and are just wasted in a deck and this deck contains 6 EXTRA CARDS! One is literally a copy of the cover! It's so unnecessary and bothers me and the more decks I acquired the more extra cards annoy me. Why not just print all the extra information on a paper pamphlet?

Another thing that I didn't like about these cards is the back of the cards. The illustration on the back of the cards contains a few of the animals on a white background with 'THERA-PETS' printed on a pink strip. It's just uncreative. Don't get me wrong, you don't have to have extravagant artwork on the back of the cards, it could've been simple. Some of the cards in this deck have so much detail so I was expecting more from the back illustrations.

You can purchase the Thera-Pets Emotional Support Animal Cards here

Do you have this deck in your collection?