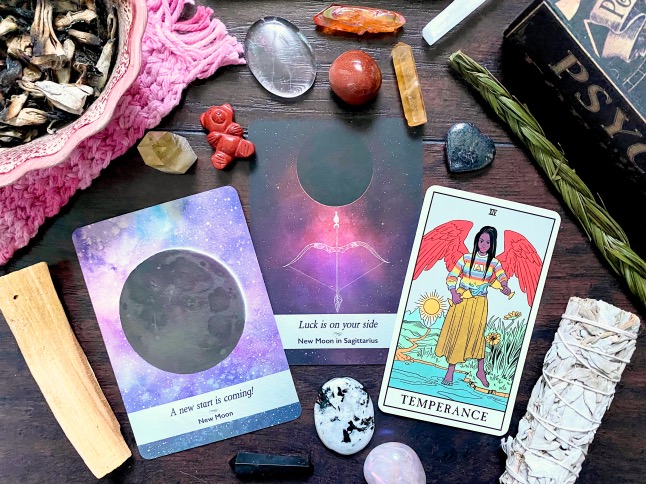 Saturday, December, 4th at 2:43 AM EST there will be a New Moon in the sign of Sagittarius. Sagittarius is a fire-mutable sign ruled by the planet of Jupiter and the 9th house (in your natal/birth chart). Sagittarius is the freedom sign of the Zodiac. They're ambitious, independent, optimistic, open-minded, and versatile. They enjoy traveling and higher-level knowledge. On the flip side, Sagittarius can be blindly optimistic, tackles, restless, lazy, and lack discipline.

As always, check out your natal/birth chart to see where Sagittarius lands in your chart, every chart is different so this New Moon might not affect much as last as the last New Moon did. Remember that the New Moon is the beginning of a new lunar cycle, it's a new start which means this is the perfect time to start new projects, new routines, and set new intentions.

The Moon's energy is strong enough to work with on the day before, the day of, and the day after. I like to plan out my moon rituals a few days in advance so that I have all my materials ready. Check out this post to see what's the difference between the New Moon and Full Moon and learn more about both.

What is a Solar Eclipse?
A Solar Eclipse occurs when the Moon gets between Earth and the Sun, and the Moon casts a shadow over Earth. A Solar Eclipse happens only during a New Moon.

Spiritually speaking, Solar Eclipses challenge us by testing our inner strength. They force us to try an alternative route to reach a goal. Don't fret though, these challenges from the Solar Eclipse are always positive even if you might not think so. Be welcoming and embrace these changes with an open mind.

What to expect during this New Moon?
– New opportunities and beginnings
– Change up your daily routine
– Stop putting off your goals
– Take action!

Activities to do during this New Moon
– Set new intentions/goals
– Manifest in a journal. Write down what it is you want to create in the next 6 months
– Work with Selenite and Clear Quartz
– Work with Red jasper, Aventurine, Sodalite, and Turquoise
– Make moon water
– Do this guided meditation
– Work with vanilla, sage. frankincense, and/or cinnamon
– Wear pink or purple
– Travel or plan for a future trip
– Do a Tarot card spread for the New Moon. This account posts some great Tarot prompts

Are you a Sagittarius?