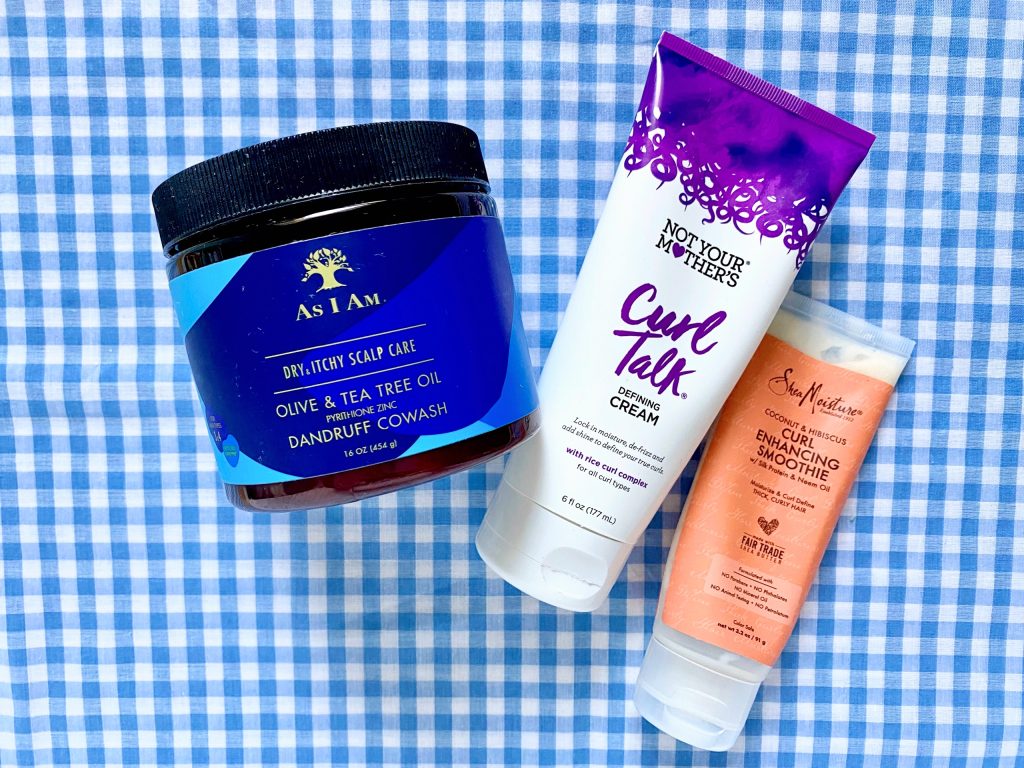 I've been seeing a lot of curly-haired influencers sharing their unfavorites, the hair products that they no longer use but used to love. In this post, I'll share three curly hair products that I either loved once or are beloved in the curly hair community but stopped using. Originally, I had more products on this list however, I've found a way to reuse those hair products which I'll be writing a separate post on later.
DISCLAIMER: Links included in this post might be affiliate links. If you make a purchase with the links I provide, I may receive a small commission at no additional charge to you.

Not Your Mother's Curl Talk Defining Cream
This was a big favorite of mine at the beginning of my curly girl journey. I believe it was one of the first curl-defining creams that I used and I guarantee it was featured in one of my favorites post in the past. However, I don't like this product anymore. I feel like they may have changed the formula because it's not as slippery as I remembered. It feels more like a balm when I apply this to my hair rather than a cream and the fragrance smells a lot stronger than I remembered. I feel like I can probably add water to this product and mix it in my hands to fix this issue but I still wanted to include this in my unfavorites because it literally used to be one of my favorite products and now it isn't.

Shea Moisture Coconut & Hibiscus Curl Enhancing Smoothie
This wasn't a favorite of mine however, many people in the curly hair community rave about this product and I bought it at the start of my CGM journey because so many recommend this product. However, the first time I used this product, it left a white cast on my hair and made my hair feel heavy (and I didn't even use that much!) so I washed it off immediately. I gave this product multiple second chances and it never changed my opinion, I don't like this product. It's too thick for my thin hair which is why I stopped using this. To be fair, the tube did say that it's meant for thick curly hair but a lot of the reviews I read and saw via YouTube featured curly-haired people with all types of textures so I thought maybe this could work on me but it didn't. I also don't know exactly what this product is supposed to be I think it's a defining cream? but I'm still not sure! haha

As I Am Dry & Itchy Scalp Care Cowash
A few years ago, I struggled with dandruff and an itchy scalp which I thankfully don't have anymore. That is why I stopped using this co-wash. I wrote a whole post which you can read here about what products and treatments helped calm my dry itchy scalp, I highly recommend those products because they solved my issues that I don't have to use those products anymore! Technically, this isn't an unfavorite but it's a product I don't use anymore because I don't need to. However, I'm still keeping this in my stash in case I ever get an itchy scalp again.

What hair products have you stopped using and why?