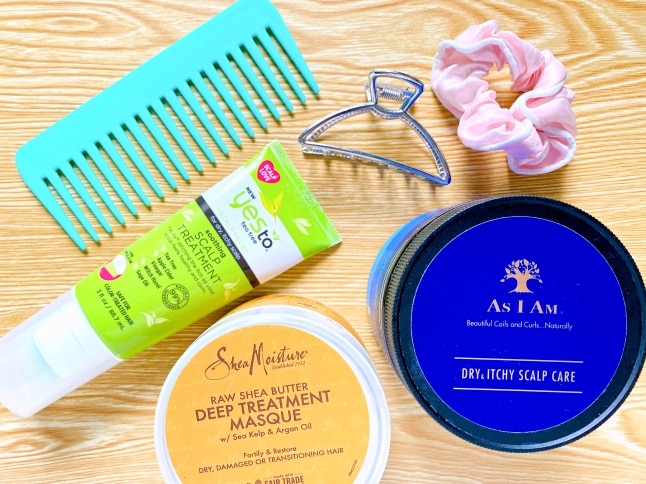 I used to struggle with dandruff and a dry itchy scalp. Not sure if it was the products I was using, the water in my area, how often I was washing my hair, or a combination of everything. Either way, I no longer have an itchy scalp and I narrowed it down to a few things that I think could've helped me get rid of my dandruff and dry itchy scalp and I wanted to share what I did differently so that it could help those who are struggling with a dry itchy scalp and/or dandruff. I'm going to share what worked to cure my itchy dandruff scalp, hopefully, these tips and products help you no matter what hair type you have. I know how irritating these hair conditions can be so hopefully you find this post helpful.

For those who are new, I have curly 2B-2C curly/wavy hair and for the past 2 years, I've been trying to improve my curls by limiting unhealthy products and heat styling tools to help better my curly hair. I don't 100% follow the Curly Hair Method but I have learned a lot from it and have implemented some of the CGM techniques and products into my routine. Check out my CGM posts here for more posts on my curly hair journey.

*Check with a doctor or skin dermatologist if you believe you have a major scalp concern.
DISCLAIMER: Links included in this post might be affiliate links. If you make a purchase with the links I provide, I may receive a small commission at no additional charge to you.

Hair Washing
I wash my hair twice a week, I switch between using a shampoo, cowash, and clarifying shampoo. The cowash I've been using for the past few months has been the As I Am Dry & Itchy Scalp Care Cowash, it prevents itchiness by soothing the scalp with tea tree oil. I found that it really relieved my scalp after my first use! It gave me this tingling sensation that soothed and relieved my itchy scalp. I'm pretty sure this is one of the products that helped eliminate my itchy scalp the most.

Treatments
As for treatments, I used the Yes to Tea Tree Scalp Relief Soothing Scalp Treatment for a while. It contains tea tree oil to help nourish and cleanse, sage oil to help balance, witch hazel to soothe, and apple cider vinegar to help clarify and remove buildup from the scalp. The gel formula comes in an applicator tube with a brush/comb at the end. You apply the product all over your hair, combing the product through your hair and massaging the scalp with the brush. Leave on for 5-10 minutes then rinse and shampoo your hair out. I would use this every other day when my scalp was at its worst. I think I used this a total of 4-5x times before I naturally stopped using it because my scalp was no longer itchy and my hair no longer needed it.

On days when I clarify my hair, I also use a deep conditioner/hair mask. Clarifying shampoos helps eliminate dirt and product build-up. It's important to cleanse your scalp to make sure that build-up doesn't turn into dandruff and irritate your scalp. To counterbalance the clarifying, I use the Shea Moisture Raw Shea Butter Deep Treatment Masque because it helps lock in moisture and keeps my hair from feeling dry after clarifying my hair.

Tips
– Don't sleep on wet hair
– Use oils as a pre-wash treatment
– Wash your hair 2-3x times a week
– Avoid using products that contain sulfates, parabens, and fragrance
– Avoid using products with heavy ingredients
– Avoid using too many products within a week
– Wash your pillowcases and bedsheets often

Have you had dandruff and/or dry itchy scalp before? How did you treat it?