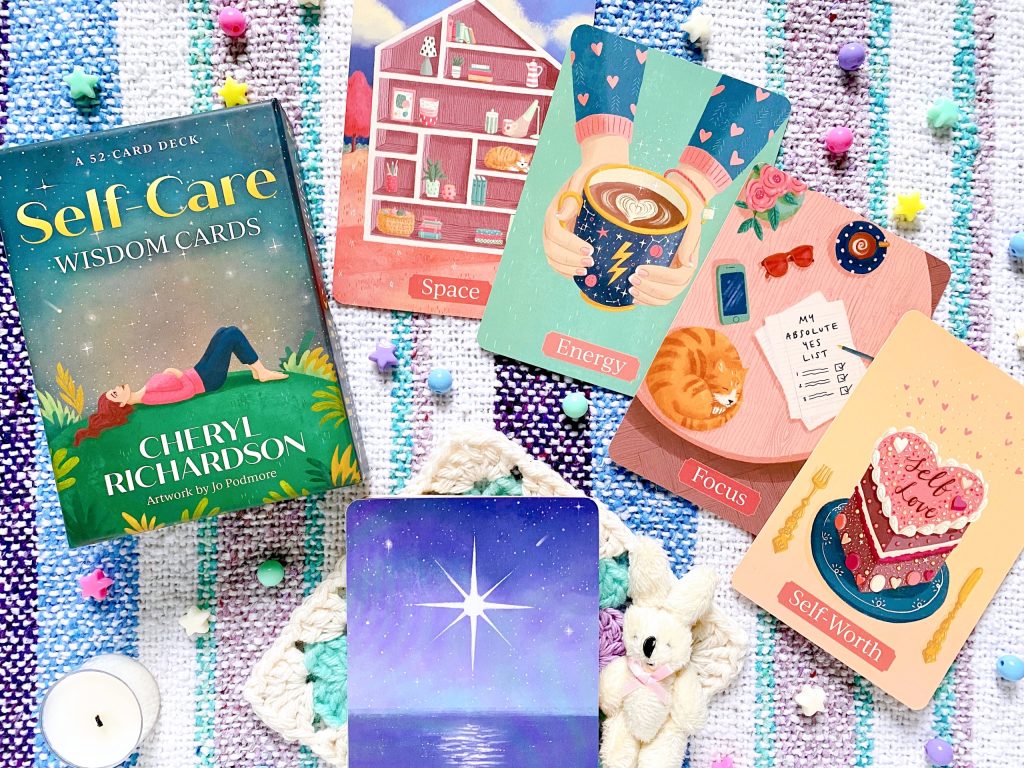 Welcome back to another oracle card review. In the post, I'll be reviewing the Modern Witch Tarot Deck. From now on, I'll be switching between tarot and oracle decks. Check out my last tarot card review here. If you don't like spoilers then you might want to skip this post or not stare at the pictures below for too long as I will be showing all of the cards from the deck.

The Self-Care Wisdom Cards were created by Cheryl Richardson with artwork by Jo Podmore, a Uk-based illustrator. Cheryl Richardson is a bestselling New York Times author of multiple books.
DISCLAIMER: Links included in this post might be affiliate links. If you make a purchase with the links I provide, I may receive a small commission at no additional charge to you.

PROS
– Whisimscle artwork
– Beautiful colors
– Sturdy cardstock
– Matte finish
– Encouraging messages
– No guidebook

The Self-Care Wisdom Cards is a 52-card deck. There is no guidebook (more on that down below). What drew me to this deck is the gorgeous illustrations and colors in this deck. I saw these featured in a pick-a-card reading video on Youtube and knew that I needed this deck in my collection. I already have the sacred self-care oracle deck but what's one more? Self-care is important after all! The messages on these cards are very encouraging and motivational. If you're somebody who does well with affirmations and motivational advice then you'll love this deck.

The cards are printed on semi-matte standard oracle card cardstock similar to the Moonology and Sacred Self-Care oracle cards but these are slightly more flimsy and blendable. Shuffling is smooth but some cards do stick together at times.

Instead of a guidebook, the explanations are on the backside of the cards so you don't need a guidebook. This deck also comes with one extra card with notes from the author. I actually don't mind the extra card in this deck because there is no guidebook I'll let it slide this time. haha

I like that the author includes serval ways how you can use this deck. It's not marketed as an oracle deck but you can definitely use it as so or you can give out the cards individually on as a gift or thank you card or whatever. There are 52 cards so if you wanted to make it a goal next year to give out a card from this deck once a week that would be a cute idea to spread kindness and uplift others.
CONS
– Message on the 'self' card

On the 'self' card the following message is printed on the back, "If beating yourself up worked you'd be thin, rich, and happy. Try loving yourself instead." Obviously, not everyone wants to be thin so I think this message could've been written in a different way.

You can purchase the Self-Care Wisdom Cards here

Do you have this deck in your collection?