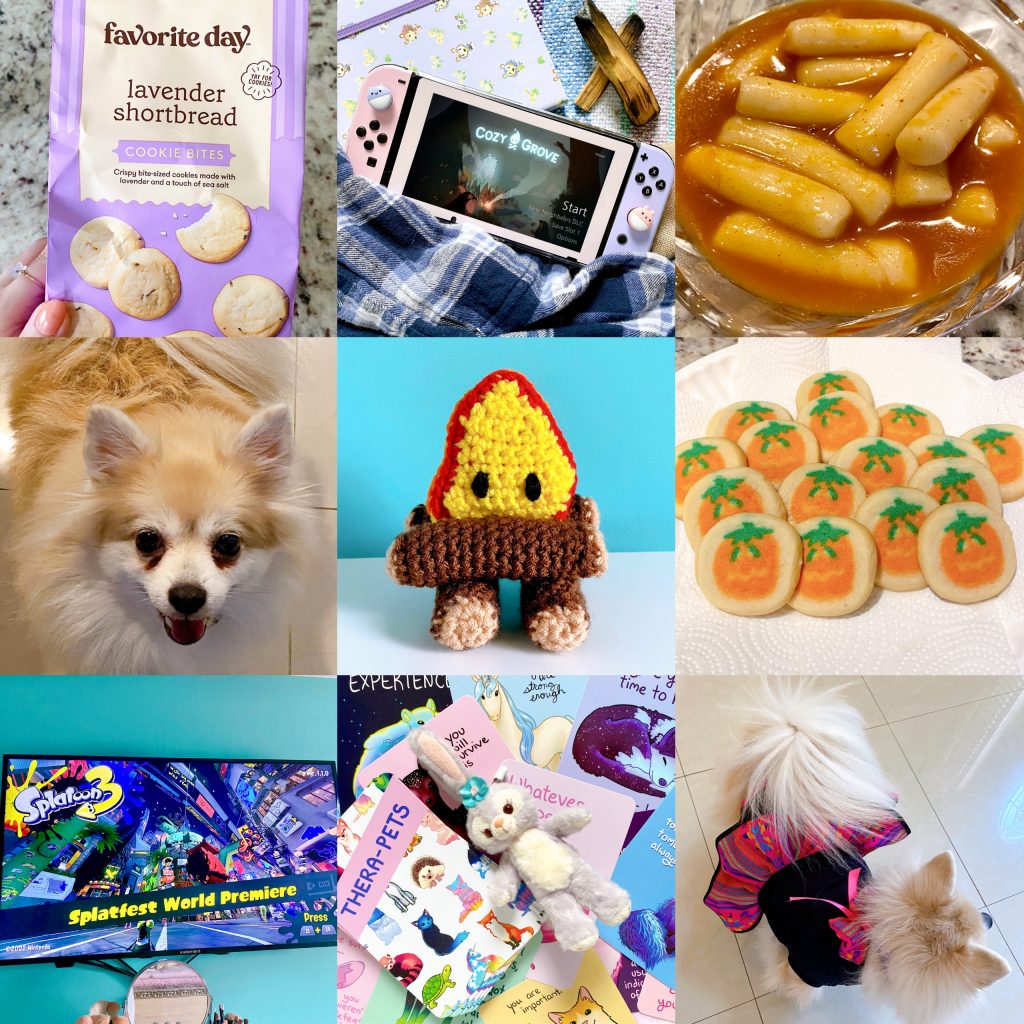 DISCLAIMER: Links included in this post might be affiliate links. If you make a purchase with the links I provide, I may receive a small commission at no additional charge to you.

What I Watched
Laid-Back Camp
Laid-Back Camp is a wholesome anime that will make you want to go camping! The anime shares a lot of beautiful scenery from Japan and camping lessons. I've never been an outdoors/nature person but this anime makes me want to go camping glamping. You can watch the first episode here.

Rilakkuma's Theme Park Adventure
A new mini-series based around Rilakkuma and Friends. I enjoyed the first Rilakkum and Friends series and as cute and colorful this series was, I felt it lacked the Rilakkuma cuteness that made the first series loveable. There are too many characters in this series that took away from the cuteness of Rilakkuma, Korilakkuma, and Kiiroitori. I loved that this series is set in a theme park. I know this is meant for children but I watch shows for children all the time! ?

Moominland Tales: The Life of Tove Jansson
This is a BBC doc that shares insight on Tove Jansson and her greatest creations, the Moomins. I didn't know much about the Moomin nor the artist behind the cute creatures but it was fascinating to hear stories about Tove and how the Moomins came to be. You can watch the documentary here.

What I Listened
NewJeans – Attention
NewJeans – Cookie
ATEEZ – THE WORLD EP.1 : MOVEMENT
ATEEZ – Guerrilla
YENA – SMARTPHONE
Stray Kids – Time Out
Nell – Sill Sunset
Girls' Generation – FOREVER1
ZICO – Freak
Purple Kiss – Nerdy
Loco & Hwa Sa – Somebody!
DPR IAN – Moodswings In To Order
KINO – POSE
IVE – After Like
BEYONCE – RENAISSANCE

Things I Did
Made Tteokbokki (Korean Spicy Rice Cakes)
We went to an International Farmers Market that sells a bunch of international food and I picked up some ingredients to make tteokbokki. I used this recipe which was very simple to follow, you can adjust the sweetness and spiciness to your liking. Since I can't handle spicy food my rice cakes were subtly spicy. ?

Played in the first Splatoon 3 Splatfest
And won! I was team rock which ultimately won in the end. I'm so excited for the new Splatoon 3 to release in a few weeks! Is anybody going to get it?

What I Read
Emily of New Moon by L.M. Montgomery
I bought Emily of New Moon back a couple of months ago when I joined a book club but never finished it. As much as I love the idea of a book club, I'm a slow reader and can't commit to reading a book a month, I mean it took me months to read this one!

I love how L.M. Montgomery describes the scenery, it's very dreamy. Emily's character is very independent and has a magical mind, I mean she's a child, she's like 11-13 in this book. With that said, I can't wait to see how her character develops in the next two books.

Things I Love
Feedly
With Bloglovin no longer being active I had to seek out a new way to get updates from my favorite blogs. A lot of people mentioned Feedly. Feedly tracks your favorite websites using an RSS feed and lets you put them into categories. I've been using this app to read posts from my favorite blogs and it's been a nice Bloglovin replacement. It does make it difficult to leave comments because I use my iPad whereas before I used my MacBook to read and leave comments. UPDATE: I just found out you can use Feedly on your desktop!

Lavender Shortbread
I found out that Target carries lavender shortbread cookies, if you know me, you know that I love lavender-flavored foods! I couldn't find the link to the cookies on the Target website so best try your luck at the store, they're by the Favorite Day brand. They have a mild lavender and buttery taste but are not too overwhelming. They go great with a cup of tea!

Spoopy Tarot
I was able to get a copy of the Spoopy Tarot weeks before it was released due to pure luck! It's a really cute deck and one of my new favorites! I've been using it every day since buying it and have been getting very honest messages from it.

Favorites Posts
My Secret Side Hustle Ghostwriting Romantic Fiction
My Favorite Youtube channels to work out at home
Blogtober 101: The Do's & Dont's + Post Ideas
17 Easy Magic Spells For Beginners
Why I Still Blog, Even If 'Just For Fun'
A Complete Beginner's Guide on How to Become a Digital Woman in 2021
11 Documentaries You HAVE to Watch This Month
How to Use Essential Oils in Witchcraft
Alone Together
Gochujang Pasta Recipe

Posts From The Month
Week 31/52
Astrology Spotlight ♥ Leo (July 23 – August 22)
K-pop Summer Playlist ♥ Summer 2022
Week 32/52
Cozy Grove ♥ Game Review
Campfire Plush ♥ Crochet Pattern
Week 33/52
Thera-Pets Animal Cards Review
A Curly Hair Drugstore Haul
Week 34/52
Magical Moments #9

How was your month?