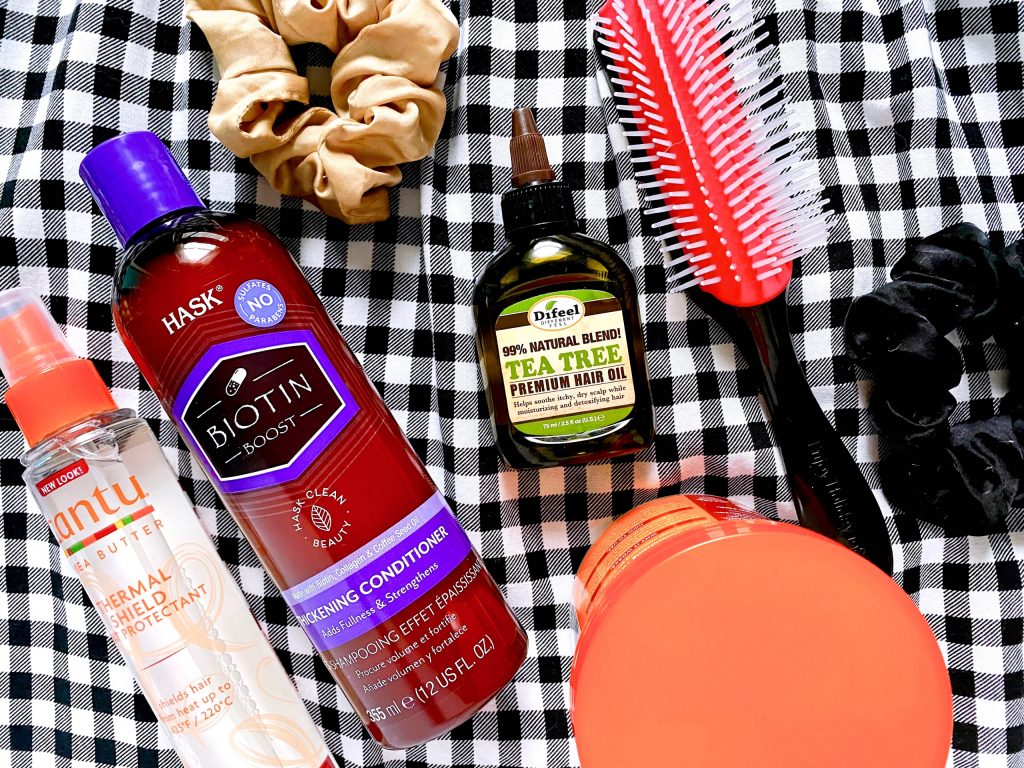 I'm back again with another curly hair product drugstore haul. Lately, I've been pretty bored with my curls so what did I do? Buy new products! I was running low on certain products so it wasn't an impulsive purchase but I also bought some new tools that I've been wanting to try and wanted to share along with my first impressions on some of these items.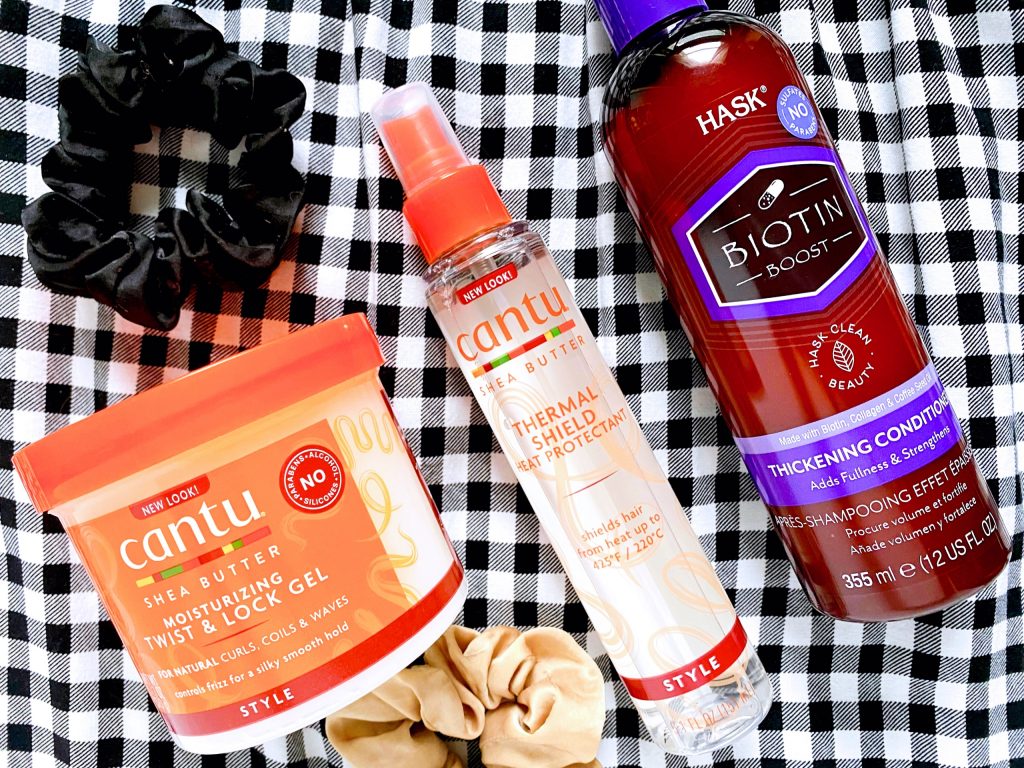 DISCLAIMER: Links included in this post might be affiliate links. If you make a purchase with the links I provide, I may receive a small commission at no additional charge to you.

Cantu Moisturizing Twist & Lock Gel with Shea Butter for Natural Hair
In one of my previous hauls, I mentioned that I wanted to try more hair products from Cantu and I've kept my word! I was looking for a new gel when I came across this video on this Cantu gel. The only thing that I don't like is that it comes in a tub. I haven't tried it yet but I'm excited to use it on my next wash day!

Cantu Thermal Shield Heat Protectant with Shea Butter
Another Cantu product, this time a heat protectant. I'm so bad about applying a heat protectant before I use heat styling tools. I never 100% followed the curly girl method but I've learned a lot from going on my CGM journey. Anyway, I've started using heat tools again because sometimes I don't have the time or desire to wear my natural curls out. With curly hair, you never know what you're going to get. Sometimes I have an AMAZING natural curly hair day but with nowhere to go and vice versa. So I bought this to help protect my hair when I chose to heat style my hair.

HASK Biotin Boost Thickening Conditioner
I've tried plenty of HASK deep conditioners before but I don't think I have ever used their regular conditioner, if I have, I can't remember. I was looking for the Curl Care Conditioner but couldn't find it at the store I was at so I picked the Biotin Boost Conditioner instead. This conditioner contains biotin, collage, and coffee which can help thicken and volumize thin hair. I have thin hair and if I don't wash my hair often then my scalp begins to show. I'm hoping that this hair conditioner will help strengthen and promote healthy hair growth. If you tried this conditioner and saw results let me know.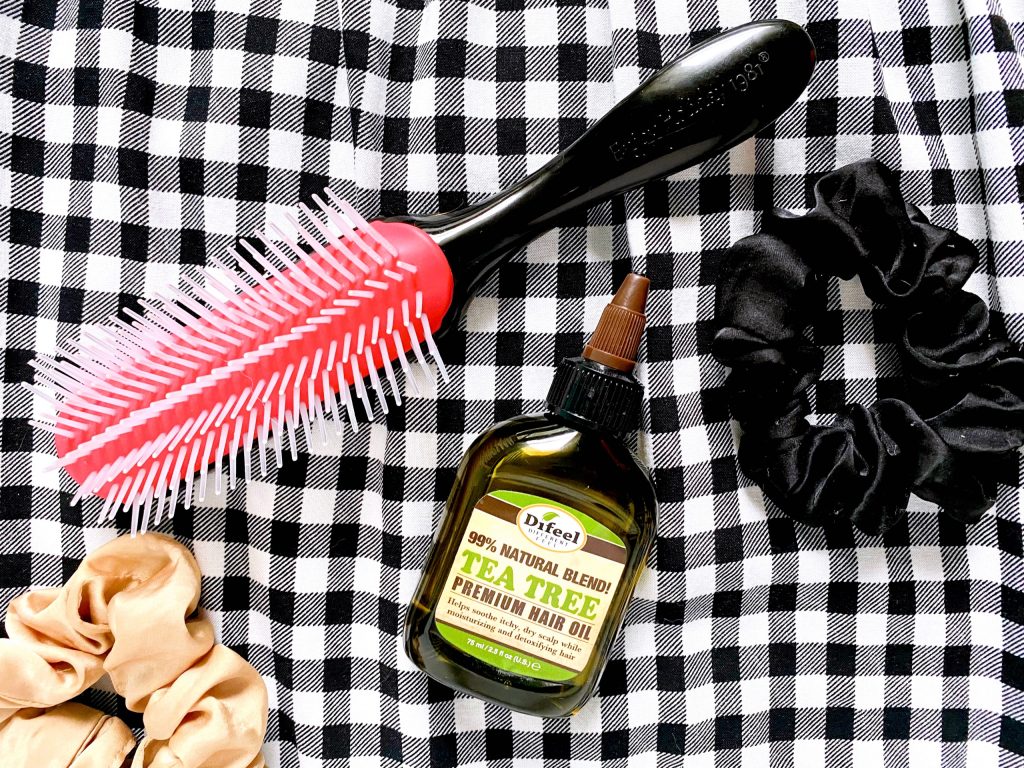 Difeel 99% Natural Premium Hair Tea Tree Oil
I bought this oil to help break up my gel casts. Many curly girls use oil to assist them to break their gel cast and add shine to their curls. I randomly picked this oil because it was one of the cheapest oils at the store and the bottle looked cute (they also have a bigger size). haha

Continuous Water Bottle
I've been using the same water spray bottle for years. To the point, that I have to adjust how I use the spray bottle just to get the water to spray out! I don't like throwing away things just for the sake of it. I think it's so wasteful and will use items to the point where I can no longer use them but I finally had enough and thought it was time to invest in a new spray bottle. Not just anyway water bottle… a continuous spray water bottle! I haven't received mine yet (hence why it's not shown in the pictures) but I ordered this one and can't wait for it to arrive!

7-Row Cushion Nylon Bristle Brush
Yes, this is a dupe for the Denman brush. I've been wanting a proper Denman brush for a while but I wasn't sure if I would like it and they're pricey! I decided to watch some Denman dupe videos on Youtube and all the videos I watched mentioned that a fake Denman brush works just as well as an actual Denman brush! I also read a lot of the reviews on this specific Denman brush dupe and many reviewers said it's practically the same brush just without the Denman logo. I chose the 7-row brush but you can adjust the number of rows on this brush (they also have a 9-row and travel brush) to suit your curl needs.

Not going to lie, I'm nervous about using a hair brush to style my curls. my hair is thin and I feel like brushing my hair will damage my hair. With that being said, I've heard so many positive things about the Denman brush and how it can add definition and enhance your curls which is why I wanted to try this brush. I'm planning on making a post on this brush once I've used it a significant amount.

Have you tried any of these products?