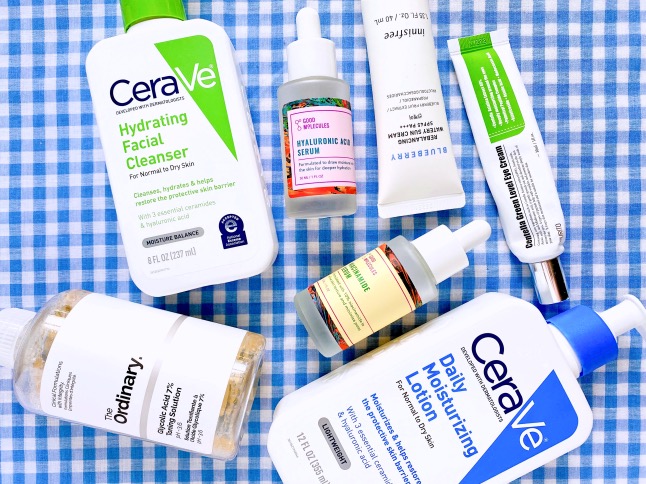 It's been a year since my last skincare routine so I thought I would give an update because I love talking about skincare! If you've followed me for a while, like back when I regularly posted beauty posts then you're probably familiar with my love for Korean skincare. I used to follow 10+ step skincare routines but over the years I started to calm down with the skincare because obtaining all those products started to become a burden on my wallet. My skincare routine now is pretty affordable because I don't believe you have to spend a lot of money to get good quality skincare products. When it comes to skincare products I look for affordable products, especially when it comes to the daily products that you use often like cleansers, moisturizers, and eye creams because those products tend to run out quickly and you need to repurchase more frequently.

Just some brief information on my skin, my skin type is normal. I do get dry and oily patches depending on the season. I don't have any bad skin concerns like acne but I do get the occasion breakouts and pimples here and there but it's nothing too bad. I do get random flare-ups but that happens when I'm mad, stressed, or out of breath. I was blessed with good skin, hopefully, I don't jinx myself by saying that! haha
DISCLAIMER: Links included in this post might be affiliate links. If you make a purchase with the links I provide, I may receive a small commission at no additional charge to you.

| ? AM/MORNING Routine |
The Ordinary Glycolic Acid 7% Toning Solution
This toner work to minimize texture, reduce wrinkles and sunspots. It also claims to brighten and give you radiant-looking skin while improving your skin's texture. It contains Glycolic Acid that lightly exfoliates your skin. They say the more you use this product the more your skin's texture improves over time. This is my second or third time using this product and while I have noticed improvements to my skin I think it's thanks to the combination of this product as well as usage of niacinamide serum.

CeraVe Daily Moisturizing Lotion
This lotion is great at moisturizing, it's not too heavy but not too light either. Since I layer a lot of products I don't mind using this lotion during the winter. However, if you have dry skin then maybe go for a thicker heavier cream.

Purito Centella Green Level Eye Cream
This eye cream contains Centella Asiatica Extract, Hyaluronic Acid, and four types of peptides to improve the skin's texture and elasticity. Centella helps strengthen the skin barrier and protect the skin from external factors. I love this eye cream, it's my third tube! I feel like it really moisturizes and nourishes the area around the eye. I've also read that you can use this in other areas of your face because it helps decrease the appearance of large pores, dryness, and wrinkles. They released an unscented version of this eye cream not too long ago.

Good Molecules Niacinamide Serum
Niacinamide helps repair uneven skin tone, reduce breakouts, diminished enlarged pores, and improve skin texture. I struggle with large pores and uneven skin tone from past breakouts which is why I use products that contain niacinamide.

I love my trusty The Ordinary serums but wanted to try this brand because it's around the same price and wanted to see if it's better (or worse) than The Ordinary. Let me know if you would like to see a review and/or comparison review on these Good Molecules serums.

Innisfree Blueberry Rebalancing Watery Sun Cream SPF45 PA+++
I don't go out too often but when I do I use this sun cream to protect my face from the sun's harsh rays. It does have a strong blueberry scent so if you're sensitive to scents then maybe skip this product, however, the smell does go away pretty fast and doesn't linger.
|? PM/EVENING Routine |
CeraVe Hydrating Facial Cleanser
My favorite cleanser! it's a hydrating moisturizing cream-gel cleanser that gently cleanses, removes dirt and makeup without leaving my skin dry.

The Ordinary Glycolic Acid 7% Toning Solution

CeraVe Daily Moisturizing Lotion

Good Molecules Hyaluronic Acid Serum
Hyaluronic Acid targets dehydrated skin and helps replenish skin making it appear smooth, firm, supple, and well-hydrated. I love to use Hyaluronic Acid, especially during the colder months when my skin gets drier. I really like the consistency of the Good Molecules serums, they're great for layering.

Apieu' Black Tea Sheet Mask
On days when I feel like my skin needs extra hydration and looks dull, I'll use a sheet mask at night to nourish my skin, like a vitamin. I'll leave a mask for about 7-10 minutes and pat in any leftover essence into my skin. When I purchase sheet masks I always go for these sheet masks that come in containers because they're easier to store even though the mask isn't as wet as I would like.

Purito Centella Green Level Eye Cream

What's your favorite skincare product?