Can you believe I haven't shared
a skincare routine since 2018
! I honestly thought that I did but I guess I didn't. Nowadays I like to keep my skincare routine as simple as possible because back when I had a longer routine with multiple steps I would often forget to apply all the products in the correct order or sometimes just ignore my routine all together! I realized a simpler was better suited for me. Then again, some might argue that I still have too many steps and use too many products. haha
My skin type, I would classify as normal, it gets both oily and dry and I get the occasional pimple or zit from time to time but not regularly. I've noticed my skin has gotten a lot drier as I've gotten old which amazes me because I used to have super oily skin, I would literally use 4-5 sheets of those oil absorbent sheets and they would be entirely drenched in oil (gross, I know!). But when I approached my mid-20s I noticed that I wouldn't get as oily as before. Now, I think I have a good balance of oil but I struggle mainttaining the dryness on my skin. This is why a lot of the products featured in my routine help hydrate and moisturize my skin.
AM / Morning Routine
Step 1: Water – Every morning I splash cold/lukewarm water to help me wake up.
Step 2: Naturie Hatomugi Skin Conditioner – I love this lightweight watery liquid because it's so moisturizing! I pour some into either a cotton pad or hands to keep my skin hydrated. If I'm staying home I will apply one or more layers for extra hydration.
Step 3: The Ordinary Hyaluronic Acid 2% + B5 – One of my favorite skincare products! It's the heaviest product I use in the morning so I use it before I apply any creams so it absorbs first. This serum really helps hydrate my skin. I use it both in the morning and night.
Step 4: CeraVe Daily Moisturizing Lotion – My favorite everyday lotion! I love the consistency of this lotion because it's lightweight and oil-free so it's perfect for layering.
Step 5: Mizon Collagen Power Firming Eye Cream –
I think
my previous holy-grail eye cream
has been discounted *cries* so I've been trying new eye creams hoping that it'll replace my last one. So far, I'm not a fan of this gel-based eye cream, I prefer cream-based eye creams so I won't repurchasing this one. What's your favorite eye cream?
*Step 6: The Ordinary Niacinamide 10% + Zinc 1% – Another favorite from The Ordinary. I love the texture this serum so much! This serum has helped brighten my skin while giving it that 'glass skin' look.
*I only this if I'm staying home all day.
**I only use this if I'm going out.
PM / Evening Routine
Step 1: CeraVe Hydrating Facial Cleanser – This cleanser is a gentle creamy cleanser that leaves your face fresh afterward. Great for those with normal to dry skin.
*Step 2: PURITO Defense Barrier Ph Cleanser – When I wear makeup I will double cleanser, my second cleanser being this one while the first cleanser acts as a makeup remover. This doesn't strip the skin of its natural oils and doesn't dry out your skin. It's suitable for those with sensitive to dry skin.
**Step 3: COSRX One Step Moisture Up Pads –
My "toner" of choice is
my trusty COSRX Moisture Up Pads
. I've included these in many skincare routines. It's another holy-grail of mine.
OR
Naturie Hatomugi Skin Conditioner – When I use this product at night I will pat in 2-3 layers onto my skin, wait until the liquid has fully absorbed into the skin before adding a new layer.
***Step 4: Sheet Mask –
I don't
daily mask
anymore because it became a burden on my wallet but every now and then I'll buy a few and use them every other night as a treat.
Step 5: The Ordinary Hyaluronic Acid 2% + B5
Step 6: CeraVe Daily Moisturizing Lotion
Step 7: Mizon Collagen Power Firming Eye Cream
*I only double cleanse when I wear makeup
**If I wear makeup, I will use the COSRX pads but if I'm not wearing makeup, I'll use the skin conditioner.
***I only use a sheet mask every other night. When I'm not using a mask, I will use the skin conditioner to apply 2-3 layers to make sure my skin is hydrated.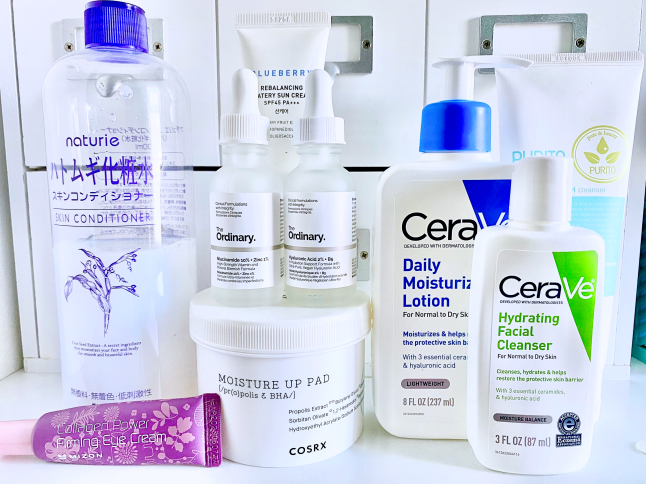 What are some of your favorite skincare products?