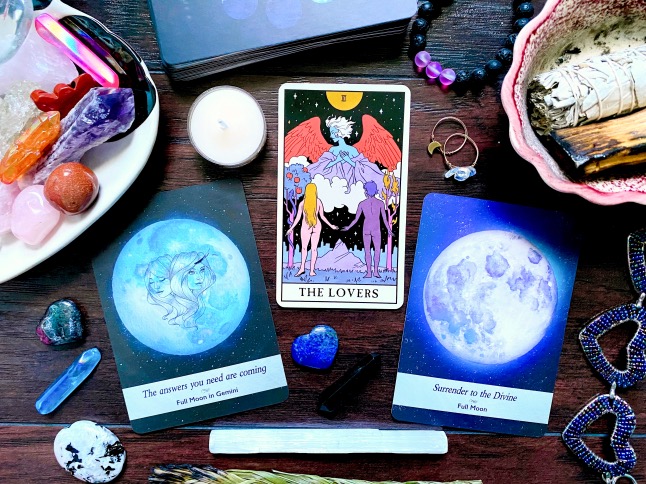 Saturday, December 18th at 11:36 PM EST there will be a Full Moon in the sign of Gemini. This is also the last Full Moon of 2021! Gemini is a Mutable Air sign ruled by the planet of Mercury and the 3rd house (in your natal/birth chart). Geminis are the third sign of the Zodiac. They're social, communicative, adaptable, informative, and enjoy being surrounded by people. If someone is a Gemini you can bet that they'll mention it to you first! At their worst, Gemini can be deceptive, superficial, talkative, inconsistent, and gossipy. As always, check out your natal/birth chart to see where Gemini lands in your chart, every chart is different so depending on your placements this moon can affect you more or less.

The energy of the Moon is strong enough to work with on the day before, the day of, and the day after. If you would like to learn more about the Full Moon make sure you read this post. You can also read all my past moon posts here.

What to expect during this Full Moon?
– Amplified communication/socialization
– Information exchange but be wary of where you get information
– Don't be afraid to ask for help
– Answers to questions that you've been seeking

Activities to do during this Full Moon
– Reflect on what happened 6 months ago, are you on the path you want to be on? If not, what can you change to get yourself back on track?
– Do this Full Moon meditation
– Do this Tarot spread for the Full Moon. This account posts some great Tarot prompts
– Work with a piece of Selenite or clear quartz
– Write down what you want to release on a bay leaf and then burn it
– Work with a piece of turquoise or lapis lazuli
– Practice some yoga
– Make moon water
– Charge your tools (crystals, tarot cards, home, etc)

Are you a Gemini?