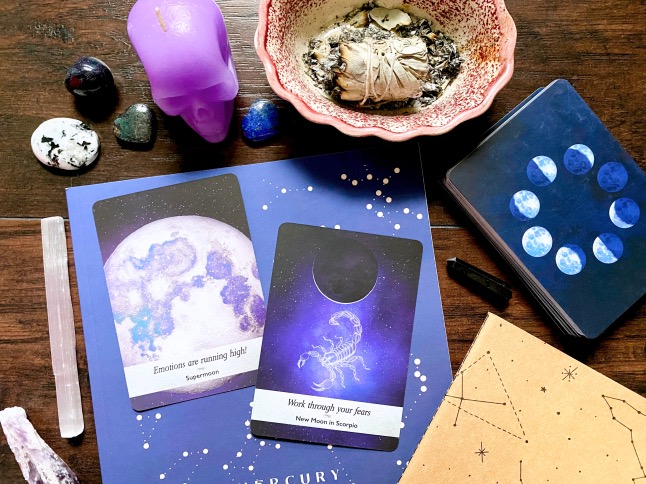 Thursday, November 4th at 5:15 PM EST there will be a New Moon in the sign of Scorpio. Scorpio is a water-fixed sign ruled by the planet of Pluto and the 8th house (in your natal/birth chart). Scorpio is the mysterious sign of the Zodiac. They're passionate, driven, determined, emotional,
and intense. They can be secretive and private at times, this is to avoid showing off their emotional side. Scorpios can be misunderstood because of the cool exterior that can make them appear withdrawn and interested when in reality they're just observing and/or protecting their sensitive side.

As always, check out your natal/birth chart to see where Scorpio lands in your chart, every chart is different so this New Moon might not affect much as last as the last New Moon did. Remember that the New Moon is the beginning of a new lunar cycle, it's a new start which means this is the perfect time to start new projects, new routines, and set new intentions.

The Moon's energy is strong enough to work with on the day before, the day of, and the day after. I like to plan out my moon rituals a few days in advance so that I have all my materials ready. Check out this post to see what's the difference between the New Moon and Full Moon and learn more about both.

Why is it called a supermoon?
A supermoon occurs anytime the Full Moon is close to the Earth. This makes the Full Moon appear brighter and larger than a regular Full Moon.

What to expect during this New Moon?
– Revive an old passion
– Embrace stillness and silence
– Ask yourself 'What's getting in your way to change and grow?' and find an answer
– Be open to different perspectives

Activities to do during this New Moon
– Set new intentions/goals
– Manifest in a journal. Write down what it is you want to create in the next 6 months
– Clear out old energy. Give your space a deep cleanse and get rid of anything that no longer serves you or makes you happy
– Work with Selenite and Clear Quartz
– Work with black crystals (like Labradorite and Black Obsidian)
– Make moon water
– Do this guided meditation
– Work with rosemary and passionfruit
– Take yourself on a date
– Release toxins from your mind, body, and soul
– Do a Tarot card spread for the New Moon. This account posts some great Tarot prompts
– Practice shadow work

Are you a Scorpio?